To beat the winter cold, ever rush home and slip into a robe to warm up? Well, you're in luck. Since fall 2014, the wrap coat (or "robe coat") has continually surged as a style staple, keeping us toasty and on trend as we run around town.
Even celebs love this chic, go-to outerwear look; it was recently spotted draped on the shoulders of Gigi Hadid and Kim Kardashian. Known for overlapping panels secured with a soft belt, the wrap coat has evolved to include unique detailing that's seasonally fresh yet still irresistibly comfy.
One of the greatest advantages of the wrap coat is that because you tie it yourself, it's adjustable. No more fumbling with tight zippers or pesky buttons. And, as always, tweaks can be made to assure your coat looks great each and every time you wear it. Here's a few ways to wear this time-tested ensemble.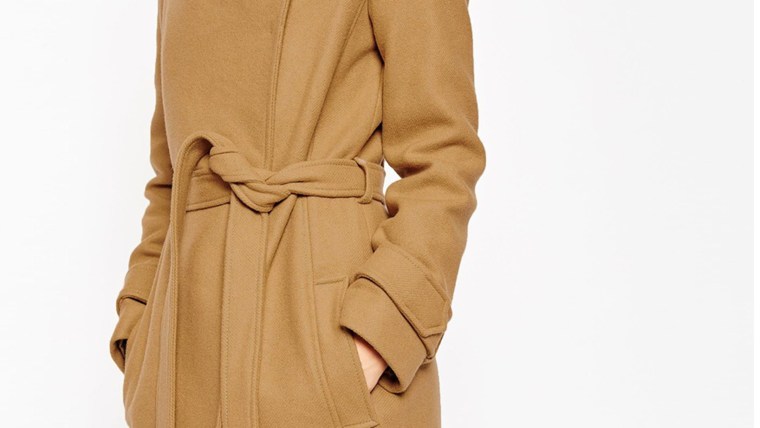 1. Leave it untied!
One of the current ways to wear the robe tie coat is simply not to knot it at all! Leaving it undone allows people to see your ensemble beneath. And that is, after all, the goal of every well-styled celebrity.
So, how to make it work? Take a cue from the coat, following its clean lines and solid color; a monochromatic ensemble will always work well. Don't overindulge in jewelry and keep necklines simple, but feel free to be playful with the shoe. You can almost never go wrong with a turtleneck or cowl-neck sweater.
RELATED: The hot trend for cold weather: Canada Goose coats are suddenly hip
2. Think about length.
Ultra-long robe coats, which are also known for broad collars, will drown out anyone petite. That's why it's important to think about length and balance. Opt for a shorter hem and make sure you pair fitted clothing underneath this oversized style.
If you've got more of a round body type, draw attention away from the stomach area with a gorgeous overall print. Generally wrap coats make their statement with the simplicity of their color, but a zesty print can further capture your style personality.
3. Seek structure and angles.
We typically think of wrap coats as having a soft silhouette, but for those with an hourglass figure, seek as much structured detailing as possible. Look for angled lapels and faux leather trim for example on the belt that brings greater definition and hones the waist. Even a pattern like herringbone, no matter how subtly presented, offers a more angular geometric pattern than, say, faux camel hair. The versatility of the coat is that it's both relaxed and dressy: one moment work appropriate, and the next the perfect pairing with jeans.
RELATED: Why meteorologists nationwide wear this same dress
4. Give it some personality.
At zulily, it's our mission to help you find the unique and unexpected items you won't find just anywhere. That's why we think it's a good idea to add something special to your wrap coat choice. So an ordinary wrap, for instance, can get a massive makeover with lapels of faux fur. Just one word for an upgraded look like that: fierce.