We've all made a blunder or two when it comes to sun protection. Remember that vacation or special occasion when a spot was "missed" and all of a sudden felt warm, too warm, and then excruciatingly painful?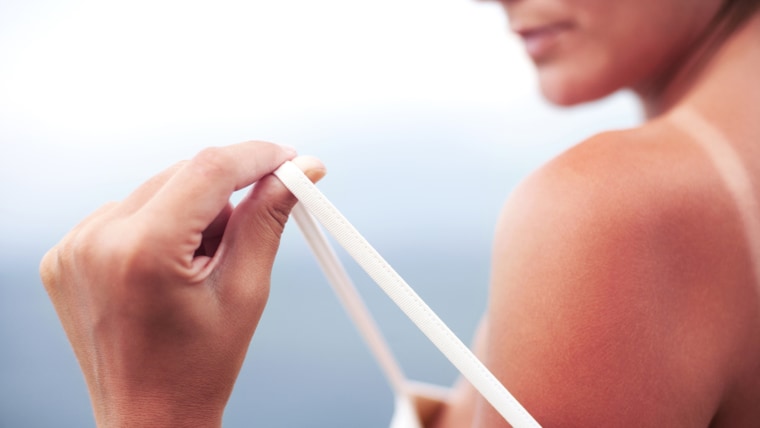 But it's about more than just slathering on the sunscreen. There are four areas in particular that seem to be frequently neglected and prone to burning, but can be avoided with the right kind of protection.
Scalp
Wearing a hat offers great coverage, but in reality, you probably won't be sporting one every single time you're outside. Protecting the scalp is crucial, and it should be a top priority especially for those with fine or thin hair. "The scalp is an extension of the face, so it's the same reason you would protect the skin — the scalp can get burned by harsh UV rays as well," says Marina Perkovic, stylist and technician at PHYTO Universe beauty salon in New York City.
SPF wipes are a quick, targeted and non-greasy option for SPF in a pinch and hair veils, which are sprays with built-in water-resistance and UVA/UVB protection, will be important in securing your hair and scalp's condition. "It's smart to be proactive to shield and nourish the scalp from the sun, while adding moisture and nutrition to the hair," she suggests.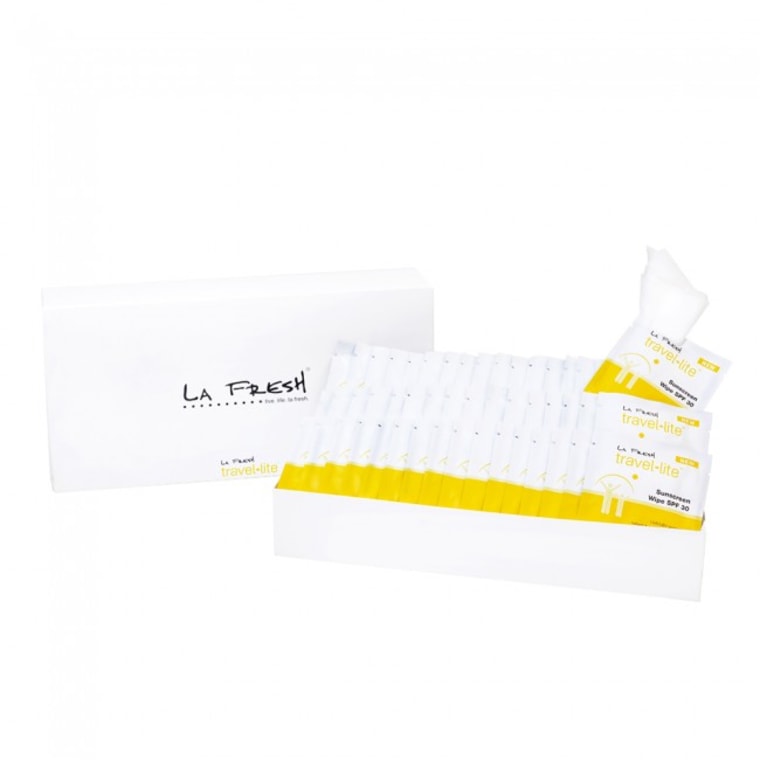 SPF 30 sunscreen wipes, $29.95, LaFreshGroup.com
Perkovic recommends looking for products that contain ingredients that also nourish hair, such as sunflower extract, mahwa butter and white-lotus extract. "It's important to look for these types of ingredients that act as a natural, UV-protecting filter, while keeping hair hydrated and dry from the natural elements, especially when you're laying out at the beach during the summer months when UV rays can be their strongest —especially in the middle of the day!"
And while you're in protection mode, don't forget to swipe the tops of your ears with sunscreen!
The tops of feet
It's easy to just kick off your shoes and bury your feet in the sand, but beware of that tender skin at the top of your feet that can protrude out from under a beach umbrella or get exposed at a sporting event. Traditional lotions and creams never seem to sink into that area fast enough and compounded with sand, you're looking at a recipe for blotchiness.
Use something non-sticky and rapid-drying like a stick SPF. Commonly used for the face, these handy sticks are perfect for navigating around the feet. SPF sprays also tend to work exceptionally well on small or hard-to-reach parts.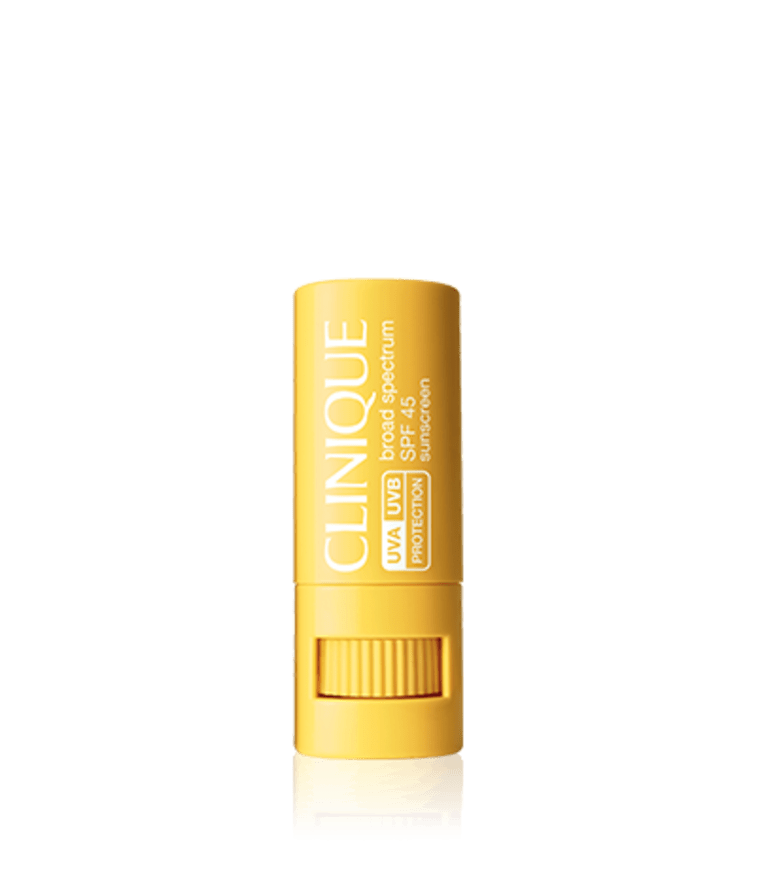 SPF 45 Targeted Protection Stick, $21, Clinique.com
Eyes
No matter how strong or poor your vision is, make sure to properly protect those peepers for your current and future eye health. "It's just as important to protect your eyes from the sun's harmful rays as it is to protect your skin," says New York City-based optometrist Dr. Susan Resnick.
Contact lenses can provide both UVA and UVB protection, says Dr. Resnick, however, "not all contact lenses offer UV protection, so talk to your eye doctor about which contact lenses offer the highest levels of UV protection available." She also recommends keeping a wide-brimmed hat and good-quality sunglasses nearby.
Speaking of shades, Resnick says to select sunglasses that limit transmission to no more than 1 percent UV-B and UV-A rays. "This means looking for lenses that are large enough to completely cover the eye and have dark lenses; wrap-around sunglasses are the best as most sunglasses cannot block UV rays from reaching the sides, top and bottom of the glasses."
Hands
Hands are one the trickiest parts of the body to cover and keep protected — since they are constantly in motion and being washed — making it difficult to retain SPF coverage. It also happens to be the body part shows the signs of aging and sun damage more prevalently than anything else.
There are some wonderful, hand-specific lotions out there, but if you're having trouble just think outside of the sunscreen aisle. Try a face cream with anti-aging properties and SPF or a hand cream infused with SPF as opposed to a strict sunscreen lotion. In short, seek out products that smartly address both the protection and repair of your delicate skin and don't forget to reapply often.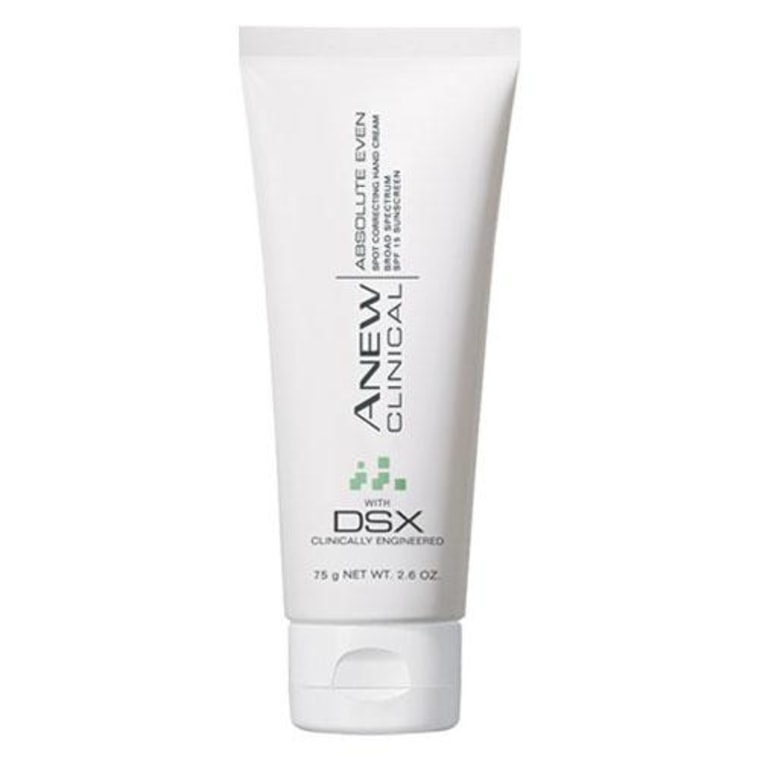 Even Spot Correcting Hand Cream SPF 15, $17, Avon.com
Pro tip! Apply sun protection indoors prior to putting on your swimsuit. It will ensure a more thorough job at covering all of those tricky spots and lock in SPF by giving ample time for it to absorption. Allot about 15-20 minutes after applying to thoroughly dry before venturing out. And once you venture out, set reminder alarms on your phone so that you consistently reapply.
Julia DiNardo is a fashion and beauty expert residing in New York City who pens the blog Fashion Pulse Daily. Follow her on Instagram, Twitter, and Pinterest.