Our editors independently selected these items because we think you will enjoy them and might like them at these prices. If you purchase something through our links, we may earn a commission. Pricing and availability are accurate as of publish time. Learn more about Shop TODAY.
Shopping for a last-minute New Year's Eve outfit can be both stressful and expensive. Why bother!
If you're still in need of a last-minute idea, simply remix the items you already have in your closet. After all, it's easier to track down an accessory or two than to start searching for a brand-new dress.
Here's are a few ways to update your closet staples to create a fresh, modern look.
The little black dress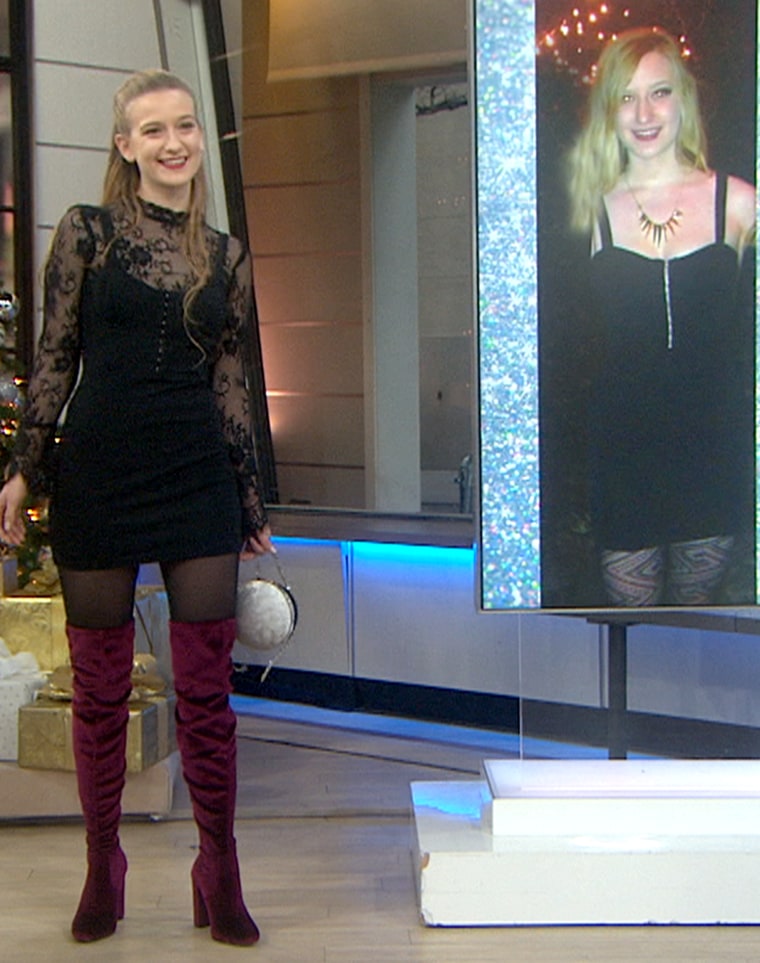 Corinne says: "Oh god, that photo is from a New Year's Eve party in 2012. I was going to a packed club, so I wasn't worried about dressing warm since I'd checked my coat. IPatterned tights were super in at the time, so I chose this geometric pair to go with the geometric necklace. I would love to modernize the dress itself and figure out other trendy ways to wear it!"
Try remixing it with: A sheer lace top (worn underneath), over-the-knee boots and a funky crossbody bag.
A sheer, long-sleeved lace shirt instantly modernizes this dress and brings it into 2017 in style. In fact, it looks like a brand new dress altogether!
Adding in a pair of over-the-knee boots keeps the overall feeling trendy and young, without veering into tween territory. Plus, the burgundy color will work like a neutral when she wears them with other outfits. A funky, spherical-shaped bag lends to the mod, '60s vibe while adding a unique touch.
The sparkly tank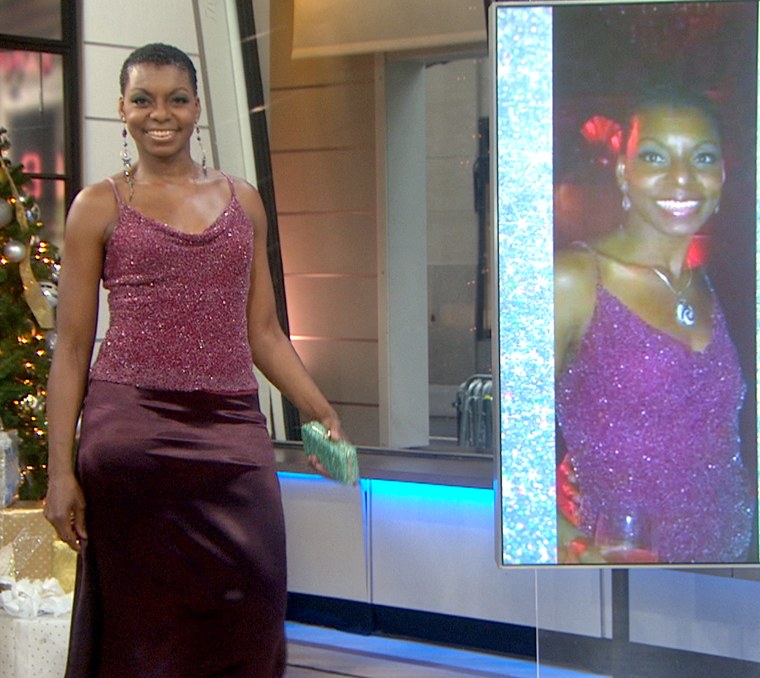 Phyllis says: "I love this top. I bought it with a matching skirt, but it feels like too much when I wear them together. I would rather change it up with a new outfit, but still be dressed up and comfortable. I'm just notsure how to pull it off! I have no plans for New Year's Eve yet, but my husband and I would love to go out and do something fun. And I've got my eye on using this top!"
Try remixing it with: A satin or silk skirt and green box clutch.
This shirt is really something special. Instead of pairing it with its matching skirt, we decided to mix up textures with a silky skirt in a monotone color palette. The A-line shape is perfect for twirling and dancing the night away!
Further proving that you really can shop in your own closet, Phyllis added her own bronze heels and these incredible, mismatched earrings that she wore on her wedding day. These babies deserve to be worn and shown off! The clutch adds a perfect pop of green to bring out the multidimensional colors in her special earrings.
The velvet top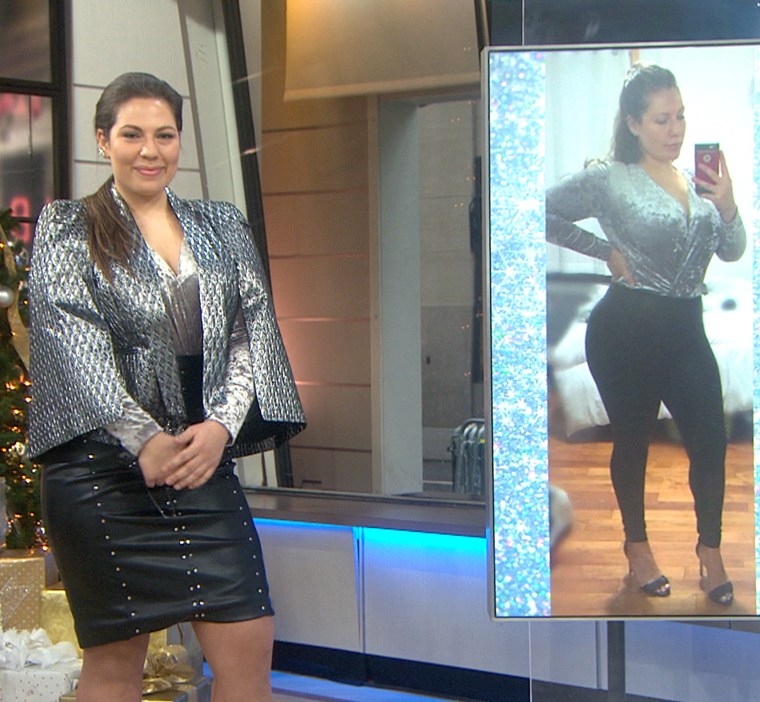 Amber says: "I usually wear a dress for New Year's Eve, but decided to go with something warmer since this will be my first new year celebration in New York City. I just recently bought this velvet top from Zara — since velvet is really in style this year — but I'd love help picking out the best accessories to wear it with! I was hoping to pair it with a great purse, but I wasn't sure which type would go well with velvet."
Try remixing it with: Fitted pencil skirt, capelet jacket and ear crawler earrings.
A faux leather pencil skirt flatters Amber's gorgeous curves (but any fitted pencil skirt she owns would work!). If she's buying something new, this studded design could even work for this office once paired with a chunky knit sweater and ankle booties.
This Art Deco-inspired capelet, makes the entire outfit feel special. She'll stay warm and look sleek wherever she's going this New Year's Eve. Then, once she arrives at her destination and takes off the cape, she'll reveal her new purchase and be ready to party! Wearing one "ear crawler" earring adds the perfect touch of shine without competing with the other patterns and textures.
Aster Ear Crawlers, $26, Baublebar.com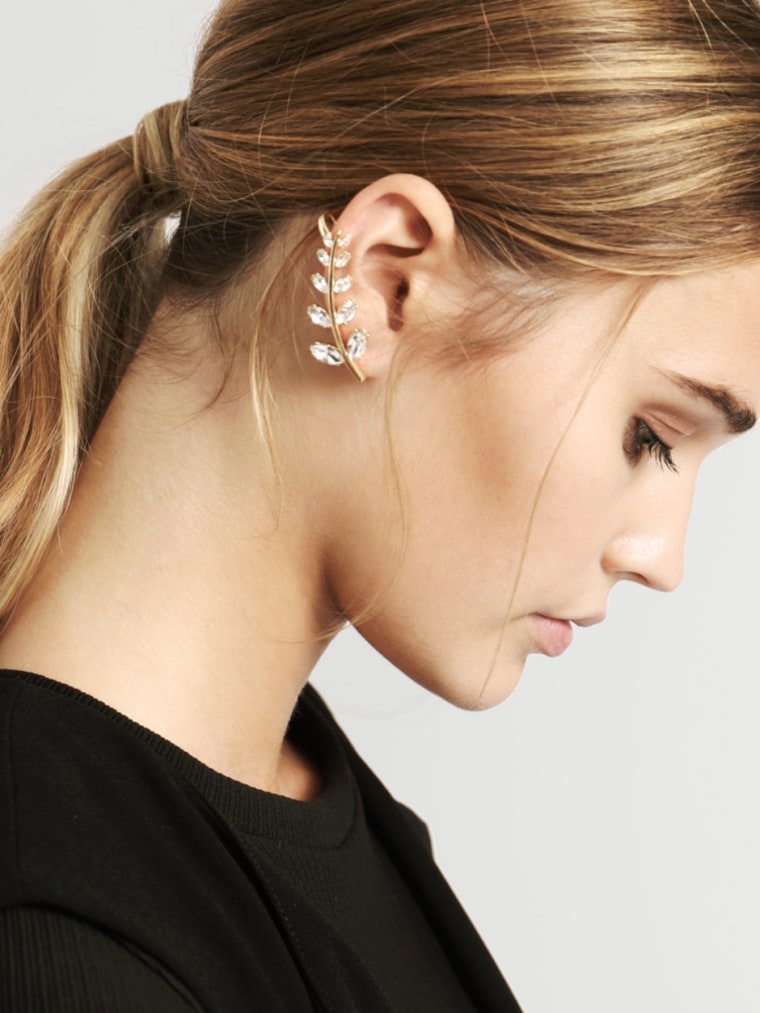 The sexy, sheer shirt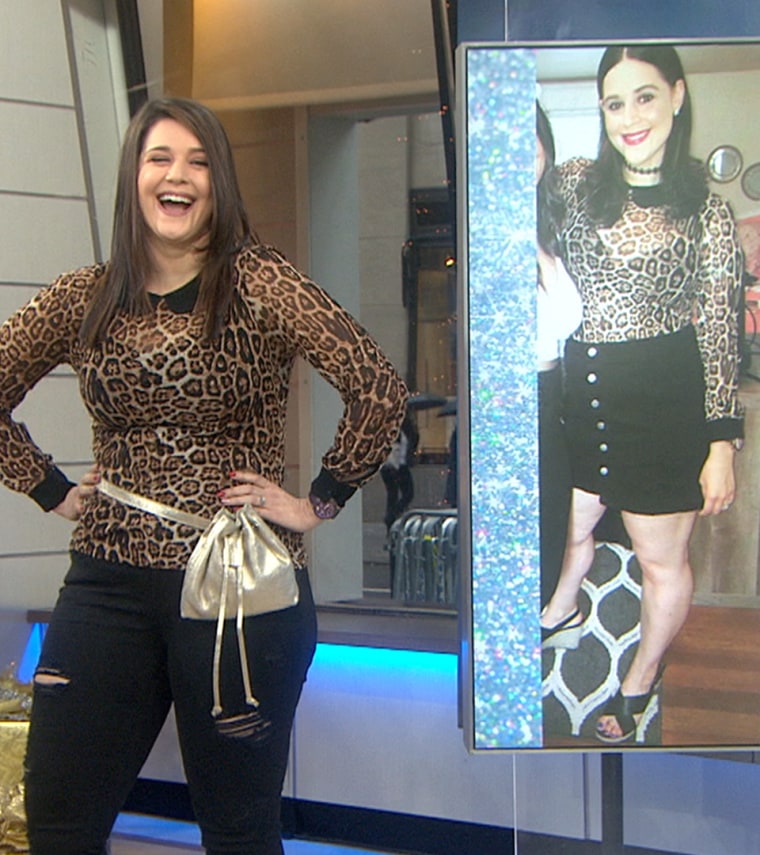 Kelly Anne says: "I always get the body image woes on New Year's Eve. There's so much pressure to look fierce to kick off the new year. This leopard top, however, always makes me feel confident. The last time I wore it was for a new year's celebration a few years ago. I'd love to change it up and wear pants instead so I can feel free to boogie down! We are going to an apartment party then a local bar this year so I would love to rock a casual, yet glam look."
Try remixing it with: Black skinny jeans, a metallic belt bag and embroidered ankle booties.
Kelly Anne's outfit proves that New Year's Eve shopping can also be practical! These distressed black jeans with a trendy frayed hem will come in handy all throughout 2017. And who could resist a pair of rock star-worthy embroidered booties? Why not mix and match leopard and floral patterns? To top it off, we added this metallic gold belt bag so that Kelly Anne will be hands-free and ready to boogie!