When it comes to Halloween, celebrities like Katy Perry and Heidi Klum know how to take it to the next level. Take a stroll down memory lane and relive some of the best celebrity Halloween costumes through the years.
And, hey, if you happen to find your next costume idea, all the better.
1. Taylor Swift as a Pegacorn, 2014
The "Blank Space" singer captioned her photo perfectly.
2. Taylor Swift as Olaf, 2015
And then she one-upped herself the following year when she graced the stage of her "1989 World Tour" as Olaf, while singing "Let it Go" alongside Idina Menzel ... who was dressed as Elsa, of course.
3. Neil Patrick Harris, David Burtka and their kids as "Star Wars" characters, 2015
We'd say this family's Halloween costumes are always out-of-this-world.
4. Chrissy Teigen as Guy Fieri, 2015
What better way to pay homage to her love of food than by dressing up as the infamous restauranteur and Food Network host?
RELATED: Last-minute Halloween makeup ideas you can create on a budget
5. Katy Perry as a Cheeto, 2014
Almost too hot to eat ... almost.
6. Katy Perry as a (literal) "mic drop," 2015
Yup. *drops mic*
7. Demi Lovato as a bloody vampire, 2013
While we're not sure exactly what Lovato is trying to channel, this costume was horrifying enough for the books.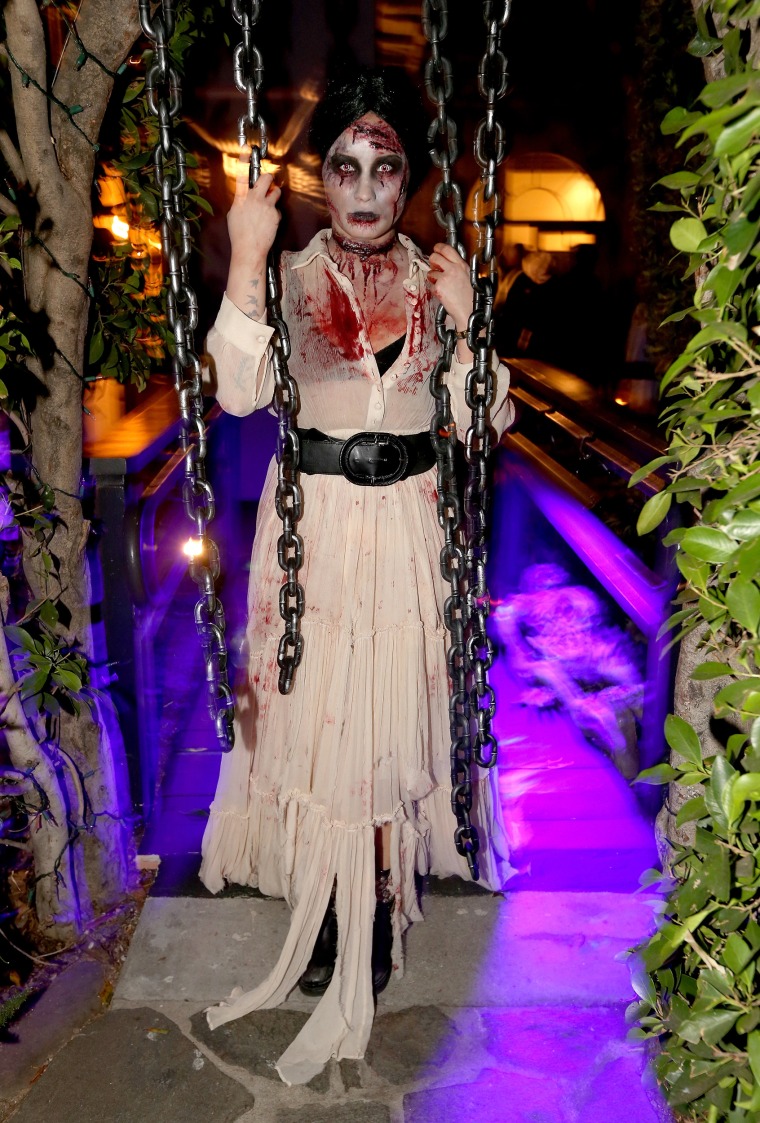 8. Michelle Trachtenberg as Sally from "The Nightmare Before Christmas," 2011
This is how you do Halloween, folks.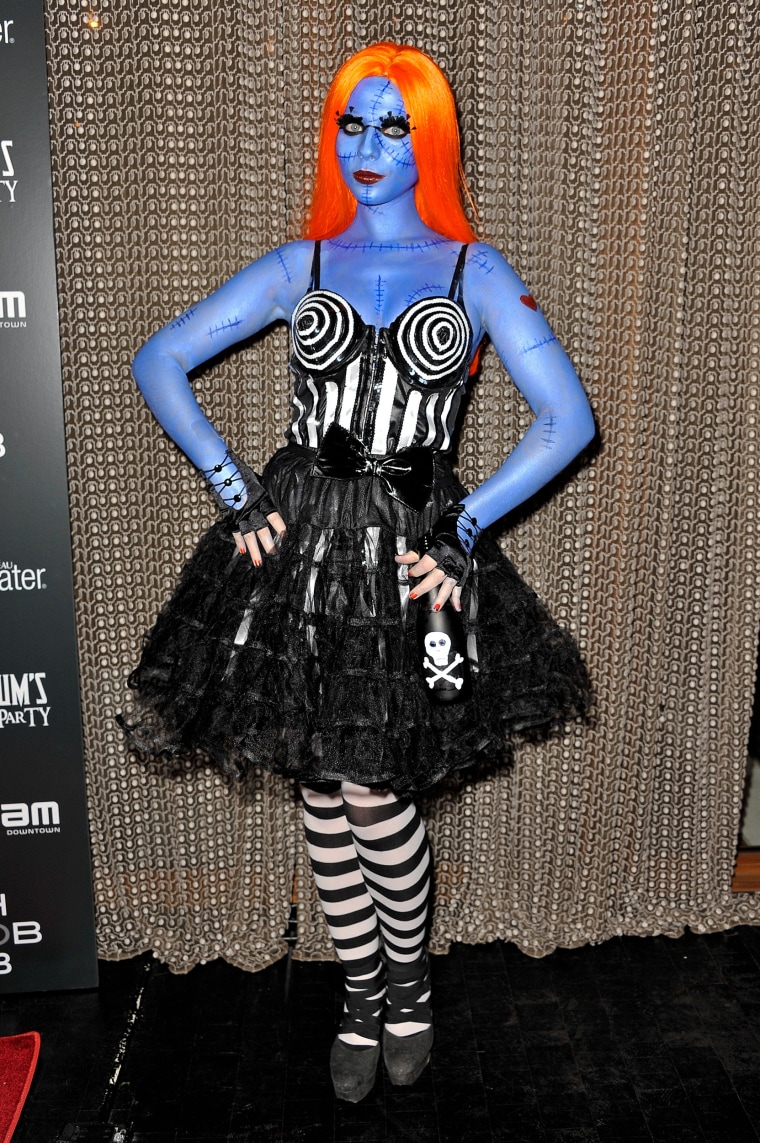 9. Tyra Banks as Richard Branson, 2015
Banks was virtually unrecognizable after transforming herself into successful British business magnate Richard Branson.
10. Bette Midler as a flower queen, 2005
Talk about upping the flower-power game.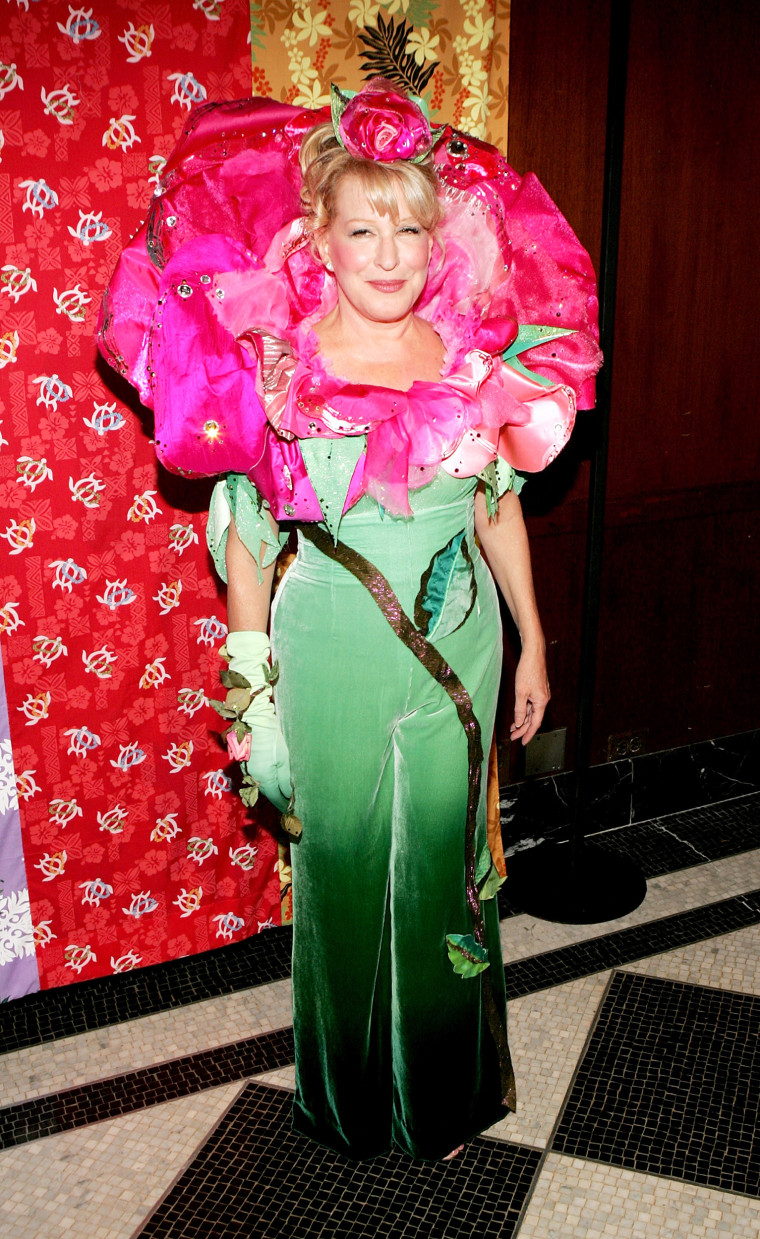 11. Joe Jonas as Derek Zoolander, 2014
Jonas is making us question if there actually is a lot more to life than being really, really ridiculously good looking.
12. Kathie Lee Gifford and Hoda Kotb as Lucy Ricardo and Ethel Mertz from "I Love Lucy," 2010
Our own KLG and Hoda certainly gave TV's most beloved dynamic duo a run for their money when they dressed up as Lucy and Ethel on TODAY in 2010.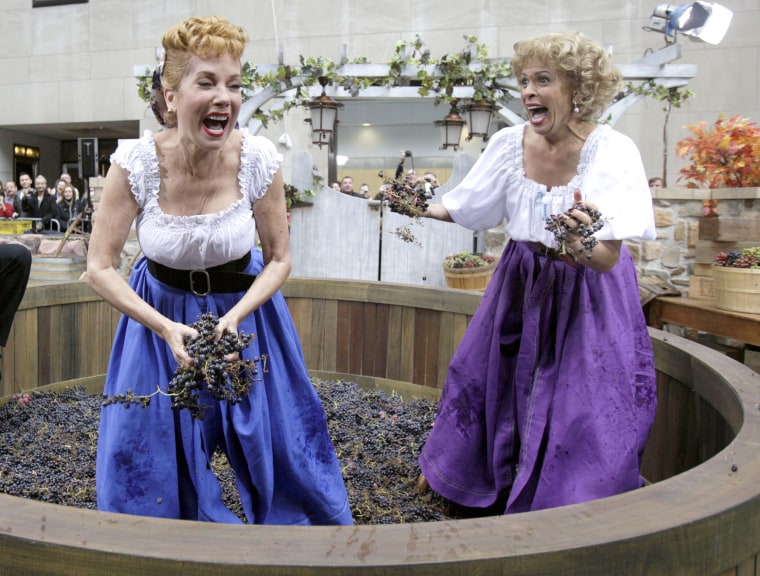 RELATED: 61 awesome Halloween costume ideas it's not too late to steal
13. Rihanna as a Teenage Mutant Ninja Turtle, 2014
Don't mess with RiRi.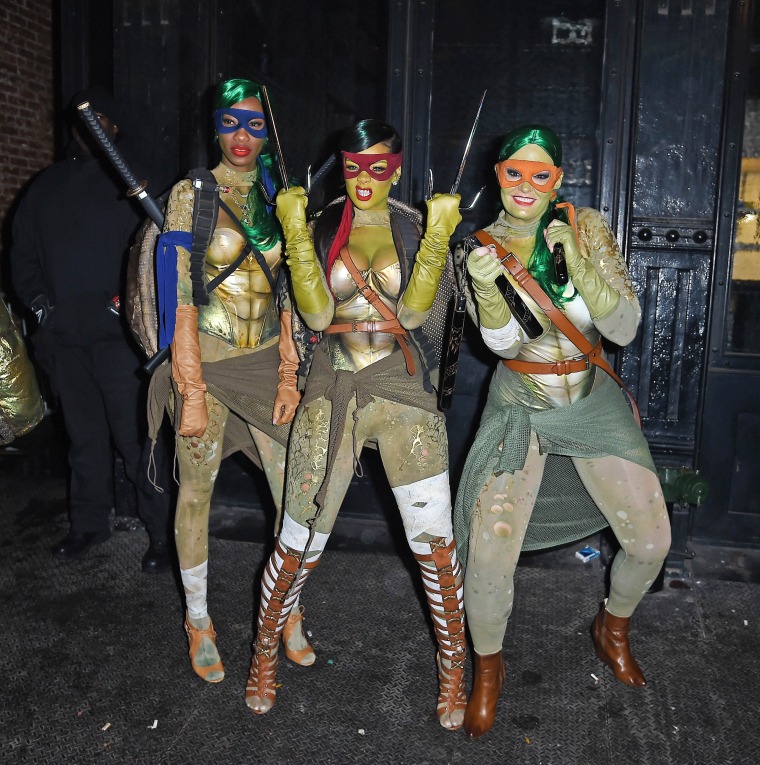 14. Paris Hilton as Miley Cyrus, 2013
14. Allison Williams as Belle, 2015
Williams is a Disney dream come true as the spitting image of the bookish princess.
15. Miranda Lambert as Rosie the Riveter, 2014
This powerful costume will never go out of style!
16. Gisele Bündchen and Tom Brady as Dorothy and the Cowardly Lion from "The Wizard of Oz," 2013
Aw!
17. Ellen Degeneres as "Karla Kardashian," 2015
Ellen won Halloween when she created her own Kardashian sister. If you can't beat 'em, join 'em.
18. Bethenny Frankel as Marilyn Monroe, 2013
Some classic costumes become that for a reason.
RELATED: Matt Lauer in drag, Hoda as Yoda: Relive 20 years of Halloween on TODAY
19. Liv Tyler's "bun in the oven," 2014
A pregnant Liv Tyler decided to make the most out of her baby bump back in 2014. If this isn't the punniest costume, we don't know what is.
20. Beyoncé and Blue Ivy as Janet Jackson and the King of Pop himself, Michael Jackson, 2014
One word: Legendary.
21. Emily Ratajkowski as Mia from "Pulp Fiction," 2014
This costume is iconic and super easy to recreate. You can't go wrong!
22. Kendall Jenner and Cara Delevigne as Mario and and Luigi, 2014
The close friends and supermodels make for a powerful duo.
23. Kim Kardashian as Anna Wintour, North West as André Leon Talley and friends as Grace Coddington and Karl Lagerfeld, 2014
This is "The Devil Wears Prada" meets Halloween.
24. Kim Kardashian as a skeleton, 2014
When she wasn't busy channeling fashion royalty, Kardashian decked herself out in a full-body skeleton costume. Don't worry, she didn't forget to contour.
25. Cindy Crawford as Marilyn Monroe, 1996
Just when you thought Cindy Crawford couldn't get any more stunning, she proved everyone wrong by dressing up as the ultimate blonde bombshell in an appearance on "The Tonight Show with Jay Leno" in 1996.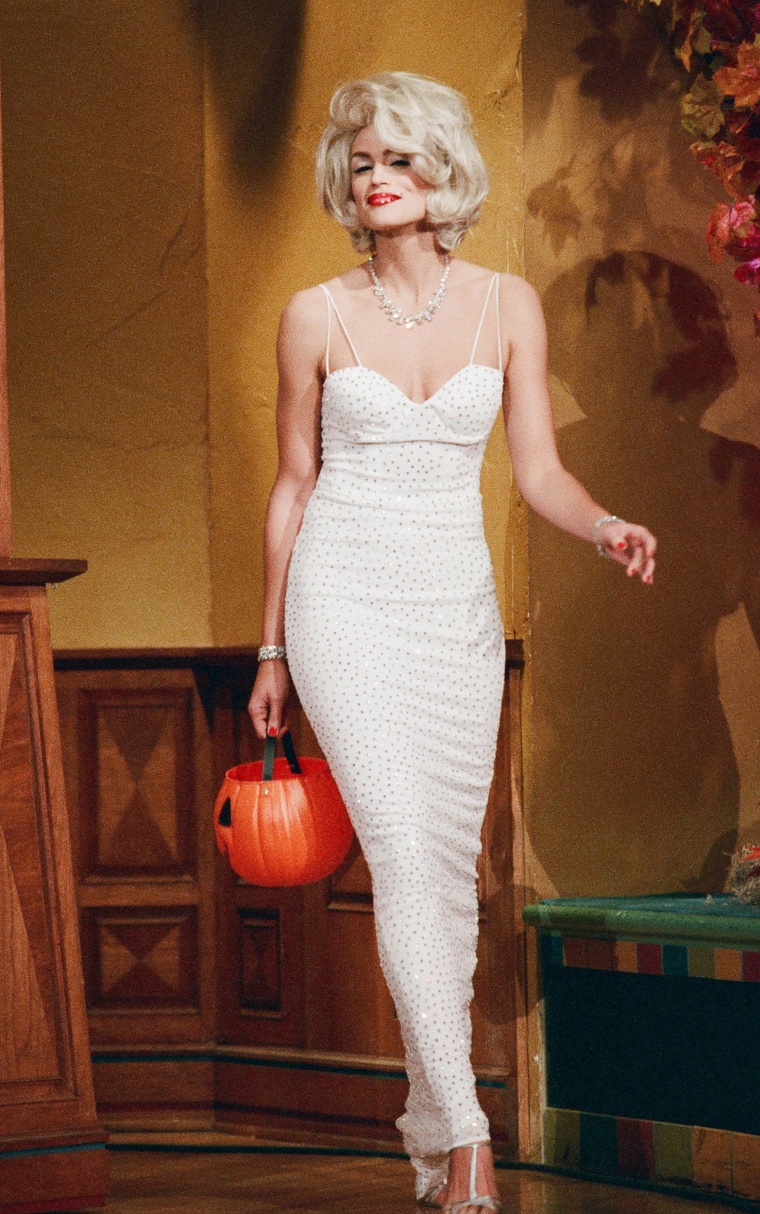 RELATED: Halloween costume ideas: your guide for creative, easy and DIY costumes
26. Kelly Ripa as Donald Trump, 2015
It was a huuuuuuge success.
27. Katy Perry and friend Shannon Woodward as Daria and Jane from MTV's "Daria," 2012
Perry and Woodward achieved peak Halloween goals with this one, mastering the unamused look to perfection. We're impressed, I guess.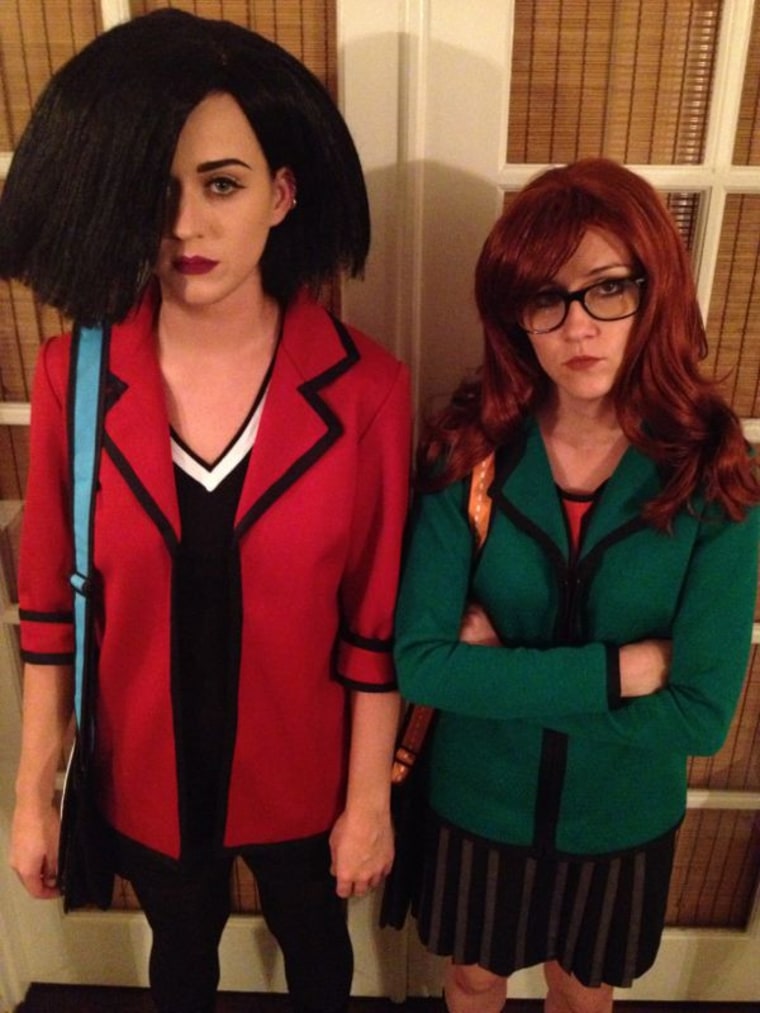 28. Savannah, Jenna and Meredith in mom jeans from "SNL," 2014
In another TODAY Halloween of epic proportions, three of our very own wore the best of the worst jeans around.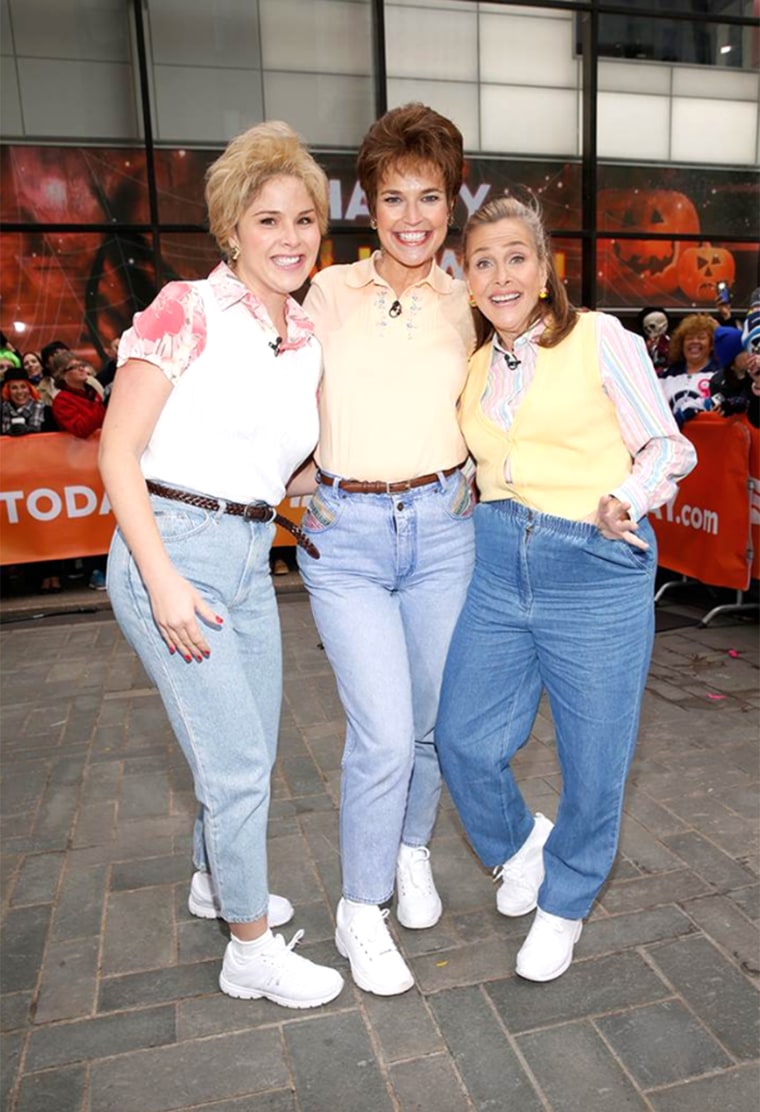 29. Iggy Azalea as Cruella De Vil, 2013
Azalea went all out with a real Dalmation!
30. Dwayne Johnson as Popeye, 2015
He may just be the bulkiest Popeye we've ever seen. Somebody find him an Olive Oyl!
RELATED: 35 DIY Halloween costume ideas you can make now
31. Channing Tatum as Winnie the Pooh, 2015
"Magic Mike" has nothing on everyone's favorite bear.
32. Cher as Cleopatra, 1988
Yes, the queen has arrived.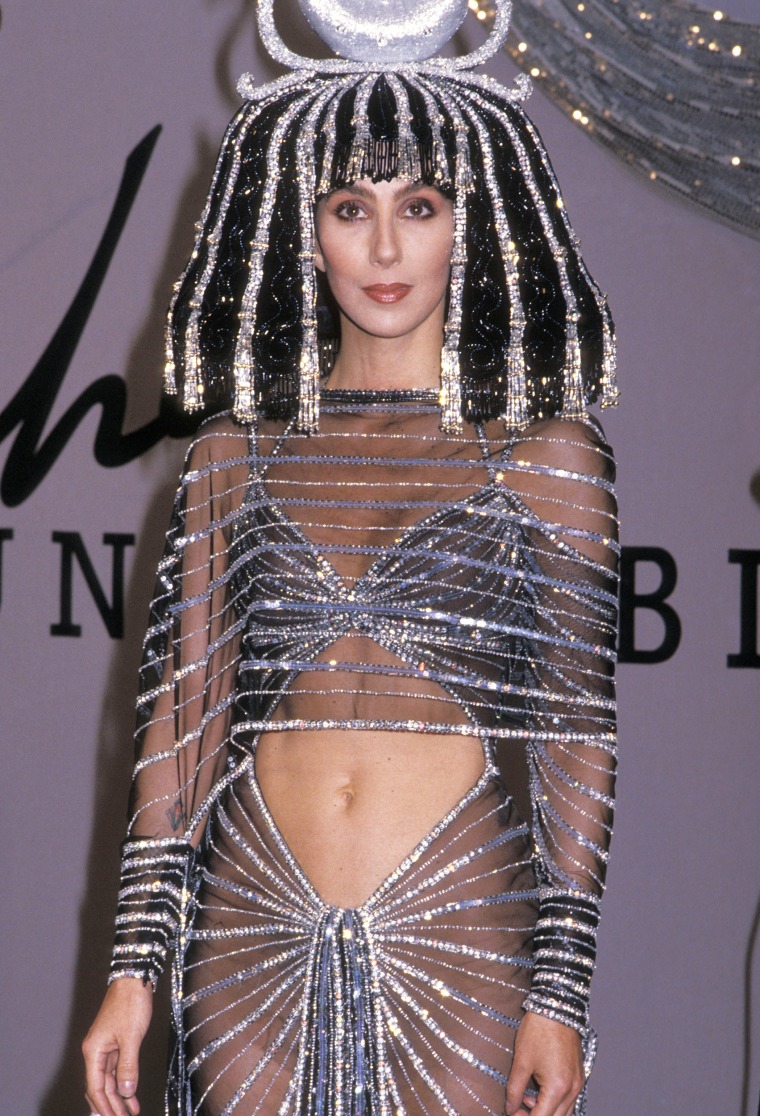 33. Al Roker and Lester Holt as "The Blues Brothers," 2014
The pair even gave a timeless performance of "Soul Man" on the plaza.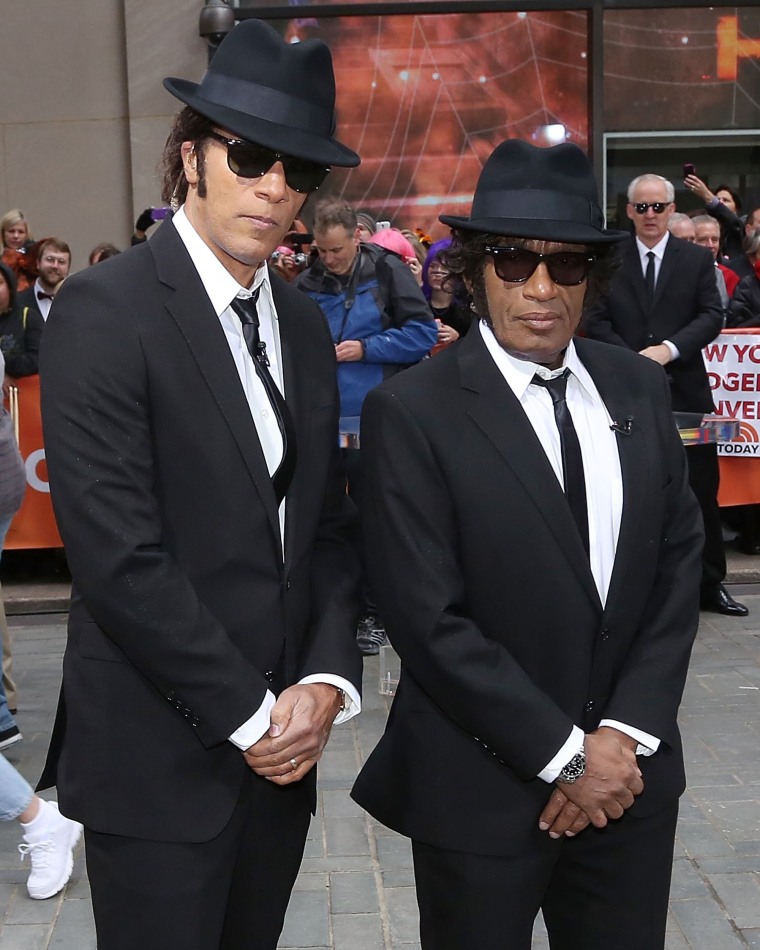 34. Kathie Lee Gifford and Hoda Kotb as Wayne and Garth from "Wayne's World," 2014
Party time! Excellent!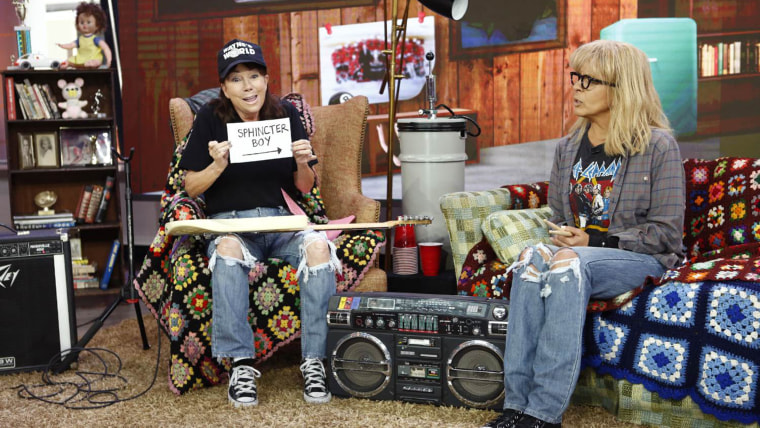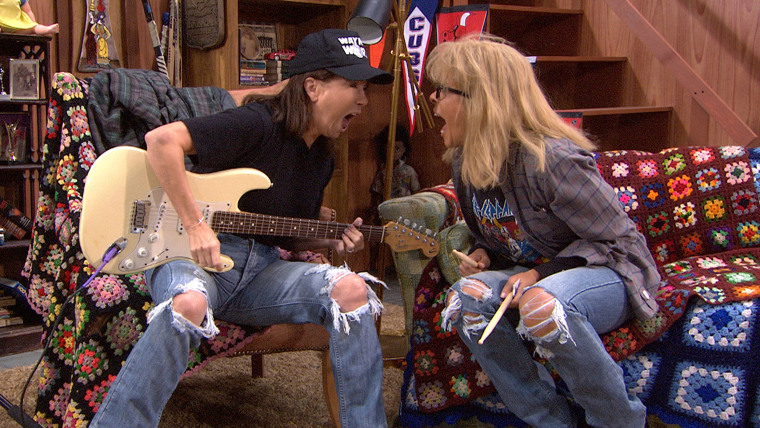 35. Heidi Klum as an old woman, 2013
The supermodel and Project Runway didn't let one detail go unnoticed, varicose veins and all. Are we sure she didn't secretly pay her grandma to stand in for her?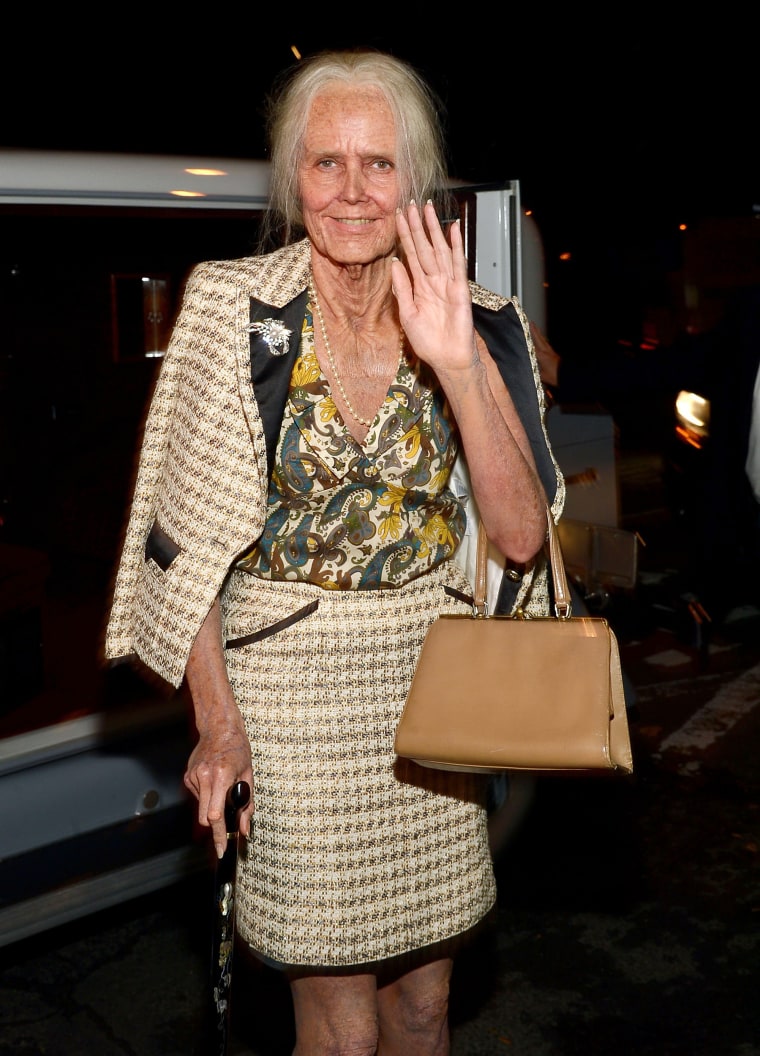 36. Heidi Klum as Jessica Rabbit, 2015
The costume to end all costumes. Klum took it to the next level when she transformed into a cartoonish wax figure of the infamous animated vixen at her annual Halloween party last year. The only question is, how will the queen of Halloween outdo herself this year?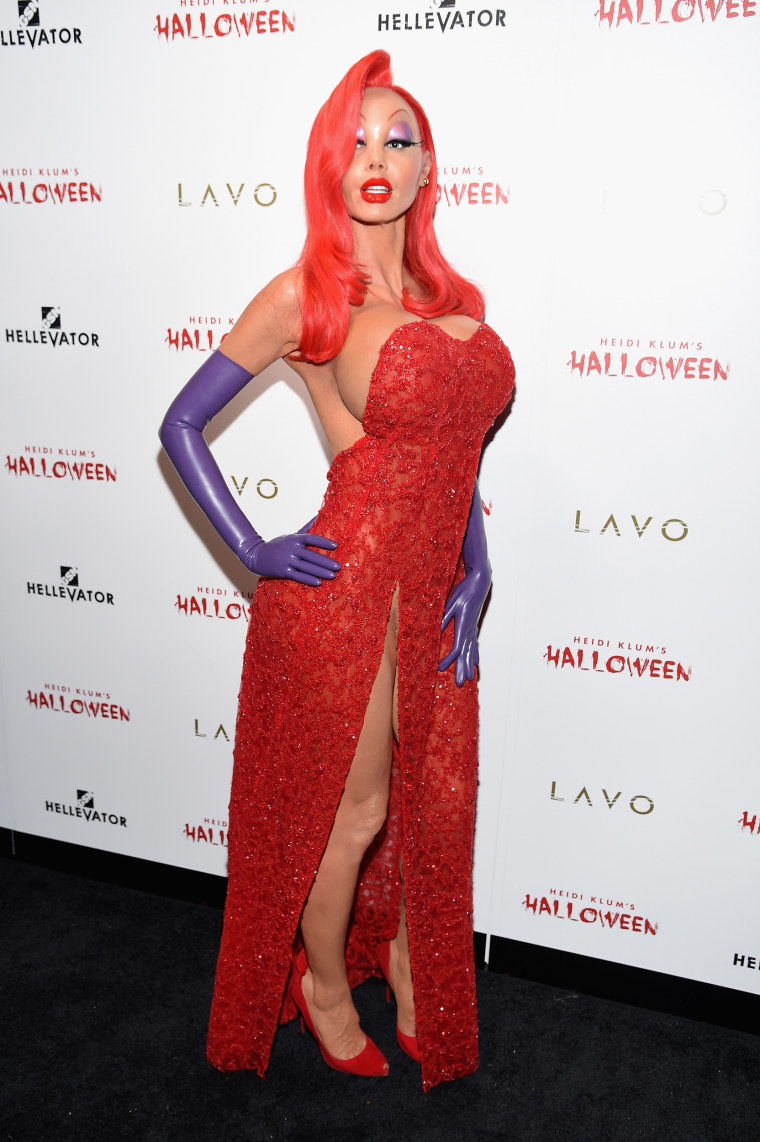 37. Matt Lauer as C.J. Parker from "Baywatch," 2013
We think this one speaks for itself.