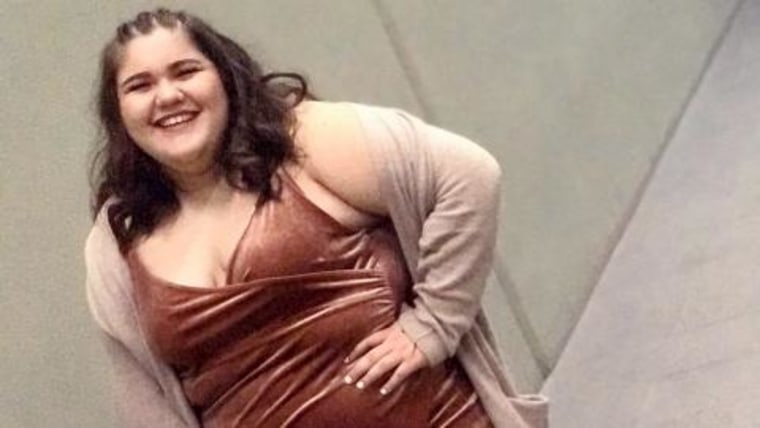 Sometimes, a new dress can totally transform the way you see yourself. At least, that's been the case for 18-year-old Ashlie Bautista, who received an overwhelming number of encouraging tweets after posting a photo of herself rocking a new dress on Twitter.
The college student shared several photos last week of herself looking fabulous in a curve-hugging velour V-neck dress, and thanked her friends for encouraging her to try something new.
"So last night, I wore something that I never thought I would wear," she wrote. "I'm very insecure but with the help of my amazing friends for hyping me up, I was able to wear it and gained a little bit more confidence in myself."
Bautista told TODAY Style she originally posted the tweet to share her message of self-confidence with friends and family: "I just wanted my friends and family to see that I feel happy in my body enough to post pictures like this."
Her raw and relatable post struck a chord with thousands of people online, garnering more than 325,000 likes and 32,000 re-tweets.
Twitter users responded with an outpouring of support, with one user telling the criminal justice major that her tweet made her day "10x better."
Another user posted exactly what we were thinking when she told the 18-year-old beauty she looked simply gorgeous.
Bautista is tickled pink by the positive response.
"Honestly it makes me feel so happy," she told TODAY. "I didn't expect a lot of people to see the tweet; And seeing that a lot of people saw it and they loved it makes my heart happy."
After sharing her message of self-confidence on the social media platform, Bautista says she strongly encourages other women to take clothing risks and feel confident in their skin, too. "If you feel good and you know you look good, then you do," she told us.
"Overcoming insecurities is a big deal," she added, "and I'm proud of everyone that does so!"