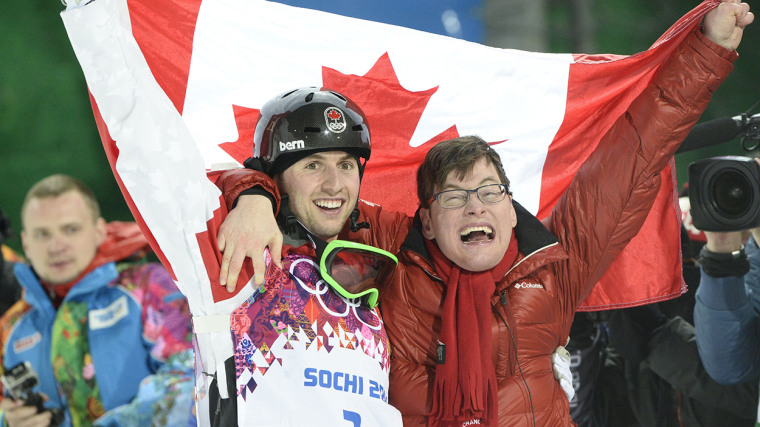 When Canadian free skier Alex Bilodeau learned he won gold and made history Monday, he immediately embraced his older brother Frederic, in an emotional moment that exemplified that the Olympics is a family affair.
Bilodeau credits Frederic, who has cerebral palsy, with inspiring him and pushing him through tough times.
"My brother is my inspiration," Bilodeau said after his gold medal run. "Growing up with handicapped people puts everything back in perspective and he taught me so many things in life."
Many Olympians credit their success to their siblings, who have played various roles in helping them become better competitors — some even introducing them to their sport.
"My brother is the one who got me into snowboarding," slopestyle star Sage Kotsenburg, who won Team USA's first gold medal, told TODAY.com. Kotsenburg called his brother 15 minutes before his run to get his advice on doing a trick he hadn't tried before — the 1620 Japan that ended up helping him clinch gold.
"I thought, who better to call?" Kotsenburg said. "He was stoked on this idea. He was like, 'Just send it man, I know you're gonna stomp it if you get positive into it.'"
Kotsenburg says that through the years, competition with his older brother Blaze turned him into the rider he is today.
"We just pushed each other. We had friends in Park City and Salt Lake City that we'd always ride with and just having my brother there with me the whole time has helped me progress so much," he said. "You always want to one-up your brother, so it was good for us in snowboarding."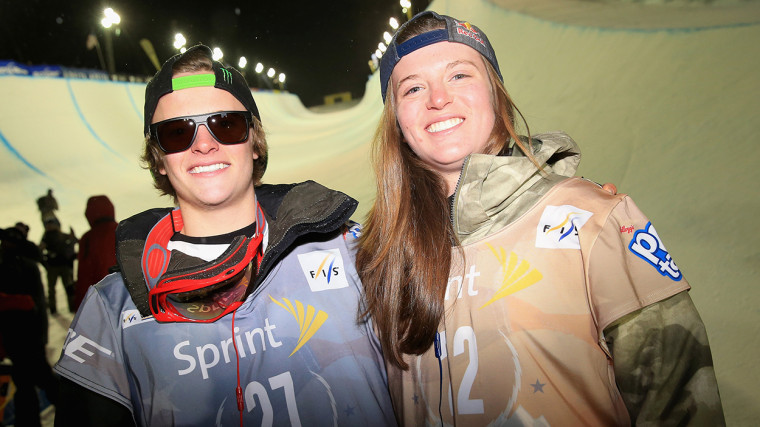 Olympic snowboarder Taylor Gold introduced his younger sister Arielle to the sport — and now both are competing in Sochi. While Gold says there will likely be jealousy if one medals and the other doesn't, the siblings' relationship is more about supporting each other than competition.
"I always supported her snowboarding and I was glad that she got started," he told TODAY.com. "I've been able to help her figure out some of her tricks."
And during tough times, Arielle is his best source of support because she knows exactly what he's going through.
"She can come over and say, 'You got this, you can do this,' and I can do the same for her," he said. "Just having that person there to help you when you're having a rough time has been really important to our success."
Figure skater Gracie Gold (no relation to Taylor), has the same relationship with her twin sister, who is also a successful figure skater but is not competing in the Sochi Games. The two say they are best friends.
"For Gracie, having someone she could talk to freely and whenever she wanted to was really helpful I think," her sister Carly told NBCOlympics. "It helped her get out some of her anxieties. With me, she doesn't have to think about everything around her."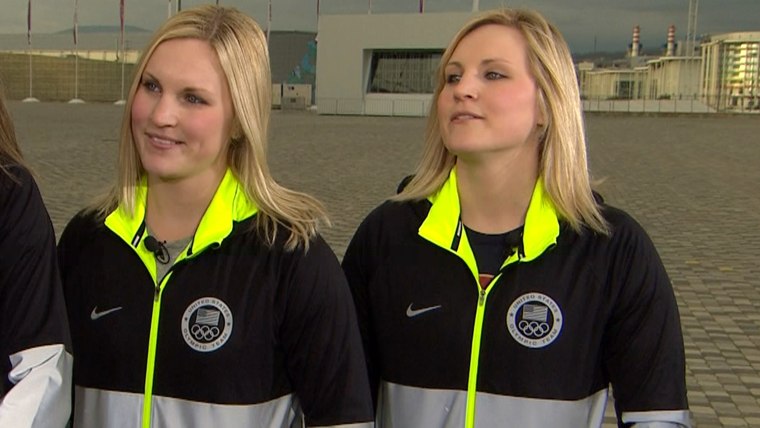 The rivalry among athlete siblings who are both highly motivated serves to build them up rather than tear them down. And for Team USA hockey players and twin sisters Monique and Jocelyne Lamoureux, that requires brutal honesty.
"They do a good job of holding each other accountable," said teammate Meghan Duggan. "Sometimes teammates don't because they don't want to step on anyone's toes. But [Monique and Jocelyne] are good with calling the other one out for something, then taking the feedback and being OK about it. They hit like sisters but then they're fine, they're not catty."
The competition between the Lamoureux sisters and their four older brothers — who introduced the girls to hockey when they were just 4 years old — taught them an important lesson at a young age: play hard, or get off the ice.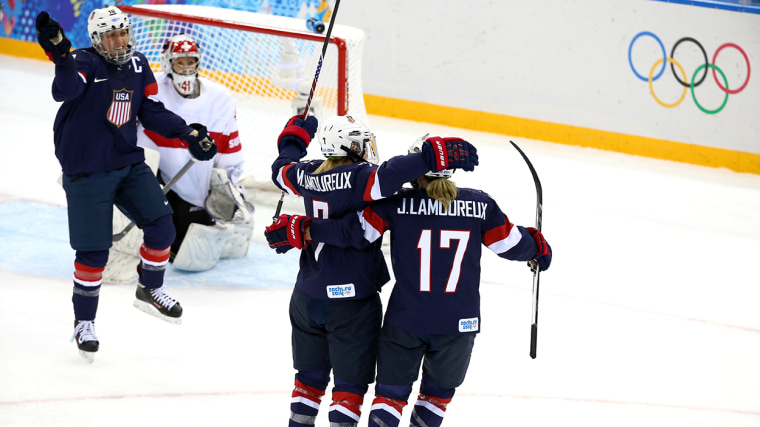 "Our brothers didn't take it easy on us growing up," Monique told TODAY.com. "If we wanted to play with them we had to keep up – otherwise they wouldn't let us play. They definitely played a huge role in our athletic development growing up since we always had to try so hard."
Snowboarder Karly Shorr, who competed in slopestyle on Sunday and finished sixth, says her older brothers also exercised some necessary roughness when she was young, which pushed her to be better.
"We had this skatepark in our driveway for a little while," she said. "They talked me into going down the ramp on my skateboard, and they threw another skateboard in front of me when I went down. So I hit the other skateboard and flew off my skateboard onto the concrete on the driveway. I was 10. It was crazy." But, Shorr adds, that kind of behavior increased her mental and physical toughness.
Tracy Barnes, the Nordic skier who gave up her spot in the Sochi Olympics to allow her twin sister Lanny to compete, put it best:
"I always feel lucky because I have my best competitor — and my biggest supporter — training with me every day."
Steve Veres contributed to this report.