From the moment the Olympic medals were draped over their necks in Sochi, U.S. slopestyle skiers Gus Kenworthy, Joss Christensen and Nick Goepper have gotten a taste of boy-band-level attention. 

As Kathie Lee Gifford put it subtly on TODAY Thursday, "Are the chicks just swarming you now that you're medalists?"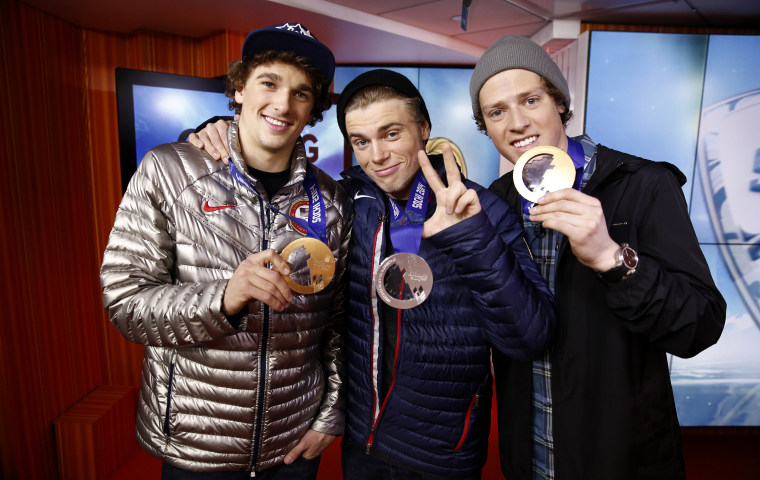 "A little more than I've been used to,'' Christensen said. "It's pretty cool. It's already been a whirlwind."

"There's a bunch of girls outside the studio right now with signs and stuff,'' Goepper said. "I don't think that's ever really happened to us." 
Q: Who's Joss Christensen crushing on?
Christensen, 22, won gold in slopestyle, which debuted in Sochi. His only crash came off the course when he approached Lolo Jones, 31, the Olympic hurdler-turned-boblsedder and staple of "hottest Olympians" lists.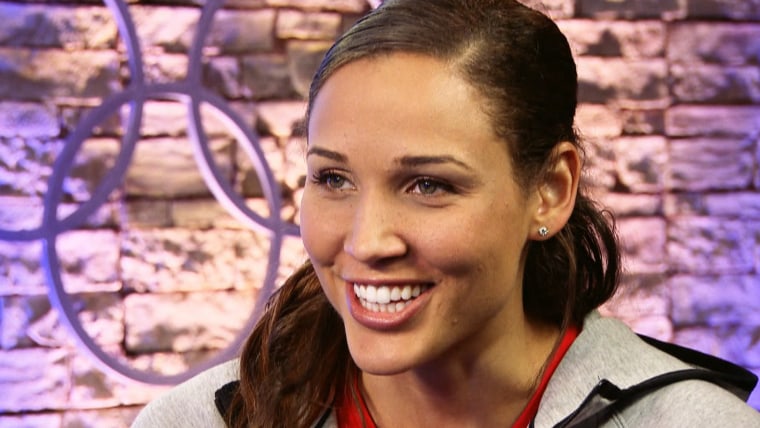 "There were definitely a few awkward interactions I had with Lolo Jones and stuff where I kind of blew it under pressure,'' Christensen told TODAY.com. "It was like 'Hey how is it goin.' Hi, I am Joss.' I kind of awkwardly answered the wrong question.
"It was a pretty big deal to meet her. I saw her in our physical therapy room. I was definitely a little too awkward in that situation. She's definitely a cutie." 
Q: So what were Gus and Miley tweeting about?
Kenworthy, 22, busied himself flirting on Twitter with Miley Cyrus after winning a silver medal. All three skiers made their celebrity valentine crushes public, and only Kenworthy got a response from his crush — Cyrus. (Christensen and Goepper didn't hear from Emma Watson and Taylor Swift). Kenworthy told KLG and Hoda that he plans on going to her concert in Denver on March 4. 
"Miley tweeted at me, followed me, and we had a little messaging going on,'' Kenworthy told KLG and Hoda. "She followed me, and I just took a screenshot of it and tweeted, 'This just hit me like a wrecking ball.' Super corny." 

Q: What's the latest on Gus and the puppies he's trying to adopt?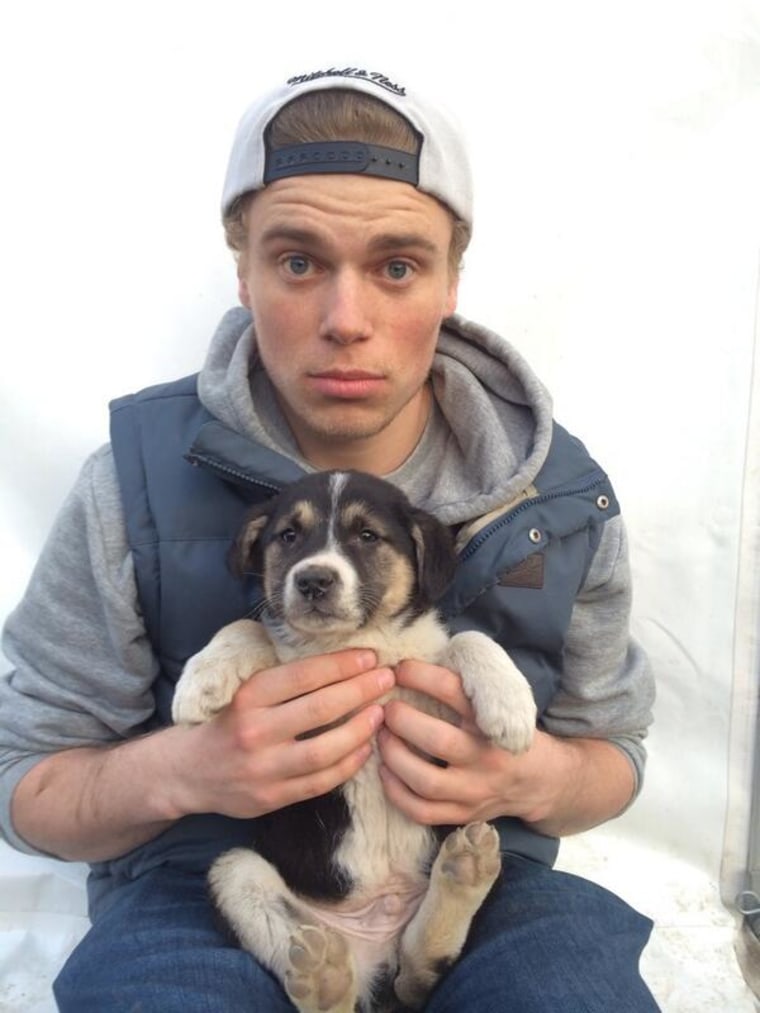 In between direct messaging international pop stars and winning a medal, Kenworthy was working to adopt multiple stray puppies from Sochi. 
"The puppies are awesome,'' he said. "They're in Sochi right now. They're at the vet. They just got all their inoculations, all the shots they need. Now they just need a little bit of time. There's definitely been a ton of people who are trying to help, and we're working with the Humane Society here, so we definitely have some good people on our side."
Kenworthy had been looking into getting a dog for the past year after the death of Mack, a dog his father adopted for him from a shelter when Kenworthy was 11 years old. 
"I saw these dogs in Sochi and just fell in love with them,'' he told TODAY.com. 

A friend in Sochi trying to help get three puppies and their mother back to the U.S. to live with Kenworthy's family.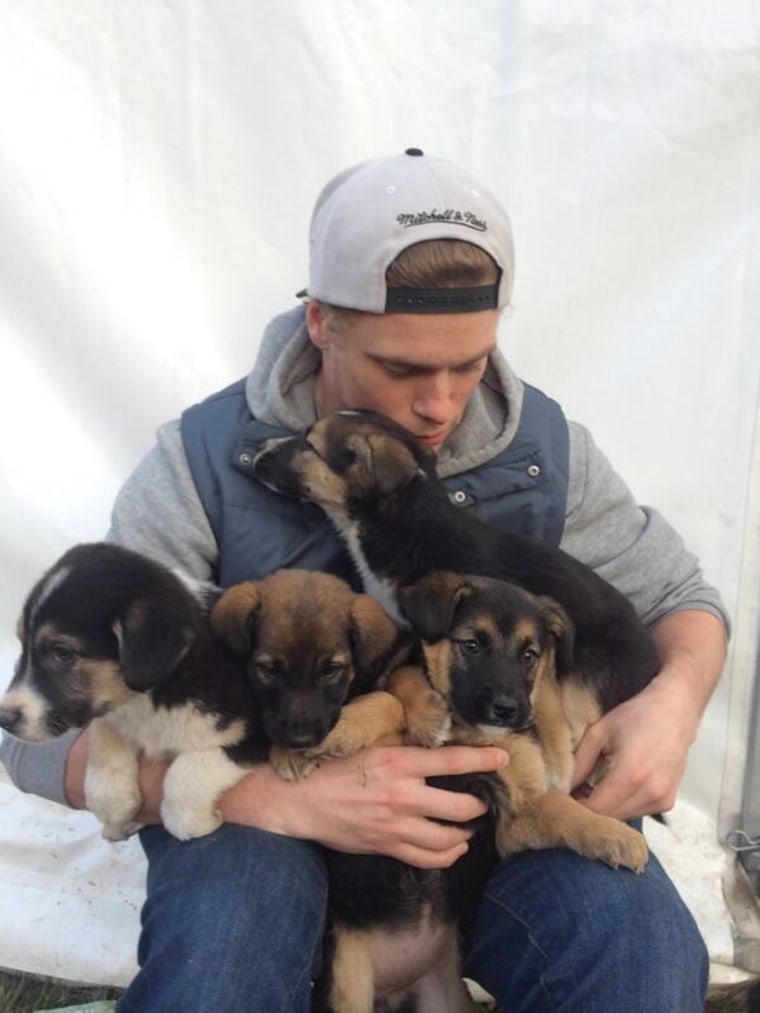 "They just have to wait 10 days to 20 days until they are ready,'' he told TODAY.com. "Once they're ready to travel over, they will come over and meet me. I am definitely looking forward to that."
Kenworthy will keep two puppies that he has named Rosa and Gorki for himself. Another one will go to his brother and his fiance, and the mother of the litter will be taken in by Kenworthy's mom. 
"I just posted the pictures hoping the people were thinking they were cute,'' he told TODAY.com. "It's been insane how much outreach I've gotten."
He also has experienced some backlash. 
"I've gotten messages from people saying, 'He doesn't even care about the dogs. He just wants the media attention,''' he said. "It's not even like that." 
Q: Did Nick Goepper ever get a date?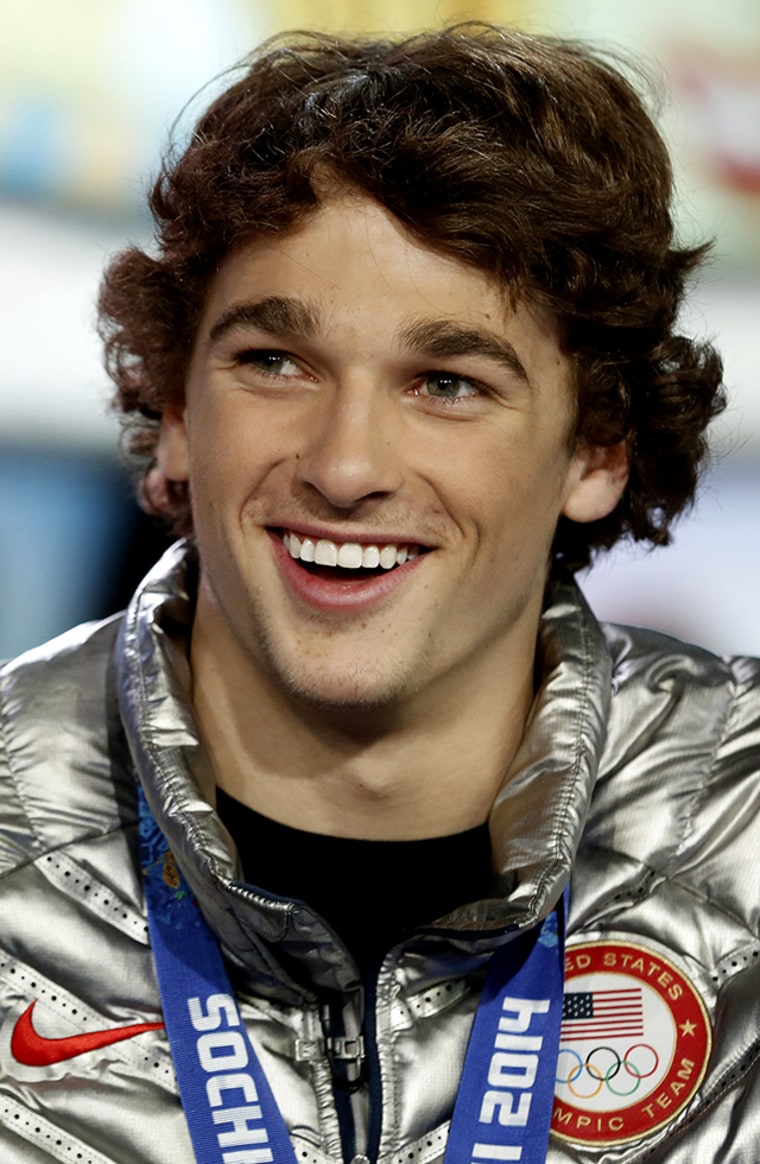 Bronze medal winner Goepper, 19, has had his hands full collecting date requests after holding a contest with the hashtag #iwanttodatenick. He told KLG and Hoda that in a few days he will pick a winner and bring her to New York City for a date that will be documented on social media. He told TODAY.com he also plans to reach out to about 30 girls and send them personal messages. 
"It was more so just for fun because I was getting quite the female reaction on social media after the three of us did well,'' Goepper told TODAY.com. "I decided to throw that out there. It's been amazing the kind of responses there is. There's actually been some really, really cool videos and photos. It's going to be hard to actually pick one."
One girl sang him a Jason Mraz song, while another even posted a video of herself jumping out of an airplane and parachuting to the ground. 
"I actually watched that this morning, and I was blown away,'' Goepper told KLG and Hoda. 
Goepper and his fellow medalists are just doing their best to enjoy their time in the spotlight and try to snag a date whenever possible, including an earlier guest on KLG and Hoda on Thursday. 
"Is Elizabeth Olsen coming back out?" Kenworthy asked KLG and Hoda at the end of the interview. 
"Now I don't want you to marry my daughter,'' KLG said.