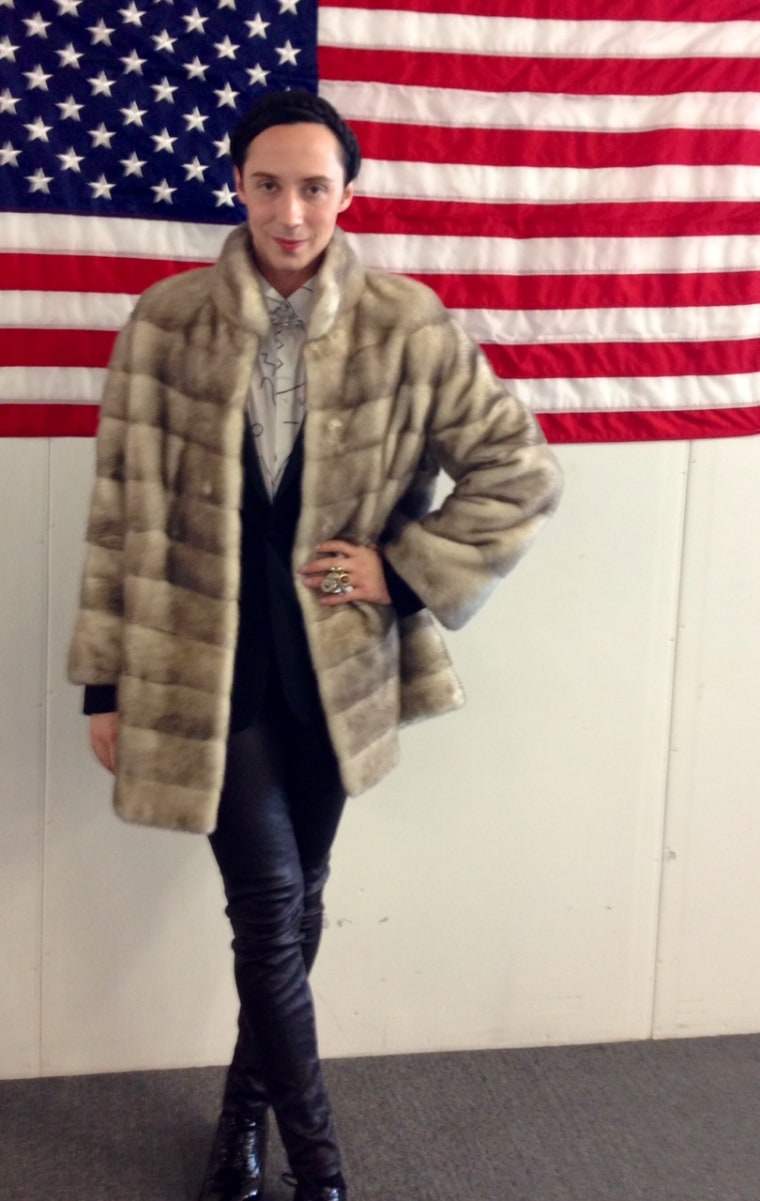 What does it take to be so fabulous that your wardrobe overshadows the Olympics? According to Johnny Weir and Tara Lipinski, a lot of preparation.
"I started pulling clothes from different designers and jewelry from different designers about a month before we came over," said Weir. He and Lipinski have been the talk of the town during the Sochi Games, not only for their witty figure skating commentary for NBC Sports, but for their chic — and sometimes wild — ensembles.
"We're (in Russia) for almost a month and we're on air almost every day, so we had to put together outfits ahead of time so we weren't just bringing our whole closet," added Lipinski.

The two planned their looks together to make sure they played off of each other well.
"For whatever reason, people are just gravitating toward what we wear and that we're trying to match and be cohesive on television," Weir said. "I think it's TV 101 that you should look like your partners."
So how much, exactly, did they pack? This much:
8 suitcases: "Three of mine are the size of Ford Focuses," Weir said. "And three of Tara's are the size of Audi S4s."

22 pairs of shoes

10 pounds of jewelry

25 blazers

4 fur coats (all Johnny's)

6 pairs of leather pants

9 high-end purses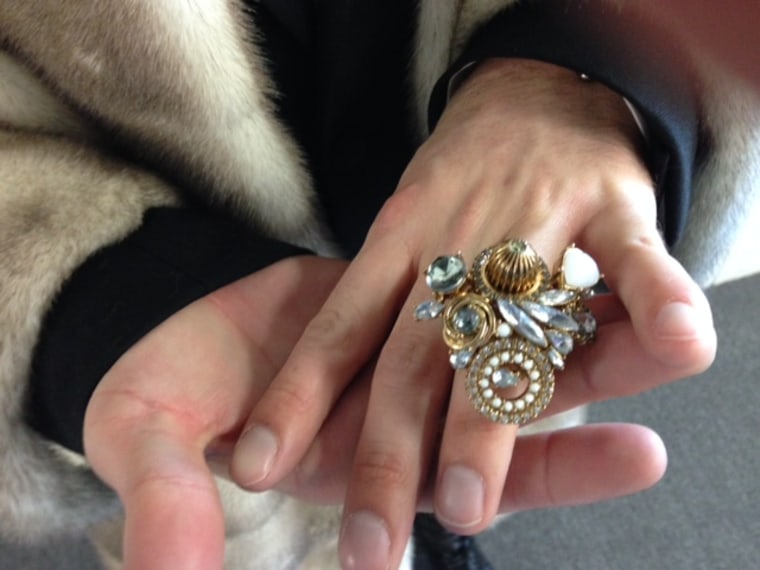 "Definitely, we're overpacked," Weir said. "We have pounds and pounds and pounds of clothes. But we're in this position where we're the new kids on the block and we have to prove ourselves. You can't wear the same black suit every day so we have to mix it up."
After seeing Weir go fishing in a fur coat, we can't even imagine him donning a ho-hum black suit. That coat, which Weir calls "one of the loves of my life," was actually made in Russia, and he says only bringing four furs was actually keeping it tame.
"We knew it was going to be pretty mild here so I didn't go nuts bringing my heaviest like my big sable or my huge floor-length minks," he said. "I only brought the ones that were weather-appropriate."

The pair also shared with us their favorite looks:
Lipinski counts her Valentine's Day getup among her top picks.

"Our pink outfits were a lot of fun — the light pink/crazy hot pink was a great match," she said. "I also love my Alice & Olivia peep-toes with hearts."
"The most favorited one on Instagram so far is my sequin jacket and spiked Louboutins," Weir said. "But my favorite is the day I did leather — a leather jacket, white tux shirt, beautiful necklaces, black leather pants, and wedges. I thought I looked super slim and I felt good about it."

The Johnny and Tara show has taken our enjoyment of figure skating to a whole new level, and that's exactly what these most style-savvy Olympians want.
"We love getting dressed every morning to go to work and we love talking about our sport," Weir said. "If people want to pay attention to our clothes, that's a good thing for us because it also gets people paying attention to our sport, and figure skating needs a rejuvenation."

Figure skating is one of the most fun sports to watch — not only because of how technical it is, but because of the fabulous and funky fashion. Here, Olympians, fashionistas and NBC Sports Olympics correspondents Tara Lipinski and Johnny Weir share their critique of the looks during the Sochi Games.