Members of the U.S. figure skating team said the Olympic bronze medal they earned in the first-ever team competition has served as the perfect warm-up going into their individual competitions.
"I haven't even had close to my best skate," figure skater Jeremy Abbott said Monday. "I got that over with early and now it's time to focus on the individual event, and get some more hardware for USA."
Abbott and his teammates won the bronze Sunday night in the brand-new team figure skating competition in the Winter Games. Some of the members will barely get a chance to rest before they head into their next Olympic events.
"This is a great warm-up for us and we're ready to go tomorrow and Wednesday," said Simon Shnapir, who will compete in the pairs competition along with partner Marissa Castelli.
Watch the video: Team USA rallies on ice
Ashley Wagner said she needed the solid performance she gave over the weekend to boost her confidence for upcoming events. Wagner almost failed to make it to the Games after placing fourth at the national championships last month. In a controversial decision, however, American figure skating officials placed her on the Olympic team, sending her to Sochi, Russia, over Mirai Nagasu, who came in third at the nationals.
"I needed that performance going into the individual event," Wagner said. "I came off from the rocky Nationals and I needed to prove to myself more than anything that one competition didn't define me."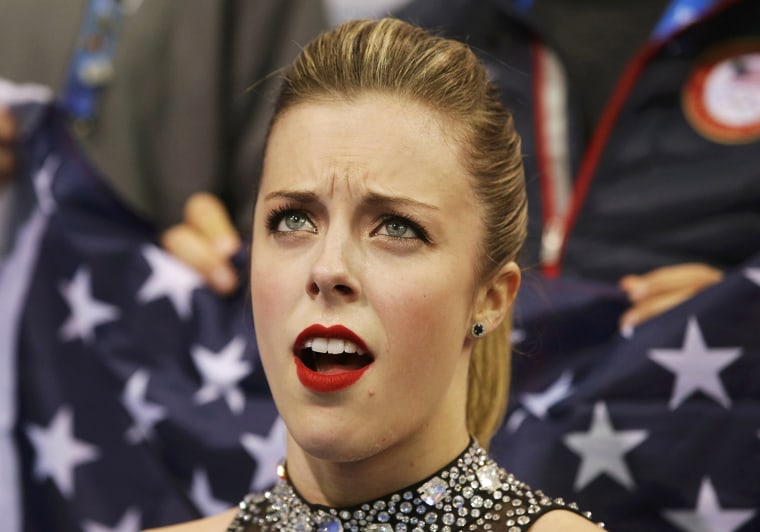 Wagner's reaction to both her Saturday night performance and then minutes later, after seeing her disappointing score, have been the most re-played moments during the preliminary competition Saturday. On Monday, she laughed off everyone's reaction to her widely-seen facial expressions.
"I wear my heart on my sleeve," she said.
Both Wagner and teammate Gracie Gold will face fierce competition from Julia Lipnitskaya when they skate for themselves in the women's individual events.
Gold said she's excited about facing off against the 15-year-old Russian prodigy.

"She's amazing, she's a machine and she's a really tough competitor and I can't wait to skate against her again in the individual," she said.
Shnapir said the lift team members provided each other during the group events will go far in the days ahead for everyone.
"We're going to work just as hard and put out some great performances, too," Shnapir said. "We're so thrilled to be part of such a great team. We're all such good friends and we're all really excited to share this moment together."
Figure skating is one of the most fun sports to watch — not only because of how technical it is, but because of the fabulous and funky fashion. Here, Olympians, fashionistas and NBC Sports Olympics correspondents Tara Lipinski and Johnny Weir share their critique of the looks during the Sochi Games.