American snowboarder Shaun White considers his disappointing performance in the Olympic halfpipe a setback, but not necessarily an end to an extraordinary career, he said Wednesday on TODAY.
"I think so," White said, when asked if he would consider coming back for another run at gold in 2018, as the crowd behind him erupted in cheers. He will be 31 by the time those Winter Games take place in South Korea.
White went for a historic third consecutive Olympic gold medal in the halfpipe on Tuesday but came up short, placing fourth and losing the title to Switzerland's Iouri Podladtchikov. However, his qualifying run just before the event earned him the highest score among competitors — high enough to have clinched a spot on top of the podium if he repeated it in the finals.
Watch the video: Shaun White says he may return to Games in 2018
"I thought about it plenty of times, just countless, running it through my head what I could have done," he said. "I'm happy, though. I move on from here. I don't think it makes or breaks my career this one night, but definitely a disappointment."

White, 27, is not used to defeat and said the pain he feels reminded him of when he started out.
"I've dealt with this a lot when I was younger, just coming up in the ranks of the sport," he said. "It feels like old times I guess, but I've learned a lot from it."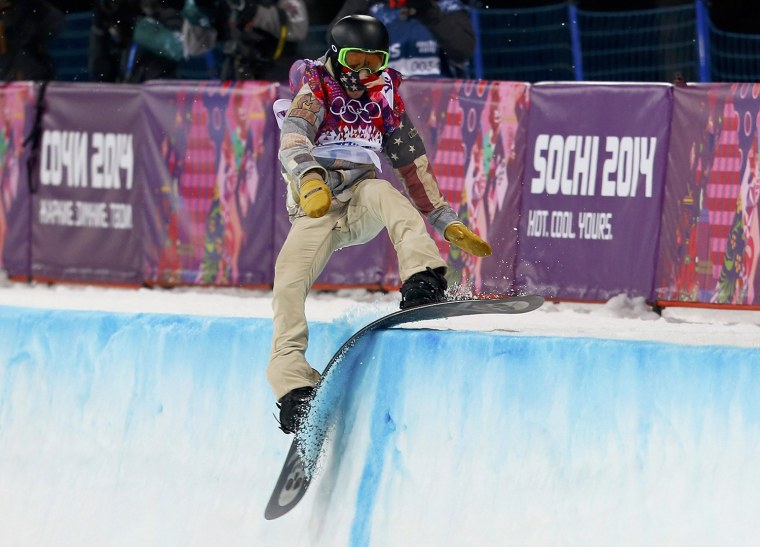 White was asked about a specific moment in the finals, captured in a widely distributed photograph that shows his snowboard bending on top of the halfpipe.
"That was just my desperate attempt to salvage that run and I came up a little bit short on the wall there," he said. "It was a tough halfpipe to ride. It was really tough. There were issues during practice for the previous days before the event. They pulled it together at the last minute for the event but I was definitely feeling the pressure."

White called it a "tough night for everyone." Neither of the two other American snowboarders who competed received medals — coming in 10th and last at 12th — but White said he appreciates the experience of being an Olympian who simply made it to the finals.
He had hoped to pull out a top trick, the frontside triple cork 1440, to secure a medal but he never made it that far. 
"I didn't make it to that trick, which was even more disappointing," he said. "Normally if I lay down a run and I'm beaten, I'm okay with it. I put my best effort out and that's okay. This is so disappointing for me because I didn't get that chance, I didn't get that opportunity."
White said he felt more pressure than usual competing for his third gold meal. He came to the Winter Games in Sochi, Russia, to compete in two events only to walk away empty handed.

"I pulled out of slopestyle, which was something I really, really wanted to compete in. I still stick by my decision to do that. I needed extra practice for the half pipe," he said.
He also said a tweet he sent to fans before his competition wasn't a hint at his retirement, but a message of appreciation for their support. "It's been such a journey to make it this far. I just wanted to thank everyone who supported me and wish me luck and I needed it," he said.
White then thanked his fans on the TODAY plaza in Sochi, who were thrilled at the prospect of his future return to the Olympic Games in four years.
"I need everybody now more than ever so, yeah, thank you guys," he said.