This wasn't the way it was supposed to end for one of the most decorated male figure skaters in history on his home ice, but Russia's Evgeni Plushenko is retiring with no regrets. 

"It's hard, but you know, it's life,'' Plushenko told Savannah Guthrie on TODAY Friday. "I have (had) 12 surgeries, and of course I would like to skate in front of my audience and fans. I have a big army of my fans. It's happened. I tried my best, I tried to skate, and I tried to change a little bit of figure skating." 
Plushenko, 31, abruptly withdrew from the men's singles event in front of his home crowd in Sochi on Thursday after aggravating a chronic back injury in practice on Wednesday. He skated out onto the ice for his short program on Thursday, but after tweaking his back in warm-ups, decided he could not perform. 
"You have the most decorated figure skater in the sport kind of being helped off the ice,'' NBC Olympic figure skating analyst Scott Hamilton said on TODAY Friday. "You want him to go off the ice on shoulders with his fist held high, not being helped off because of an injury. It was a very sad moment for me." 
Watch the video: Scott Hamilton breaks down the latest drama in men's figure skating
Plushenko waved to the crowd, placing his right hand on his heart, and then informed officials that he was withdrawing. He then subsequently announced he was retiring after a brilliant career in which he tied Sweden's Gillis Grafstrom as the most decorated Olympic men's figure skater in history with four medals.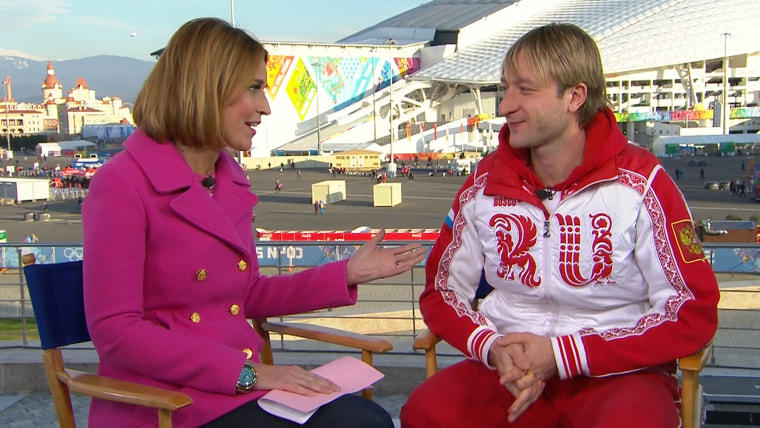 "First of all, I would like to say, I did a good job in my career,'' he said. "I skated many years and here in Sochi in the team event, I won a gold medal, so that's for me, really important. Of course I would like to skate more but I can't right now. I tried the individual event and before the competition, we have six minutes of warm-up. I did a triple axel, and I step(ped) out, and I feel some problem with my back, something click." 
"At the end of his long program in the team competition, he kind of pulled up a little bit on a couple of his jumps and he said that his back was hurting, so I thought that might have laid some groundwork, but when he pulled out last night, my heart was heavy,'' Hamilton said. 
Plushenko, who has four screws and a plastic disk in his back, said he planned on competing right up until feeling discomfort in his back only minutes before his short program. 
"If I had a good feeling, if I'm able to skate, of course I would like to skate (in the) short program and long program,'' he said. 
Before he withdrew, Plushenko had been coming off a stunning performance in which he won the men's portion of the team competition in Sochi to help lead Russia to the gold. In addition to that gold medal, he won individual gold in Turin in 2006 and took home silver medals in 2002 and 2010. He has also won three world championships. 

"In the team event, I did two quadruples, I did triples, I skate very good,'' he said. 
Plushenko is proud that he has competed at a high level into his thirties in a sport that usually favors younger competitors. 
"I am 31 years old, and before this, in figure skating, [at] 20, 21 [years old], the men's skaters stopped their skating and they skated in exhibitions,'' he said. "So I would like to change figure skating."
He also was grateful for the support from a pair of American figure skating legends over the years. 
"Of course I would like to say a lot of thanks to Michelle Kwan,'' he said. "She supported me all the time, and I saw her here. (Also), thank you very much to Evan Lysacek, who also supported me."