The official U.S. Winter Olympics outfits created by Ralph Lauren were unveiled on TODAY Tuesday, and just like the athletes that will be wearing them in Sochi, they're made in the USA.

The emphasis on having the uniforms manufactured domestically came in the wake of controversy over the Team USA outfits from the London 2012 Olympic Games. Ralph Lauren was heavily criticized for having manufactured the clothing in China. The U.S. Olympic Committee announced that while it was too late to change the outfits ahead of the London Games, it had agreed with Ralph Lauren to make apparel for the 2014 Olympic Winter Games domestically.
While 97 percent of apparel sold in the United States is currently produced overseas, mainly for economic reasons, Ralph Lauren sourced more than 40 domestic manufacturers for its Sochi line. The North Face, which is the outfitter for the freestyle ski team, also joined in on the effort by building a factory in Alameda, Calif., to produce its line. 
On Tuesday, the Team USA apparel for Sochi was modeled by a group of Olympic medalists and Sochi hopefuls that included figure skater Evan Lysacek, ice hockey player Julie Chu, the ice dancing tandem of Charlie White and Meryl Davis, and freestyle skiers Hannah Kearney and Alex Schlopy. Lysacek and Chu sported the Closing Ceremony parade uniforms featuring a wool turtleneck with reindeer and snowflake motifs and a navy wool peacoat adorned with a red banner stripe and patriotic patches. That look was paired with cream fleece athletic pants, black leather boots and red laces.

In addition, Ralph Lauren designed a unique collection of village wear apparel and accessories for the teams. Davis, White and Kearney wore pieces from the collection, including a mesh polo, a half-zip mockneck pullover, a long-sleeved Team USA T-shirt, and a full-zip fleece sweatshirt.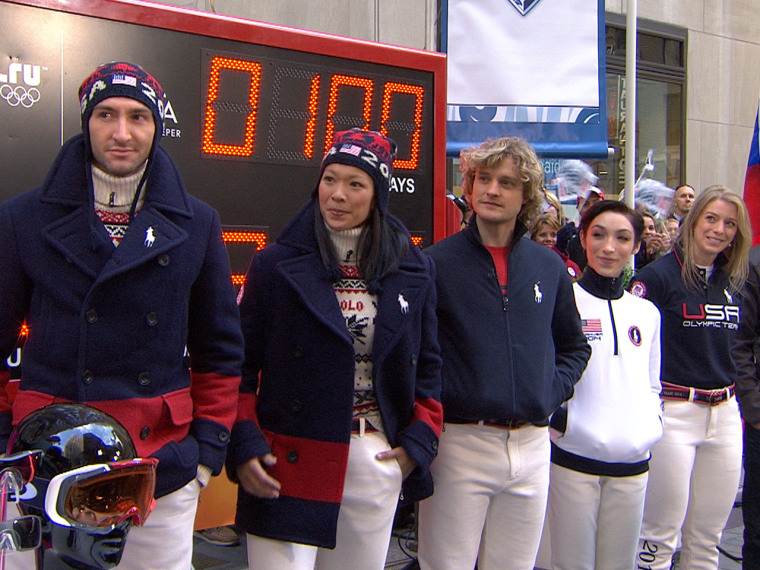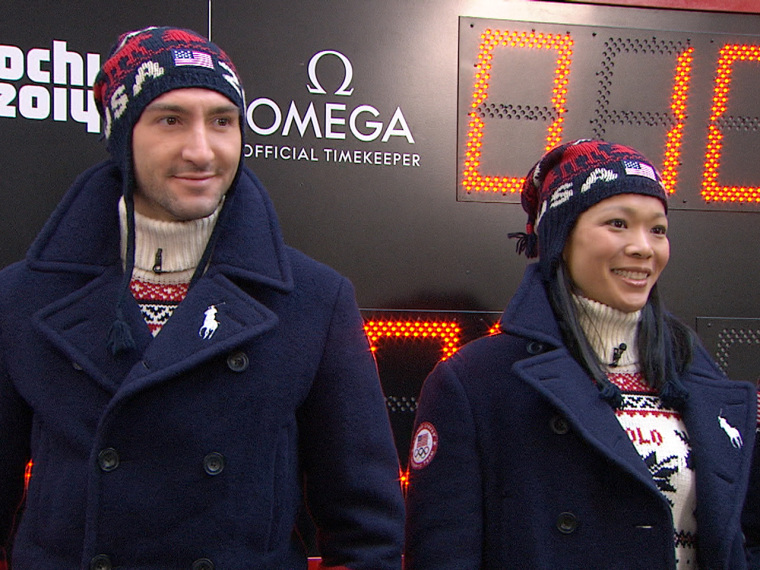 The U.S. apparel will be available online on Nov. 15 on the Ralph Lauren site and the Team USA site. In Dec., the collection will be available in select Ralph Lauren retail stores and select department stores. The Opening Ceremony look will be unveiled about two weeks prior to the celebrated event in Sochi.

The crowd on the plaza also was surprised with giveaways of special team mittens that the U.S. Olympic Committee is selling to help raise money to support the Olympians. Asking fans to "Raise Your Hands for Team USA,'' the USOC is selling the $14 mittens, which have "Go" on one palm and "USA" on the other, on its website. Figure-skating gold medalist and USOC spokeswoman Sarah Hughes also had a special giveaway of USA jackets for fans on the plaza. 
More than 100 Team USA hopefuls for the 2014 Olympic Winter Games gathered at a media summit in Park City, Utah between Sept. 29 and Oct. 3, 2013, posing for portraits to show off their sports.