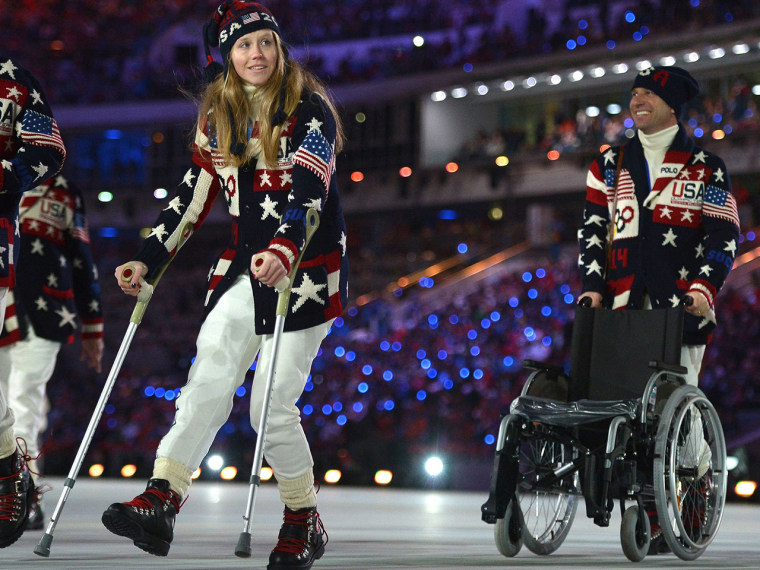 As American moguls skier Heidi Kloser, 21, recovers from the heartbreaking injury that knocked her out of the Olympics Thursday night before the Games began, she says she's looking to her family to help her stay positive.

"My family has been here for everything for me," she told TODAY.com. "I think they were crying before I was when I hurt my knee." Those tears, she said, weren't for the torn ligaments and broken femur she suffered; she was grieving for her inability to ski in the Sochi Games. 
She said she'll draw strength from her dad during her recovery. 
"He's just this crazy endurance athlete who never gives up on anything," she said. "And that's super inspiring."
Her father, Mike, has won mountain bike championships and adventure races, and is no stranger to injury. He even powered through a competition just days after a dog bit his ankle. "He had Shrek feet," Heidi recalled.
Mike struggled to find words when hearing that Heidi is inspired by him.
"Whether sometimes the examples we set are good or bad, to see that appreciation from your children — to know they look up to you in a lot of ways — it's moving," he said.
Heidi — or "Beastmode," as her teammates call her — showed similar determination when she marched with Team USA during the Opening Ceremony. "I'm really glad I got to go," Heidi said. "I just thought I would feel better about myself. It would be more inspiring."
Her parents watched her enter the arena with tears in their eyes. 
"We didn't get to see her ski, but we got that Olympic moment," Heidi's mom Emily said. 
"Everything rushes through your head," she said when she saw Heidi crash during her practice run. "Everything she has given up in her life. How hard she's worked. You hurt for her."
It was only hours before Opening Ceremony that Heidi was questioning if she was a true Olympian because she hadn't raced in an event. Her parents and coaches assured her she was, and walking with Team USA reinforced that.
"I accomplished one of my goals. I made it here and I'm inspiring people," Heidi said.
She's aiming to come back stronger, and told TODAY's Lester Holt on Saturday that she hopes to get a medal in the 2018 Pyeongchang South Korea Olympics.
Watch the video: Heidi Kloser eyeing the 2018 Olympics
"It's just one of the best things about being an athlete and being on TV is that people can see that you can do great things with your life," she told TODAY.com. "It doesn't have to be moguls skiing, it doesn't have to be any sport — it could be just writing a new computer program, whatever makes you happy. I just want to inspire people to live life to their full potential."
Mike added, "It's not the way we want to see her inspire people, from an injury standpoint. But if she can reach and touch a lot of people's hearts through this, at least there's a bright side to this dark situation."