Julia Mancuso is a 14-year veteran of the U.S. Ski Team who is pushing 30 years old, but in her mind, she is only getting better.

"I don't feel old at all,'' Mancuso said on TODAY Monday. "I feel like I'm just peaking. I feel like I'm just getting stronger. So I've learned so much from the past years to get to where I am now."
Mancuso, who has won more Olympic medals than any female skier in U.S. history, added to her haul on Monday when she took home the bronze in the women's super combined in Sochi. She also showed she should be right in the hunt for the gold in the downhill event on Wednesday after finishing first in the downhill portion of Monday's combined event, which also included a slalom run. 
Watch video - TODAY: Mancuso a star of the slopes
"I'm really happy for her,'' TODAY Olympic analyst and fellow star skier Lindsey Vonn said Monday. "She's always a gameday contender." 

The bronze medal brought Mancuso's career total to four Olympic medals and burnished her reputation as a skier who rises to the occasion in the Olympics. In 2006, she stunned the field by winning a gold medal in the giant slalom in Turin as an underdog.
"It's easy to kind of be in your own mental game where, even if someone's beating you all the time, you always have an opportunity at the Olympics,'' she said.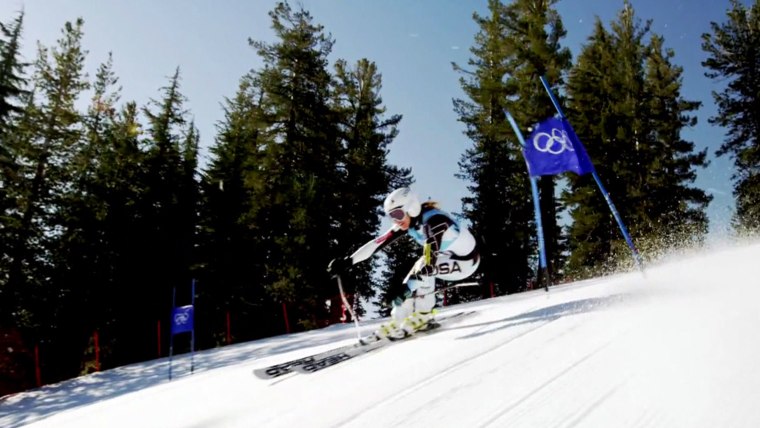 Mancuso followed that surprise performance in Turin by taking home a pair of silver medals at the 2010 Olympics in Vancouver, sporting her trademark tiara and bright smile on the podium.

"I think winning two silvers in Vancouver inspired me to try and win a gold in Sochi, and that's kind of what I'm hoping for,'' she said.
Monday's spring-like conditions in Sochi for the super combined were similar to those back at her home in Squaw Valley, Calif. During the competition, she also was inspired by her late grandfather, who was a big supporter of her career until his death last year. 
Mancuso may now have more medals than all but four women skiers in Olympic history, but she is a team player in an individual sport.

"It's really an interesting situation where you live and eat and do everything with your biggest competitors, but at the same time, we're all competing against the clock, so it's really up to you and making the best turn,'' she said.
After struggling with nagging injuries and equipment issues during the World Cup season last year, Mancuso took some time off from racing to train in Maui and recharge. She has come back as strong as ever.
"I have the confidence, and I know that I can ski really fast and I can ski really well, and I can use that to help me get to the finish line and kind of take some pressure off,'' she said.