I've suffered from hand eczema for most of my life — over 20 years, in fact. But I experienced the worst of it when I was in my teens. My hands were either inflamed and severely itchy or cracked and excessively dry and flaky. And during my more severe flare-ups, I'd even experience all of these symptoms at once.
Back then, I felt helpless and even more clueless as to how and why this was happening. I started to run my hands under freezing tap water to get even a second of relief. When I wasn't doing that, I was desperately slathering Vaseline on my hands, which only provided temporary relief. When I finally went to a doctor, I was told there was no cure for my condition and sent home with prescribed topical steroids, which helped with the itching and inflammation, but severely dried out my hands (not to mention, weakened and thinned my already-compromised skin).
This constant alternating between quick and fleeting solutions went on for years. For a long time, I questioned if my hands would ever feel good again.
What causes eczema?
It wasn't until relatively later in life that I finally figured out some of the major causes of hand eczema, some of which include constantly wet hands, cold winds, and dry air and heat. But perhaps the biggest "a-ha" moment for me was when I discovered that emotional and psychological stress — or what's known as "fight or flight" — can also be a huge trigger.
According to a 2019 study published by the British Journal of Dermatology, "psychological stressors impact epidermal barrier function … by [stimulating] local and systemic stress hormone production." And these hormones, in turn, "negatively affect the epidermal barrier by decreasing epidermal lipids and structural proteins."
In layman's terms: Stress equals a weaker skin barrier, which equals redness, itching, irritation, and severely dry and cracked skin.
So, what if I told you that I found a cream that's formulated to turn that exact equation around? Enter: Selfmade's Corrective Experience Comfort Cream.
The name alone invited skepticism, but when I looked into the "psychodermatology" brand, Selfmade, I learned that its formula is backed by mental health experts and made with therapeutic ingredients that help people "create transformational habits that support both their physical and emotional wellbeing."
It keeps my skin hydrated for hours
While I no longer suffer from extreme hand eczema, my hands still get flare-ups and are almost always dry or itchy, which is worsened by the winter weather. My first time applying the comfort cream was after a long day at the office (dry heat and work stress — check!), when I hadn't put on lotion in hours. The formula quickly sunk into the skin and instantly gave it a nice plumpness and hydration boost. It looked surprisingly dissimilar to other occlusives I've used for my eczema, which are normally thick or greasy. Instead, this has the creaminess of a lotion combined with the lightness of a gel — a texture I was unused to but pleasantly surprised by.
After seeing the effects the cream had on my hands, I slathered it all over my entire body, including my face, after my shower the next morning. About seven hours later, my skin didn't feel nearly as dry as it would have been if I hadn't treated it at all. Now I use it on my face as the topmost layer in my nightly skin care routine or when I slug my face and body post-shower. Better yet: unlike many occlusives or ointments used for slugging, I don't need to wipe this one off.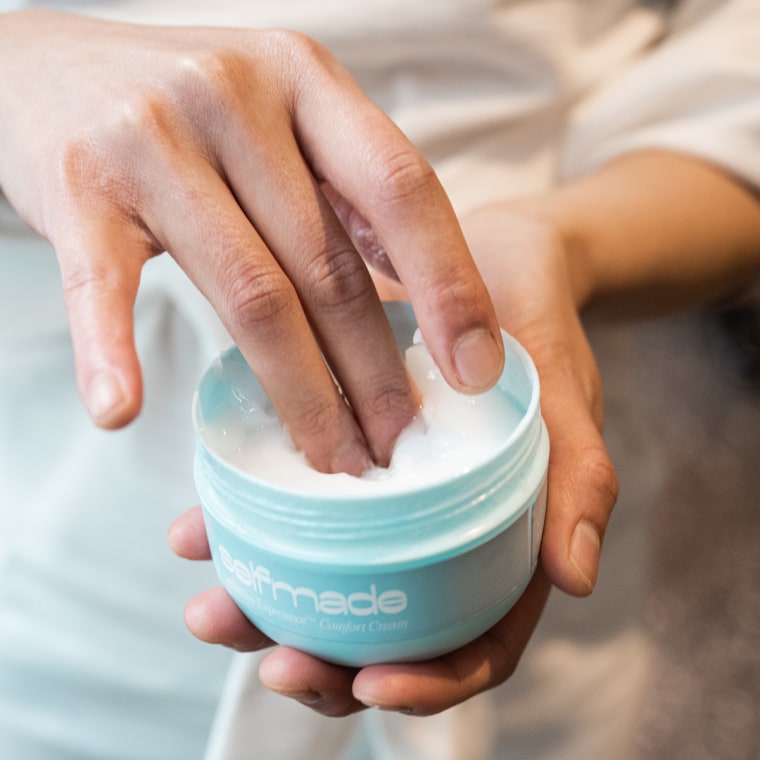 Two key ingredients that contribute to these hydration benefits include encapsulated hyaluronic acid and niacinamide, which are designed to deliver "continuous lightweight hydration and elasticity" via time release technology. The formula also contains plant-derived squalane (for its softening and barrier-strengthening properties) and marine algae (to help regulate "transepidermal water loss").
It also reduces skin stress
The Corrective Experience cream's benefits go way beyond a non-greasy consistency and long-lasting hydration.
The star ingredient that sets this cream apart from the rest is Cortinhib G™, which is derived from the Helichrysum italicum flower. This ingredient helps reduce the redness and irritation associated with skin conditions by targeting the root of the problem: inhibiting the damage from cortisol (the hormone that contributes to skin stress). According to Selfmade's website, the Cortinhib G counterbalances the cortisol through the release of beta-endorphins. Translation? Less stress on your skin, which allows it to reinforce its natural barrier, and in turn, better tackle symptoms like inflammation and dryness.
But perhaps my favorite feature is the immediate tingling effect this cream has on my skin. Along with its very subtle scent (that reminds me of cucumbers), these help make the act of putting this cream on more enjoyable. Even when my hands aren't going through a rough dry spell or an eczema flare-up, this "extrasensorial cooling" sensation, as the brand describes it, actually makes it easy for me to take a moment, slowly breathe in the scent, and be present with the physical sensation of it quenching and soothing my skin. As someone who not only has sensitive, reactive skin, but also a sensitive, reactive emotional life, this seemingly small thing makes a huge impact on my routine.
My only problem with this cream has to be the packaging. While the cute, pastel blue container looks Insta-worthy, the lid is a pain. After just a few uses, the lid no longer twists on all the way. Sometimes, I have to give it a strong press down and forgo the twisting action altogether to get it partly closed. I've shared this cream with a few co-workers, but when they return it to me, it's with the cap off because they can't fully screw it back on. Thankfully, for me at least, the pros outweigh this annoying con.
Another thing you may want to consider before buying is the price. It's $30, which compared to other drugstore products I've tried, is no small change. But it's saying something that after this jar runs out (I've used this cream for slugging, as a hand cream, a face cream and more — and it's still a third of the way full), I plan on immediately re-purchasing.