In my opinion, summer doesn't officially start until you bring out your cutest and most comfortable sandals.
And the season has already kicked off in my mind, because I just got a new pair of slides that I can't stop wearing — and it seems like I'm not the only one. The Funkymonkey Comfort Slides are an Amazon bestseller with more 37,000 five-star ratings, and shoppers say that they're "comfortable," "supportive" and "stylish" — and I couldn't agree more.
There are 55 colors and styles to choose from
When I saw these shoes, I instantly knew that I had to have them. But with 55 different colors and styles available (yes, really), deciding on exactly which pair to get was the hardest part. There are solid colors, bright patterns and even jelly options that are reminiscent of your favorite '90s shoes. I tend to stick to neutrals, so ultimately, I was between the white and black shades — and since they didn't have the former in my size, I went with the black.
They're perfect, because they go with everything. I've mostly worn the sandals with casual wear and athletic clothes, but I am already planning my outfits for this weekend's activities and am picturing myself pairing them with a dress for brunch and overalls for a park day.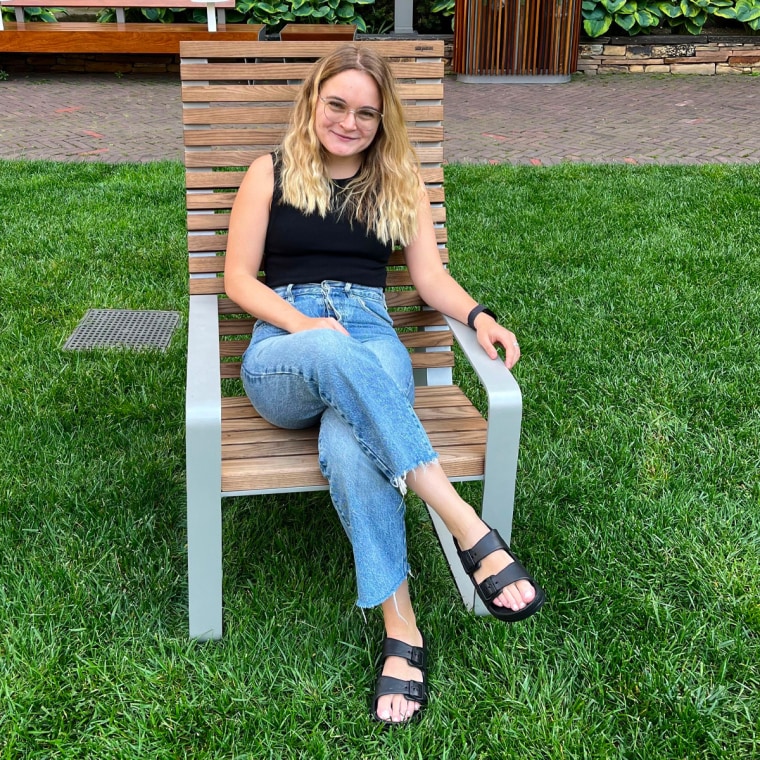 They're surprisingly comfortable
With a shoe that's just $25 you don't often expect much in terms of comfort and support, but these ones deliver. The foam material is soft and slightly padded for a cushiony feel.
One thing that I will note is that the shoe has a slight arch built in to the middle, but it doesn't quite hit at my natural arch. It could just be the way that my feet are shaped and I should have ordered a size larger — I normally fluctuate somewhere between a 7 and an 8 at most retailers — but since they don't have half-sizes, I went with the 7. Or, it could be that the shoe's arch is slightly off (I noticed some other reviewers noted that, too), but it doesn't actually bother me that much and I've gotten used to it. I imagine that it might not feel great if I had to walk long distances in the shoes, but for trips down the block to the store or walking around the house, they're pretty comfortable.
They're waterproof
I have a similar pair of leather sandals, and while I love the look of them, they're not supposed to get wet, so I can't wear them to the beach or pool. But the brand says that the EVA foam on these slides is waterproof and will dry quickly if they get wet, so I'm planning on wearing them for all of my beach trips that I have planned this summer.
Another nice thing is that if they do get dirty, it shouldn't be a problem. Shoppers say that they're super easy to clean with a cleaning spray, water or a wet paper towel.
They have rave reviews
You don't have to just trust me either, these shoes have tons of shoppers backing them with raving five-star reviews. Some people have even noted that they've helped with foot pain.
"I wore them for a straight 2-days and could have worn longer!" one reviewer wrote. "(Just a little background; I suffer from feet pain daily. The almost debilitating, plantar fasciitis! Oh, and let's not forget the bunions)! I've almost never been able to wear the same shoes all day long, never mind the next day, too. That is, until the these sandals! These sandals are so very comfortable! The fit is magnificent!"
Now that I know how much I love them, I'll be not-so-patiently waiting for the white to become available in my size, so I can add another pair to my rotation.