You've probably heard that you should be incorporating a vitamin C serum into your skin care routine, but aren't quite sure why. Vitamin C is a powerful ingredient that not only protects your body from environmental aggressors and boosts your immune system (hello, flu season), but it can also have an incredibly beneficial impact on the health of your skin.
What does vitamin C serum do for my skin?
Collagen production naturally peaks in your early 20s and then decreases every decade thereafter; that's why it's essential to add vitamin C to your anti-aging skin care routine. It's a potent antioxidant that can help your body neutralize harmful free radicals and prevent the breakdown of collagen as much as possible.
Vitamin C also inhibits melanin production, which will help even out sun spots and hyperpigmentation for a more even-toned complexion.
Dr. Corey L. Hartman, Founder, Skin Wellness Dermatology
"When applied topically, vitamin C reduces damage to our cells by neutralizing free radicals — which are highly reactive — and harmful molecules formed by exposure to environmental stressors (think pollution, UV light, etc.)," explains Dr. Corey L. Hartman, a board-certified dermatologist and the founder of Skin Wellness Dermatology in Birmingham, Alabama. Excessive exposure to free radicals can degrade collagen, which can lead to dull, saggy skin, according to the derm.
Dr. Joshua Zeichner, Director of Clinical and Cosmetic Research in Dermatology at Mount Sinai Hospital in New York City, echoes this, adding that vitamin C is the best-studied antioxidant we have to treat the skin. In addition to the neutralization of free radicals, Zeichner says vitamin C serves two other main functions:
"Second, it blocks the production of abnormal pigmentation to help lighten dark spots and even skin tone. Third, it is an essential co-factor in the production of healthy collagen," Zeichner explains.
Ready to learn more? Use the links below to read more about this potent ingredient, our list of the best vitamin C serums on the market, and how to find the right one for you.
What if I have sensitive skin? | What to look for | How we chose | Best under $25 | Best under $50 | Best face serums | Best body lotions | Best organic | Vitamin C FAQs | Meet our experts
Can I use vitamin C serums if I have sensitive skin?
The good news: Yes, you can use vitamin C serums if you have sensitive skin.
"L-ascorbic acid is pure vitamin C, which is the most potent and refined version of vitamin C," explains Hartman. "Skin care products with higher concentrations of L-ascorbic acid tend to be higher in price and may not be suitable for people with sensitive skin or for someone who has never tried vitamin C before," he adds.
If you have sensitive skin, look for skin care products that use magnesium ascorbyl phosphate, a water-soluble and less potent version of vitamin C — meaning it will be less irritating on the skin.
"It's also a good idea to do a patch test if you have sensitive skin or haven't used vitamin C before," suggests Hartman. "Put a small drop of your vitamin C serum on the skin on the underside of your wrist. Let it sit there for 24 hours, and if you do not experience any kind of irritation, slowly start to incorporate the product into your skin care routine," he explains.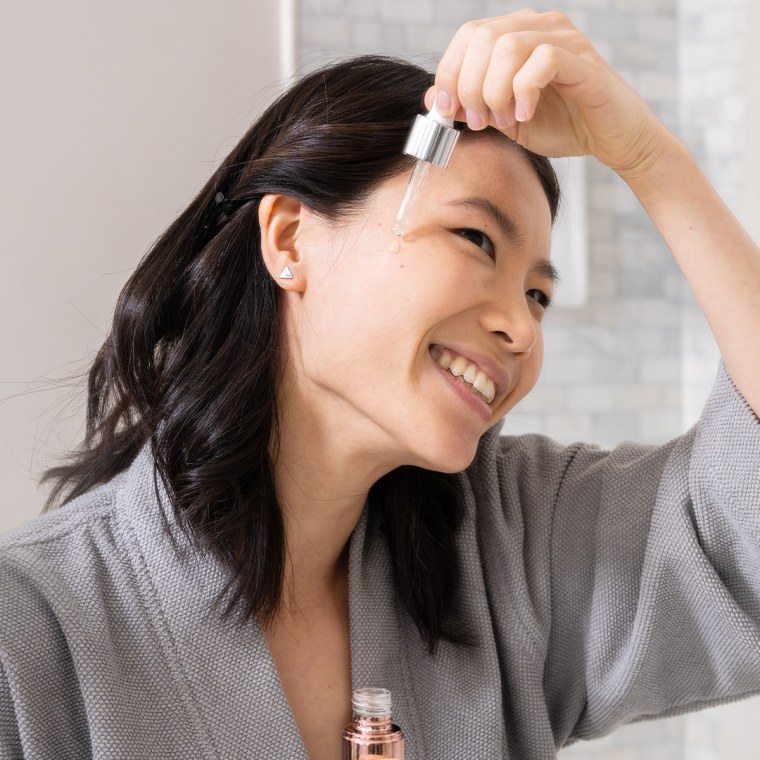 What to look for in a vitamin C serum
Percentage. When on the hunt for a great vitamin C serum for your skin, you first want to look at the percentage of the ingredient in the product. "The sweet spot tends to be between 10 to 20 percent —anything below 10 percent won't be as effective, and anything over 20 percent would be too irritating to the skin," explains Hartman.
Other ingredients that pair well. Vitamin C pairs well with other popular skin care ingredients. Hartman recommends looking for vitamin C products with complementary active ingredients to get the most bang for your buck. These include caffeine, vitamin E, ferulic acid and hyaluronic acid. "Vitamin C does not pair well with retinol or AHAs," explains Dr. Hartman. "Most people will use a vitamin C serum in their morning routine, so leave the retinol and AHAs for your evening skincare routine."
Proper packaging. Pure vitamin C (aka L-ascorbic acid) is the least stable form of vitamin C and can lose its effectiveness if exposed to light and air. "A dark or tinted bottle is best to reduce light and airless delivery; a pump is ideal," explains Hartman. "If you choose a vitamin C serum with a dropper delivery system, just make sure you tightly secure the bottle after use each day to prolong its effectiveness."
How we chose the best vitamin C serums
There are so many vitamin C products on the market, and it's difficult to discern which are actually effective and which are worth the money. To choose the best vitamin C serums on the market, Shop TODAY referred to two board-certified dermatologists to get their best recommendations for vitamin C serums that they actually recommend to their own patients.
Additionally, our editorial team combed through many vitamin C serums to see which ones had the highest ratings and positive reviews, which ones were or are bestsellers, and which ones we've loved from our personal experience.
Best vitamin C serums under $25
Using 10 percent pure vitamin C, this drugstore, derm-approved staple restores radiance to the skin in just one week. The brand also boasts that users can see visible anti-aging benefits at the two-week mark, too.
Hartman is a big fan of this product. "L'Oréal Revitalift Derm Intensive Vitamin C Serum is a nice option for first-time vitamin C users," he explains. "At 10 percent, it will still be effective, but mild enough so that it does not cause irritation."
STAFF REVIEW: "I used to use this and it's a great price point, really helps with texture and fades dark spots. It's thick so can actually be used as a moisturizer." — Shannon Garlin, Shop TODAY editorial assistant
TruSkin's 20 percent vitamin C serum is a nice budget vitamin C option.
"It's on the higher end in terms of concentration, so I'd recommend using this serum if you know your skin can tolerate a higher concentration," suggests Hartman. "It also has vitamin E and hyaluronic acid, which will help add moisture to the skin."
FULL REVIEW: One Shop TODAY writer tried TruSkin's vitamin C serum for a week. Find out how her skin felt afterward.
Best vitamin C serums under $50
Reduce the appearance of wrinkles, hyperpigmentation and dull skin with this affordable vitamin C option. For best results, apply it in the morning (before your SPF!) and at night under your favorite moisturizer.
Both Hartman and Zeichner recommend this classic to their patients regularly.
Hartman likes this serum because it leaves skin protected and radiant without irritation. "It combines a unique triple anti-aging ingredient complex with concentrated 10 percent pure vitamin C, salicylic acid and neurosensine [an active molecule known for soothing and anti-aging properties] for optimal effectiveness, while also being suitable for even the most sensitive skin," he explains.
Zeichner agrees, adding that the formulation gives an exfoliating effect. He adds, "This is a great option, especially if you have oily or acne-prone skin."
This spa-grade serum is packed with a high concentration of vitamin C and tri-peptides, making it a powerhouse anti-aging product. But that's not all: The formula is vegan, cruelty-free and non-comedogenic, too.
Zeichner likes the Bliss Bright Idea Vitamin C serum because it delivers a stabilized form of vitamin C, along with a peptide. "At the same time, it helps even skin tone and strengthens the skin itself," he says.
This affordable serum contains a laundry list of good-for-your-skin ingredients. In addition to skin-brightening vitamin C, it also contains hyaluronic acid and vitamin E to firm and hydrate the skin.
The Glossier Super Glow serum is another great option for first-time vitamin C users, according to Hartman. "The vitamin C in this serum is magnesium ascorbic phosphate [MAP], which will be more gentle on the skin, but still be effective in boosting tone and radiance," he says.
Plus, the brand says that the MAP in its formulation is stabilized, so the serum won't oxidize or degrade after you open the bottle.
The RoC Multi Correxion Revive + Glow Vitamin C serum is a great option for all skin types, but especially if you are sensitive.
"The ultra-gentle formula can be used even by people who are dry or who have previously experienced irritation with other vitamin C formulas," says Zeichner.
Best vitamin C serums for face
Hartman loves this serum because it's a super-charged, lightweight and not-sticky vitamin C treatment that comes with an activating serum, along with freeze-dried booster beads.
"The beads contain magnesium ascorbyl phosphate, which is a stabilized form of vitamin C and is great for sensitive skin," he explains. "The booster beads are activated when mixed with the activating serum, so it keeps it potent longer to deliver brighter, beautiful skin."
Best vitamin C body lotions
Not only does this delicious cream smell amazing, but it's also loaded with AHAs and vitamin C to exfoliate, smooth and visibly brighten the skin. It's made with a vitamin C ester that slowly delivers free radical protection and a skin-brightening effect over time.
If you're sensitive to fragrance, but still want to enjoy the brightening benefits of vitamin C, look no further than the Necessaire The Body Lotion. This formula not only boasts vitamin C and E in its ingredient lineup, but it also contains glycerin, peptides, niacinamide and marula oil.
Bonus? This lotion is formulated with a pH level of 4.75 to 5.75, which the brand says helps support the skin's natural pH and barirer function.
Best organic vitamin C serums
Coming in at less than $25, this option will improve the quality of your skin without breaking your bank account. The best part? Hyaluronic acid works in tandem with a stabilized form of vitamin C to give users a firmer, brighter complexion.
If you need more proof of its efficacy beyond the results of a six-week independent study (95 percent of participants reported improved skin brightness), take it from this glowing review from a verified Amazon customer: "What I like about this serum is that it does what it claims. It helps hydrate and brighten my face without breaking the bank. It's also sensitive skin friendly. I use this with their vitamin c night cream and always wake up with glowing skin the following day. The serum has a mild citrus scent that is not overpowering either."
This organic serum uses sodium ascorbyl phosphate, which is a stable form of vitamin C. Plus, this pick features vitamin E and ferulic acid to treat the signs of aging and protect your skin against environmental aggressors.
One Ulta reviewer writes, "I've only had this product for about two weeks, and I've seen how crazy fast my scars are clearing up. My skin has been looking so much brighter, and my scars are visibly clearing up and lightening." They add that the formula is non-irritating and goes on smoothly on their skin.
Questions about vitamin C serums, answered by experts
Can I use vitamin c serums while pregnant?
According to Zeichner, vitamin C can be used across all skin types and is generally considered to be safe during pregnancy. That being said, it's always a good idea to consult with your doctor or dermatologist before using any skin care products you're unsure of.
When in the day should I use a vitamin C serum?
"I typically recommend using a vitamin C serum in the morning," explains Zeichner. "The morning is a time of protection and prevention of damage. I recommend layering vitamin C underneath your sunscreen every morning," he adds.
Can vitamin C serums cause acne?
Thankfully, vitamin C serums are actually a useful ingredient in treating acne and should not cause breakouts, according to Dr. Zeichner, who adds, "Vitamin C can be used every morning, even if you have acne."
If you are worried about breaking out from a vitamin C serum, try to choose one that has a low percentage of vitamin C in the formula, or look for products with magnesium ascorbyl phosphate.
Meet our experts
Dr. Corey L. Hartman, MD, is a board-certified dermatologist and founder and medical director of Skin Wellness Dermatology in Birmingham, Alabama. He also serves as Assistant Clinical Professor of Dermatology at the University of Alabama School of Medicine. Hartman's specialties include dermatologic surgery, injectables, hair restoration and laser treatments.
Dr. Joshua Zeichner, MD, FAAD, is a board-certified dermatologist and Director of Clinical and Cosmetic Research in Dermatology at Mount Sinai Hospital in New York City. He specializes in acne treatments, cosmetic rejuvenation and more.