The Shop TODAY team is ready to jet set this summer — so it's only fitting that we are announcing another batch of winners from our first-ever Travel Gear Awards.
We traveled everywhere from the Grand Canyon to the streets of New York City to determine winners across 20 different categories from suitcases to travel shoes. We used items across planes, trains, hiking trails and more, rating them on quality, value and satisfaction. So, with these picks, your next much-deserved getaway — wherever it may be — will be the best one yet!
Shop TODAY editorial director Adrianna Brach stopped by the 3rd hour of TODAY to share even more of the items that seriously impressed us — and experts in the travel industry — alike.
Seen on 3rd Hour of TODAY | Seen on TODAY | More Travel Gear Award Winners
Seen on 3rd Hour of TODAY
Award: Best Travel Backpack | Category: Backpacks
Perfect as a carry-on or personal item, but operates like a suitcase, this backpack seems to be never ending when it comes to storage. Equipped with two zippered and one secret laptop compartment, associate commerce editor Emma Stessman couldn't stop sharing her love about this backpack. "I could fit four shirts, a pair of jeans, a pair of shorts, leggings, underwear and a pair of sneakers in here. I love how it opens up like a suitcase and has different inner sections to keep everything organized. I threw a few miscellaneous items in the front pocket (chargers, headphones, a book) and everything fit perfectly."
The 35L version of this bag went viral on TikTok and sold out almost instantly. Stock is low, but is currently available for pick-up in some Target locations across the country. A restock is planned for later in the summer, according to the brand.
Award: Best Travel Purse | Category: Purses
You can keep all your belongings safe and secure with this shoulder bag that is slash-resistant, includes a main locking compartment and RFID blocking card and passport slots. Associate editor Fran Sales noted in her review, "There's a certain peace of mind that this bag is designed to wear close to your body. It's also a good size for the basics if you want to explore a new city but not carry too much. This can hold your passport, small wallet, IDs, some cash and keys."
Award: Best Packing Cubes | Category: Packing Cubes/Organizers
Not only does this set from Eagle Creek condense your things to help you fit more into your luggage, but the cubes also act as organizers to keep all of your stuff neatly sorted and easily accessible. While you might not think these packing cubes are essential, commercial flight attendant Rebecca Skates begs to differ. "Compression cubes are a game changer. I use compression cubes every single week," said Skates. Including three different sizes, you'll have enough space to store shoes, jeans and more.
Award: Best Overall Toiletry Bag | Category: Toiletry
Receiving almost perfect marks from our reviewers, it's safe to say our team is obsessed with this accessory bag from Cotopaxi. If you're looking for a toiletry bag thats big enough to handle all your products (we don't judge!) you're in luck. SEO editorial assistant Sierra Hoeger has used this bag for years and said, "There are pockets within pockets, yet it took up about a third of my personal item. I didn't feel like I had to stuff my items into this toiletry bag, whereas with other ones I usually had to leave larger items like a brush and toothpaste out."
Use code TODAY25 to take 25% off the Nido at Cotopaxi's website, through May 31.
Award: Best Splurge Pants for Men | Category: Plane Clothes
It's no secret that Lululemon is a highly coveted brand when it comes to fashionable athletic wear and these joggers are no exception. With two deep front and one hidden back pocket, he'll have more than enough space for all his travel essentials. Our reviewers noted that they were worth every penny and perfect for both traveling and everyday life.
Award: Best Overall Travel Pants | Category: Plane Clothes
If you were on TikTok during the pandemic, chances these viral Aerie leggings popped up on your page once or twice. However, after reviewing these, we can 100 percent confirm they earned every ounce of the hype. Made with a flattering, weightless fabric, editorial assistant Lauren Biggerstaff never wanted to take these off. "The flare is so trendy and cute, so it's an outfit without even having to try. They also aren't as tight as some of my other leggings, but still give the same slimming effect."
Seen on TODAY
Award: Best splurge suitcase | Category: Suitcases
Brach says this spinner from Samsonite is classified as a "Medium" suitcase but it's a lot roomier than you'd expect. It is a lightweight yet sturdy checked bag that can hold just about everything you need, according to Shop TODAY associate editor Kamari Stewart, who describes herself as a "chronic over-packer." It features smooth wheels, an interior panel divider and an expandable zipper feature, but reviewers recommend exercising caution when using it, since it's easy to overpack such a spacious bag. Plus, you'll have peace of mind knowing that Samsonite offers a 10-year warranty on all of its products. TODAY viewers can use the code TODAY30 to take 30% off of one Samsonite Outline Medium Pro Spinner at checkout on Samsonite's website, through May 23.
Award: Best splurge carry-on | Category: Carry-On
Shop TODAY staffers not only loved the look of this chic bag, but found it to be a versatile carry-on. "The fabric is extremely durable and so is the zipper. It also has quite a few inner pockets, making it easy to grab and find things," says Shop TODAY editorial assistant Shannon Garlin. "I also love that it has a trolley strap too so you can easily maneuver it on a rolling carry-on, and it fits under the seat even when it's packed to the brim." Use the code TODAY30 to enjoy 30% off the Recycled Cotton Weekender, Microfiber and Performance Twill weekenders at Vera Bradley's website, through May 31.
Award: Best budget travel pant | Category: Plane Clothes
We don't know about you, but the only thing we want to wear when we're traveling are things that can be described as "super soft." One Shop TODAY staffer says that while they might not be the most polished piece in your wardrobe, they have a "pajama-esque" vibe and soft fleece feel. The wide-leg silhouette makes for all-day comfort, too, Brach added.
Award: Best budget walking shoe | Category: Walking/TSA-Friendly Shoe
The name of this shoe just about says it all, but Brach says if you need more convincing, it is "comfy right out of the box" and looks sleek enough to wear while you travel — and keep wearing once you get to your destination. According to the brand, they have an anti-microbial insole and built-in arch support for extra comfort. Plus, since they don't have any laces, they're also a convenient option for breezing through airport security. Use the code TODAY30 to snag 30% off plus free shipping on the Dr. Scholl's Jetset Loafer at Dr. Scholl's website, through May 31.
Award: Best overall walking shoe | Category: Walking/TSA-Friendly Shoe
These sneakers earned high praise from one staffer who wore them on their daily commute and says they are "very economical and look sleek for the price point." They feature a mesh upper for breathability, a cooling memory foam gel insole and come in sizes that accommodate both medium and wide feet. Brach also says the women's version of the slip-on are worth the hype: she wore them on her honeymoon in Hong Kong, during which she walked around 25,000 steps.
Award: Best portable charger | Category: Tech
Whether you rely on your phone as a camera or a means of communication while on vacation, keeping it charged is crucial. Shop TODAY editors loved this 3-in-1 gadget, which acts a portable charger, 3-card wallet and phone stand. It attaches to your phone via a magnet, which is strong enough to help it maintain a charge but still allows you to detach it when you don't need it. Use the code TODAY30 to take 30% off this portable charger when you checkout at Moft's website, through May 31.
Award: Best in-flight must-have | Category: Tech
If you can't travel without your favorite pair of wireless headphones, this gadget is one you'll definitely want in your carry-on the next time you travel on a plane. It acts as a transmitter, so you can connect your wireless headphones to any 3.5mm audio jack. One flight attendant Shop TODAY spoke to says they have it and use it on "every single" flight they take and it "pays for itself." If you don't travel often, it's not just for use on airplanes — it can also be used with tablets and at gyms. Use the code 20TODAY to enjoy 20% off this gadget at Amazon or TwelveSouth's website, through May 25.
More Travel Gear Awards winners
Award: Best flight essential | Category: Tech
If you don't pack lightly, a luggage scale like this one can make traveling less of a guessing game. It can support up to 110 pounds, so you'll definitely be able to tell whether your suitcase exceeds the weight limit on your airline.
Award: Best international travel tech | Category: Tech
If you're traveling internationally, this handy adapter makes it easier to use and charge your favorite electronics. Though, it can be used on any adventure you're heading out on. "This is the only plug you need to carry, whether you're leaving the country or not," Rebecca Skates, a commercial flight attendant, told Shop TODAY. "The additional USB ports as well as the USB-C allow you to charge all of your devices with this one cube. Love this thing."
Award: Best travel purse | Category: Travel Bag
If you want a spacious bag that isn't a backpack, TODAY staffers love this shoulder bag for easy travel. Commerce analytics manager Amanda Smith says it holds "so much" and "there are a lot of great pockets so you don't have to worry about your heavy things breaking your sunglasses."
Award: Best budget toiletry bag | Category: Toiletry Bag
The hanging feature of this toiletry bag makes it one of the more convenient options out there for travelers. It boasts enough space for you to see all of your products and frees up counter space, but commerce deals coordinator Victoria Herlocker says it likely won't fit full size hair or skin care products.
Award: Best Women's Jogger | Category: Plane Clothes
These joggers can do it all. Commerce editor Julie Ricevuto wore these hiking in the Grand Canyon and raved about how comfortable they were. While associate editor Danielle Murphy wore these for a few errand runs and even out to a (casual) dinner with friends. "They are very comfy and fit my short frame surprisingly well," she said. "With joggers, I normally have a problem with them being too long, but not with these."
Award: Best One-piece Swimsuit | Category: Swimsuit
This monokini offers coverage without being frumpy. "I feel like a lot of bathing suits are very cheeky nowadays and having a bathing suit that covers all the spots you want covered is great," commerce leadership coordinator Alexa Arent said. "The style is also great and very flattering." However, she notes, the fit might feel awkward for tall women or women with bigger breasts.
Award: Best Carryall | Category: Beach Bag
As its name alludes to, this tote bag from L.L. Bean is perfect for beachside hangs and outings on the water. However, it's also a great pick for traveling on land, too. "It holds a surprising amount of stuff! I've never had an issue not being able to fit everything I need for the day in there," associate editor Emma Stessman said. "The design is also just so classic and it's simple so it's easy to style. And the material is very sturdy."
Award: Best XL Toiletry Bag | Category: Toiletry Bag
If your makeup collection outweighs your toiletries, this might be the bag for you. Arent says of this spacious bag, "there truly is a section for everything."
Award: Best Budget Suitcase | Category: Suitcase
Suitcases can be pricey, but we found one that is less than $100. Associate social media editor Daniella Musacchio says this spinner held up across miles of bumpy NYC sidewalks on a weekend trip and that "the zippered compartments on the inside are perfect for organizing smaller pieces of clothing or items."
Award: Best Jewelry Organizer | Category: Best Organizer
This Oprah-approved organizer earned the approval of Shop TODAY editors, too. "I like the customizable boxes and how much jewelry I'm able to store at one time," associate commerce editor Danielle Murphy said.
How we chose our winners
From suitcases and beach bags to swimsuits and walking shoes, Shop TODAY staff used these picks on our daily commutes, weekend trips, international travel, camping excursions and beyond and assessed them based on quality, value and satisfaction. From there, we spoke to travel writers, pilots, flight attendants and others in the industry to ensure our product picks are more than just editor-approved.
Our panel of experts
Rebecca Skates, commercial flight attendant
Max Goione, commercial airline pilot
Katie Jackson, travel writer and expert
Has your product been featured?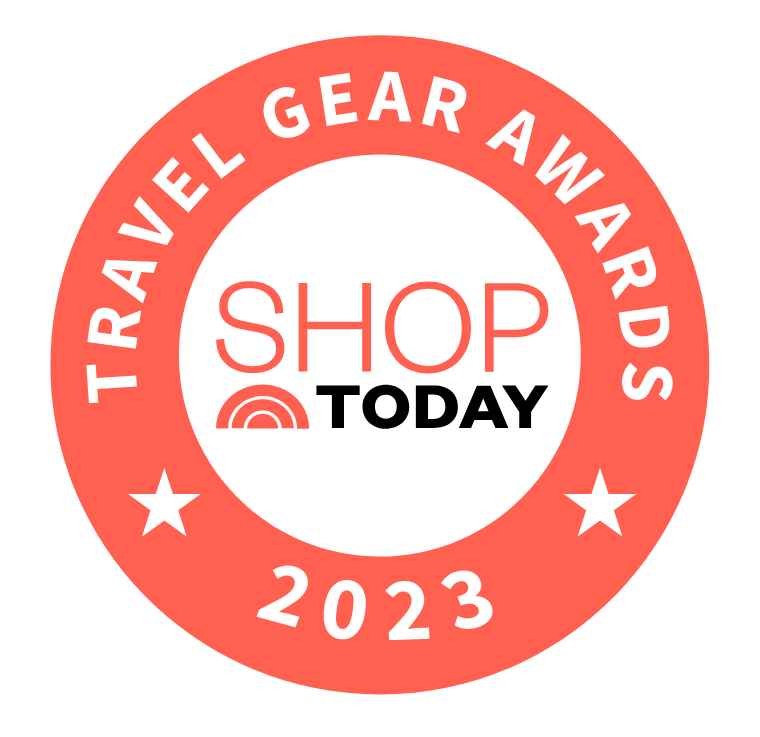 Shop TODAY is editorially independent and our team of editors and writers work hard to pick the best products to share with our readers and viewers. We may license our logo to brands or products that have been featured on Shop TODAY. Click here if you're interested in licensing your inclusion in Shop TODAY content or to learn more from our licensing partner, Wrights Media.