If you're on a hair-health journey (and let's face it, you wouldn't be here if you weren't), your first instinct may be to upgrade your current products, like your shampoo and conditioner. And while that could be beneficial, you may be missing a key part of the equation: your scalp.
"Scalp serums are fairly new to the hair care industry as more and more people learn what a dramatic effect scalp health has on the hair's overall well-being and appearance," says Natalie Palomino, master stylist, hair care expert and founder of North Authentic.
But what exactly are the benefits of scalp serums, and do you really need one? We talked to three different experts in the industry to get answers to these questions and more. Read on or use the links below to see what we selected as the 14 best scalp serums, as well as what you need to know to find the right one.
What are the benefits? | What to look for | What to avoid | How we chose | Best for hair growth | Best budget | Best for thinning hair | Best for buildup | Best for dry scalps | Best for dandruff | Best for curly or textured hair | Best pre-shampoo | Best apple cider vinegar | FAQs | Meet our experts
What are the benefits of scalp serums?
"Your scalp is skin, and in the same way you may apply a serum to your face, there are also benefits in applying a serum to your scalp," Anabel Kingsley, Consultant Trichologist and Brand President at Philip Kingsley, shares with Shop TODAY. (A trichologist is a specialist who studies conditions, problems and diseases of the hair and scalp.)
"Scalp serums do everything from balance your scalp's pH to calm inflammation that can cause excess hair shedding or hair loss," says Palomino, who adds that the benefits will largely depend on your scalp type and the product you choose.
Other benefits of scalp serums may include the following:
Cleansing the scalp of dirt, oils and product buildup
Exfoliating dead skin or other particles
Balancing the scalp's pH
Soothing itchiness
Increasing hydration
Treating flaking or dandruff
Reducing hair loss
Encouraging hair growth
Palomino adds that while hair loss is a common reason why people reach for a scalp serum, it's important to understand what you're purchasing. She explains that scalp serums specifically formulated for hair growth will contain an active ingredient, like minoxidil.
"These ingredients are high in price and therefore serums for hair growth tend to be more on the pricey side. However, everyday scalp serums can also set the stage for hair growth by increasing overall scalp health," Palomino adds.
What to look for in a scalp serum
While every head of hair can benefit from a scalp serum, it's important to consider your current concerns, goals and how the product will fit into your routine, Palomino tells Shop TODAY. To start your search, consider these five factors to help narrow down your options.
Ingredients. Focus on ingredients that will treat your specific scalp concern. For example, if dryness is your main concern, look for a product with ingredients that will help hydrate and soothe the skin, such as hyaluronic acid or aloe vera.
Scalp type/concern. Consider what scalp concerns the product claims to target, as well as product reviews, to find the best product for your needs.
Formulation. Before committing to a product, get an idea of the product's formulation and consistency. Those with fine or thin hair may need to consider a lightweight serum with a water-like consistency to avoid weighing down hair at the roots. Meanwhile, someone with thicker or denser hair may be able to use a thicker serum without seeing any negative effects.
Application. Many scalp serums come in easy-to-use bottles with a dropper, but this isn't always the case. Make sure to read the instructions prior to purchasing and read reviews to see if application is a common issue for users.
Frequency. Pay attention to how often you need to apply the serum to see benefits. Some products need to be applied daily, while others may only need to be applied one to two times per week.
What should I avoid when shopping for scalp serums?
When shopping for the appropriate serum for your scalp, it's important to be aware of products that you have a sensitivity to, says New York-based dermatologist Dr. Mitchell J. Mandel, who also strongly recommends that parabens and sulfates be avoided.
Parabens. Certain chemicals, such as parabens, may alter the hormone balance in one's body, according to Mandel.*
Sulfates. While naturally found in small amounts in unfiltered water, sulfates are also connected to a number of negative side effects in certain mounts (more specifically for people who already tend to have dry hair or skin), including stripping hair of too much moisture and causing irritation.
*EDITOR'S NOTE: According to the Food and Drug Administration's website, parabens are used in products such as cosmetics and moisturizers to "better protect against a broad range of microorganisms." They don't yet have scientific data supporting that parabens are harmful to human health when used in beauty products. If you do see paraben(s) on the ingredient list of a scalp serum, we advise you to also look at the brand's research into the product's efficacy regarding your specific scalp concern.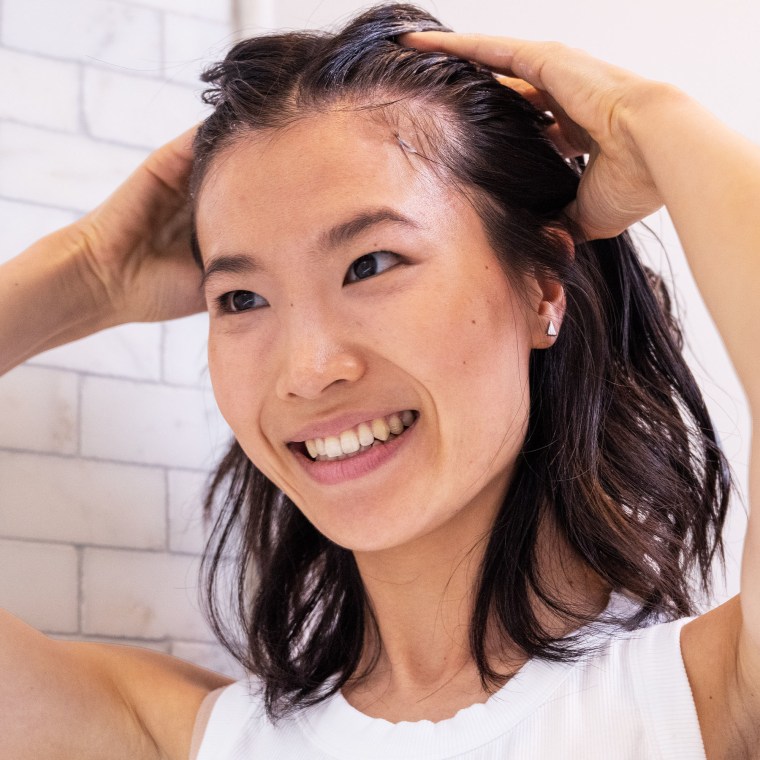 How we chose the best scalp serums
The Shop TODAY team spoke with experts in the hair industry, including dermatologist Dr. Mitchell Mandel, master stylist Natalie Palomino and trichologist Anabel Kingsley, to gain insight into choosing the right scalp serum, as well as tips for proper usage.
We then scoured the internet looking for top performers based on reviews from actual users. Finally, we compared our personal go-to scalp serums and how they held up against the best of the best to give you the top 14 scalp serums on the market.
Best scalp serum for hair growth
Key ingredient(s): Minoxidil | Dosage: 1 mL twice daily | Scented? No | Best for: Hair loss
Formulated with minoxidil, one of the only FDA-approved topical treatments for hair growth, Hers hair drops not only help reduce hair loss, but actually help stimulate new hair growth. Research suggests that this might be in part due to the increased blood flow — and therefore oxygen and nutrients — that may help encourage hair follicles to transition into the anagen phase (more commonly known as the growth phase) of the hair cycle.
But be patient — according to the brand, it may take at least three to six months before you start to see new hair growth.
Something to note: It takes a few months to show results
Best budget scalp serum
Key ingredient(s): Redensyl (Givaudan), Procapil (Sederma), Baicapil (Provital) | Dosage: A few drops once daily | Scented? No | Best for: Thinning hair and flaky/dry scalp
An affordable and basic option in the scalp serum realm, The Ordinary's Multi-Peptide Serum helps improve overall scalp health to leave you with thicker, denser and fuller-looking hair.
Unlike many hair serums on the market, users report that the lightweight formula doesn't leave their hair looking greasy or weighed down — a huge plus for those of us who don't wash our hair every day.
Something to note: May not be for those with severely thinning hair
STAFF REVIEW: "It's very lightweight, and it's not like it will restore your hair to its fullest, but it did give me some extra baby hairs after testing it [for a few weeks]. I like how easy it is to apply and how it doesn't make my hair super greasy after evening application — my hair is very susceptible to getting greasy." — Vivien Moon, Shop TODAY editor
Best scalp serums for thinning hair
Key ingredient(s): Aloe barbadensis leaf juice, peptide complexes, caffeine and biotin | Dosage: 1 full dropper daily | Scented? Yes | Best for: All hair types
As a newer addition to the Babe Original product lineup, this hair serum has become a personal go-to. In just a short amount of time, I have already seen a noticeable difference in the appearance and overall health of my scalp and hair, which the company accredits to its special formulation of ingredients, like aloe and ceramides, which help balance the scalp microbiome and strengthen the hair follicles for healthier and thicker-looking hair.
And it's not just me: The brand conducted a 12-week consumer study of 30 subjects and found that 90 percent of them "noticed a healthier scalp and longer-looking hair after use," according to their website. One purchase comes with a three-month supply.
Something to note: Very few reviewers say that the scent is a bit too strong or they had an unpleasant reaction to the product; we advise patch testing before use.
Key ingredient(s): Grapeseed procyanidins, ginkgo biloba, soybean, tyrosine | Dosage: 1 vial 3 times a week | Scented? No | Best for: Temporary hair loss
PHYTO's Phytocyane scalp serum is specifically designed with temporary hair loss in mind — whether it be due to stress, fatigue, diet, pregnancy or just life in general. Not only does it help slow down hair loss, it also helps support a healthy environment needed for new hair growth. What's more, according to the company, it can help keep those gray hairs at bay, if that's a concern.
From personal experience, this is an excellent product for those who have fine hair and don't wash their hair daily; the formula is so lightweight that it won't leave your hair feeling weighed down, no matter how fine your hair is.
Something to note: Some reviewers say it helps more with preventing hair breakage than actually helping hair grow
Key ingredient(s): Copper Tripeptide-1, caffeine, tea tree oil, amino acids | Dosage: 3/4 dropper once daily | Scented? Yes | Best for: Hair loss, dandruff
Divi's scalp serum is a highly rated, lightweight option full of amino acids and peptides, proving its superhero strength in helping your scalp. In addition to more than 700 verified five-star ratings on Amazon, reviews aplenty rave about the multitude of benefits they saw.
One Amazon customer shared, "From severe dandruff and buildup to hair thinning, this product has helped every issue, and I couldn't be happier! I am even seeing new hair growth! There are baby hairs everywhere! This is for so much more than just one thing, this is for overall scalp health! YOU NEED THIS!"
Something to note: Some say the bottle doesn't last very long for the price
Best scalp serum for buildup
Key ingredient(s): Glycolic acid, salicylic acid, niacinamide | Dosage: As needed | Scented? No | Best for: Oily, flaky/dry scalp, product buildup
Sunday Riley's Clean Rinse serum works to gently lift and remove dirt, dead skin and product buildup, leaving behind a clean and refreshed scalp. Whether you have an oily, dry or flaky scalp, this serum helps soothe and rehydrate, while also supporting healthy hair growth.
Along with nearly 100 five-star ratings on Amazon, reviewers gushed about how effective it was, with one user sharing, "My scalp feels like it can breathe. My white filmy scalp is gone and so are the scabs. It is like magic."
Something to note: Several reviewers who like the product otherwise say they don't like the scent
STAFF REVIEW: "I think it was a nice treatment that made my hair feel super clean without drying it out. I also feel like I was seeing less dandruff, but when I worked it into my routine with [an anti-dandruff shampoo from another brand], it was hard to tell since that is also supposed to help with dandruff." — Vivian Le, Shop TODAY photo editor
Best scalp serums for dry scalps
Key ingredient(s): Biomimetic peptide blend, hyaluronic acid, niacinamide, panthenol, green tea extract | Dosage: 1 mL once daily | Scented? No | Best for: Dry, oily, itchy, flaky or sensitive scalps
Nécessaire's scalp serum is a popular option among those with thin or fine hair. Reviewers praise its water-like consistency, stating that it's light enough for everyday use on even the thinnest hair and doesn't leave an oily residue.
It's formulated to support hair growth and reduce thinning, while also hydrating and soothing dry or itchy scalps. The result? A thicker, fuller and overall healthier scalp and hair — just ask Shop TODAY Associate Editor, Fran Sales, whose review is below.
Something to note: It's more of a product that prevents hair fall versus helping it re-grow, according to many reviewers
STAFF REVIEW: "I kind of swear by Nécessaire's scalp serum because it's one of the very few serums that actually both feels good on my scalp and is effective at adding volume to my fine, thin hair at the roots. And it doesn't weigh my hair down! " — Fran Sales, Shop TODAY associate editor
Key ingredient(s): Arctic root, Siberian ginseng, chaga mushroom, hyaluronic acid, red clover flower extract, peptides | Dosage: Once daily | Scented? Yes | Best for: Dryness, thinning, flaky scalp
The OUAI Scalp Serum is a hydrating, reparative formula specifically designed to nourish the scalp and promote healthy hair growth. It's formulated with hyaluronic acid and adaptogens, such as arctic root, Siberian ginseng and chaga mushroom, to promote hydration and form a healthy barrier.
But hydration isn't the only benefit of this scalp serum — it's also designed to soothe irritation and support the appearance of fuller and thicker hair.
Something to note: Several reviewers who gave it fewer than five stars say it is taking longer than a few weeks to see results
Best serums for dandruff-prone scalps
Key ingredient(s): Piroctone olamine, camphor, benzalkonium chloride | Dosage: As needed | Scented? No | Best for: Itchy scalp
This soothing scalp treatment is a powerhouse when it comes to aggravated and dandruff-prone scalps.
"All products in our Flaky Scalp Range contain piroctone olamine, which helps relieve flaking and itching," Kingsley says, speaking on behalf of the brand. And reviewers agree that it does exactly that, with many sharing that it helps keep the itch at bay for up to a few days at a time.
Something to note: Several users say it's quite watery, so if not dispensed correctly it can run down the face
EDITOR'S NOTE: While we also used Kingsley's trichology expertise to inform our FAQs, our editors chose this product independently. We also include an alternative product below that none of our experts are affiliated with.
Key ingredient(s): Zinc pyrithione, aloe vera, salicylic acid, green tea | Dosage: 1 to 4 times daily | Scented? Yes | Best for: Mild-to-moderate dandruff, dry scalp, flakes and itch
If you're looking for something to soothe and treat your dandruff-prone scalp, Jupiter Restoring Serum is the product for you. This medicated scalp treatment is formulated with zinc pyrithione, which is one of only five active ingredients a product must contain to be able to legally claim that it helps control dandruff and seborrheic dermatitis (according to an FDA monograph).
"We target these issues by using a foundation of OTC medicated and other clinical-strength active ingredients to target the underlying issue causing the dandruff, and pairing them with science-backed natural and cosmetic ingredients to help alleviate the symptoms of dandruff," Robbie Salter, the founder and co-CEO of Jupiter, tells us on behalf of the brand.
He adds that their goal was to formulate a product that's more effective than all-natural serums, while at the same time is not harsh on sensitive or color- or chemical-treated hair and scalps.
In addition to nearly 200 verified five-star ratings on Amazon, reviews praise the product's ability to calm itchy and dandruff-prone scalps of all types — and love that it has a fresh (not overpowering) smell.
Something to note: A few reviewers say that while it works OK, they would rather save a few dollars for drugstore alternatives
RAVE REVIEW: "After the first use of the leave in, I noticed a reduction in flakes and itchiness, and it just got better and better every time. It's super easy to apply and to target my most troubled spots." — Amazon reviewer
Best scalp serums for curly or textured hair
Key ingredient(s): Matcha green tea, aloe vera, panthenol | Dosage: As needed | Scented? Yes | Best for: Curly, coily and tight-textured hair
Created specifically for curly, coily and tight-textured hair, Pattern Beauty's Scalp Serum helps calm and soothe scalp irritation that often comes with tight styles — although the soothing and hydrating benefits can be enjoyed no matter the hairstyle.
Reviewers love the cooling, tingly sensation and the refreshing, minty scent, but add that a small amount is all you need.
Something to note: Some reviewers warn not to use on dry curls or they might shrink
Key ingredient(s): Mandelic acid, gluconolactone, chinaberry extract, eucalyptol | Dosage: As needed | Scented? No | Best for: Curly, coily and tight-textured hair
This exfoliating scalp serum chemically removes buildup and leaves you with a soothing yet refreshing sensation. The brand says its gentle ingredients are suitable for all hair types, including protective styles like braids and cornrows. Plus, it doesn't use artificial fragrance.
Reviewers agree, with one sharing, "I have locs and this scalp serum has done wonders. I tend to get dry scalp and this hydrates and soothes the scalp in between my wash days. I also love the consistency — a little goes a long way!"
Something to note: Some users say that the bottle is too small and expensive for the amount they need
Best pre-shampoo scalp serum
Key ingredient(s): Rosemary extract, biotin, argan oil | Dosage: As needed prior to washing | Scented? Yes | Best for: Itchy/flaky scalp, dry scalp and sebum buildup
Kitsh's Pre-Wash Scalp Oil is designed to support scalp health, hair strength and hair growth from root to tip. Simply apply about 10 minutes before shampooing.
"[The product] works by providing a layer of nourishment and protection to the scalp and hair before washing," a brand representative for Kitsch tells Shop TODAY.
Whether you're looking to remove buildup, reduce frizz and breakage, calm your dry, irritated scalp or simply want to improve your overall scalp health — this scalp oil has you covered. When you'll see results depends on your scalp and hair type, but it can take up to a few weeks, according to the brand.
Bonus? Kitsch is currently having a winter sale, offering 20% off all their products.
Something to note: The lavender scent is plant-based, but may not be for those sensitive to fragrances
EDITOR'S NOTE: We plan on trying out this product ourselves for several weeks; we will add our findings to this story on our next update.
Best apple cider vinegar scalp serum
Key ingredient(s): Apple cider vinegar, apple stem cells, hyaluronic acid, aloe vera | Dosage: ½ to 1 full dropper once daily | Scented? No | Best for: Dry scalp, shedding, scalp sensitivity
This soothing, oil-free scalp serum from dpHUE (a Shop TODAY reader fave!) not only helps nourish the hair follicles, but it also helps soothe dry, itchy scalps. In addition to the usual nourishing ingredients like hyaluronic acid and peptides, this serum uses pH-balancing apple cider vinegar and follicle-stimulating apple stem cells as its active ingredients, according to the brand.
Reviewers note that their scalp feels "cleaner and healthier" since starting use.
Something to note: May add a "crunchy" texture to the area of application, so we advise not applying right before going out
STAFF REVIEW: "[After using this for a few days, I] love how easy this was to apply and how it was a calming effect nearly instantaneously upon contact. The dropper was really easy to handle and grasp; the calming effect could also be classified as soothing!" — Jess Bender, senior SEO editor
Questions about scalp serums, answered by experts
What's the difference between a scalp serum and a hair serum?
"Scalp serums are to be applied directly to the scalp and create a healthy foundation for hair growth or treat a specific scalp issue. Hair serums are to be applied to the mid-length and ends of the hair (usually not the scalp) and treat concerns like frizz, dryness or split ends," explains Palomino.
What are some DIY solutions to keep my scalp healthy?
"To stimulate the scalp, try a scalp massage," says Kingsley, who also warns that you should avoid using tools or scalp brushes that may tangle the hair or nip at the scalp. "The pads of your fingers are the best and gentlest tools," she says.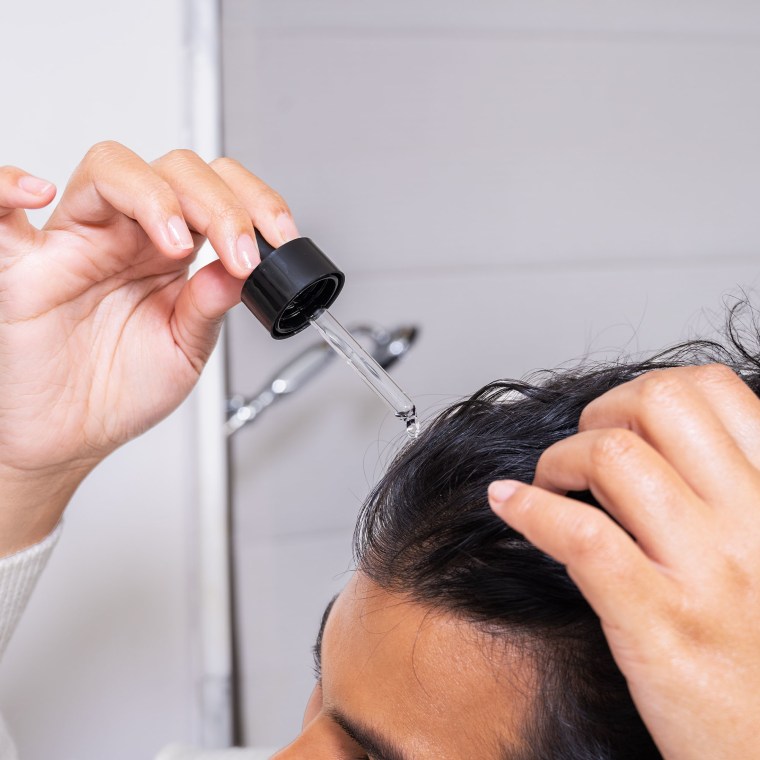 How often should I use scalp serum?
According to Palomino, daily use is optimum. Although some serums, such as those for hair growth, may need to be applied twice daily, others may only need to be applied one or two times per week. For best results, follow the instructions on the product packaging.
When should I use a scalp serum?
Mandel advises finding what works best for you, although he often recommends applying scalp serum at night and then washing your hair in the morning.
Should scalp serums be used when hair is wet or dry?
"In most cases, it's preferable to apply scalp serums to dry scalp so as not to dilute the product and ensure it quickly absorbs into the scalp," says Palomino. She adds, however, that some scalp serums are meant to be used on a damp, freshly cleansed scalp.
Meet our experts
Anabel Kingsley is Consultant Trichologist and Brand President at Philip Kingsley Clinics, which has locations in New York and London. Her current focus is on post-partum hair loss, hair nutrition and the psychology of hair loss.
Natalie Palomino is a master stylist, hair care expert and founder of North Authentic, a resource site of expert-backed, eco-conscious hair products. Palomino turned North Salon, her brick-and-mortar business based in Southern California, into one of the first zero-waste salons in the U.S.
Dr. Mitchell J. Mandel, MD, FAAD, is chief dermatologist at Mandel Dermatology, a Manhattan-based practice that also has locations in Long Island, New York, and Boulder, Colorado. Mandel has been practicing medical, cosmetic and laser dermatology for over 25 years.