Assembling your first kitchen is an intimidating feat. You've likely just moved out of a dorm where you were subsisting on microwavable food in a communal kitchen, or maybe you were recently living at home and enjoying a fully-stocked kitchen, not to mention home-cooked food.
Now that you have to supply and organize your kitchen for yourself, making it feel like a welcoming space that's both functional and something you'll want to use, where do you start?
Our experts agree on one thing: Whether it's your first apartment or you're simply looking to upgrade your dishes to have a more adult-like feel, investing in pieces that are practical yet still youthful is the best route to go. These can be inexpensive products that still match your design aesthetic — that way you aren't purchasing new items each time you move, and you won't grow tired of them quickly.
We spoke to two interior designers on what items are must-haves and how you can make even mundane products feel like they're adding a colorful and personal touch to your kitchen.
What to consider | What about my personal style? | How to organize a small space | Expert-approved kitchen essentials | Best appliances | Best cookware | Best food storage | Best dinnerware | Best drinkware | Editor-loved kitchen products | Meet our experts
What should I consider when shopping for kitchen essentials?
Material is important.
"To ensure longevity with cookware and dishware, it's best to get products made of metal, glass or porcelain," says Linda Hayslett, owner and principal designer at LH. Designs, a Los Angeles-based boutique design studio.
"Metal such as cast iron and stainless steel are best for cooking pans and knives, glass is great when looking for cups to use everyday, and porcelain is great for dishware," she adds.
Investing in quality can pay off.
Hayslett also notes that investing in the right kind of materials now can help you save later on down the road.
"You should be able to keep your sets for a long time, or until you're ready to invest in more important pieces for special occasions, or because you've become a better chef," Hayslett says.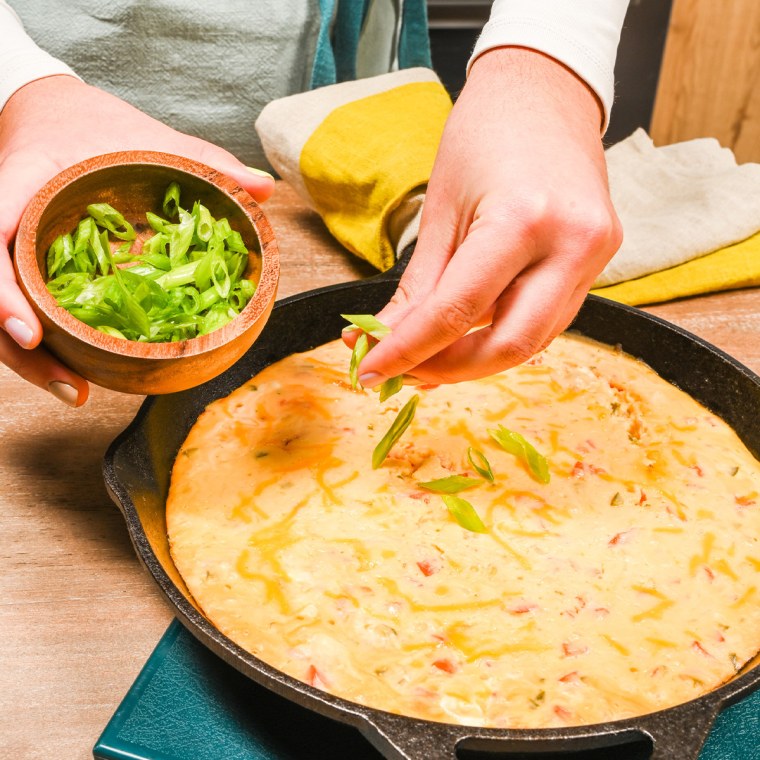 Where does my personal style come in when stocking my kitchen?
Depending on whether you like minimalist or maximalist styles, or you prefer colors over neutrals, knowing what you prefer aesthetically will come in handy. These tips from our experts can help.
Search online for kitchen brands with a similar aesthetic to your existing décor.
"When shopping for cookware that goes with your style at home, search for brands that have a similar look online," Hayslett says.
"For instance, if you're into a minimal look, search for minimalist-style pots and pans and see what pops up. If you're into color, search for a colorful plate set. Or, if you're more about detail, search for traditional glassware to see what comes up online for the search," she explains.
Don't be afraid to get sentimental.
Incorporating sentiment into your kitchen adds the utmost personal touch, according to Shaolin Low, owner and principal designer at Studio Shaolin, an interior design firm based in Honolulu.
"Considering [that] the kitchen is the heart of the home, getting personal on your serveware makes your home feel like you," Low says.
Things such as monogrammed mugs, hand-me-down pieces and sentimental tea towels help to make the kitchen feel more like home.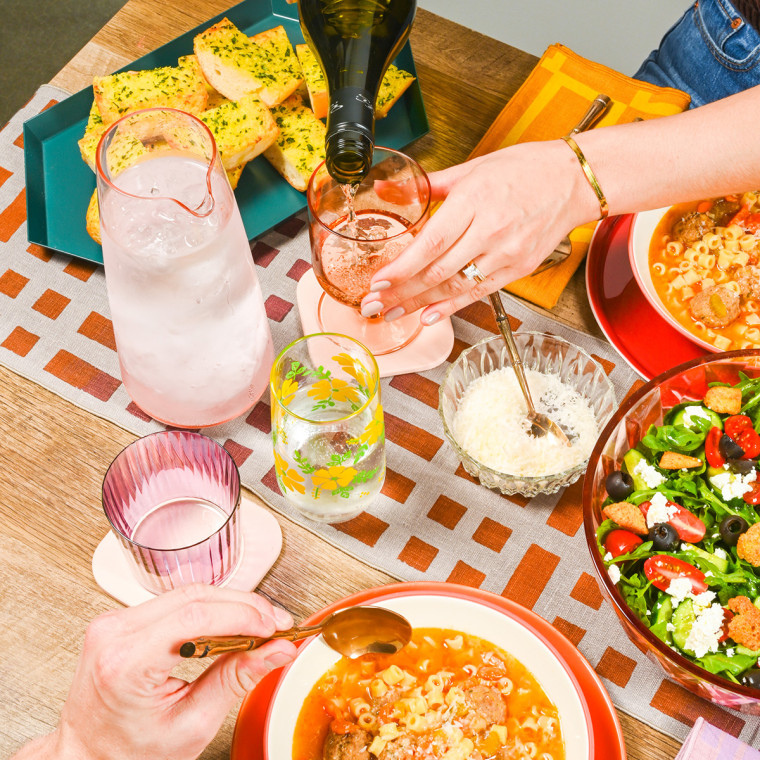 How can individuals stay organized in a potentially small kitchen?
It's easy to let household chores pile up (sometimes, quite literally), when your day-to-day is filled with homework, work, extracurriculars and other to-do's.
Block out a few minutes each day for upkeep.
Low recommends dedicating a small chunk of time each day towards upkeep — that way it doesn't build up over time.
"Simply dedicate 10 minutes before bed everyday," Low says. "Throw on a podcast or a video and you'll be surprised at how much cleaning you can get done. Your future self will thank you in the morning."
Use smart organizing solutions to keep storage areas tidy.
Hayslett advises to keep areas where food is stored clean and clear to prevent clutter. Luckily, there are specific products that can help.
"Getting containers that you can see through, glass jars and clear lazy susans, can help keep things organized and make it easy to see what you have and what you may be running out of in your space," Hayslett explains.
"Places like The Container Store, Target or Amazon have a lot of options that can help get things in order and make it less overwhelming when you need to go into the kitchen," she adds.
Best products to shop for your first kitchen, according to experts
Small but mighty kitchen appliances
Hayslett recommends purchasing small appliances that help to make your routine easier, such as toasters, blenders and coffee makers. Not only will these appliances last a long time, they also don't take up much kitchen space.
"They're the small items that we sometimes take for granted as an investment in a kitchen," Hayslett says. "But they are necessary when you're looking to whip up something quickly, like a smoothie or [if you] just need a light breakfast with toast and jam."
This small blender comes with eight pieces, including a travel mug, making it easy to blend and stow your drink with you wherever you go.
STAFF REVIEW: "I've actually been using the single-serve Nutribullet since my grad school days (so it's been a total of seven years). Having moved to tiny apartment after tiny apartment, it's really been a godsend as a vegan — I've made countless things in it like cashew cheese, the 'cheese' sauce for my mac, ground oats for oat flour, you name it. The multifunctionality and the relative power it packs can't be beat." — Fran Sales, Shop TODAY associate editor
Low loves air fryers because "there are models that have the same power of an oven but with more functionality." A great example of one with a small footprint is Dash's compact appliance.
At just under $50, this air fryer was designed to fit in small spaces. It has a single basket, which is perfect for individual dinners or late-night study snacks.
This popular appliance comes in three different colors to match the kitchen aesthetic you're trying to achieve.
With nine different cooking functions, including options to cook frozen foods, seafood, various meats, veggies and more, this air fryer is one of the most versatile, yet compact cooking machinery you could own.
It's the No. 1 Best Seller in Amazon's Air Fryers category, and reviewers can reveal why. They report that it's "very user-friendly, easy to maintain and clean."
Worried about the 5-quart capacity? Reviewers also say that the basket is the perfect size to make meals for two people, or make snacks for a slightly larger group.
EDITOR'S NOTE: Several models of Cosori air fryers were recalled in Feb. 23, 2023, according to a recall notice from the Consumer Product Safety Commission. This model, the CAF-L501-KUS, is not one of the recalled models. Furthermore, the sticker price of the product above on Amazon is $99.99, but there's an on-page coupon that takes off $20.
Cookware that's both durable and affordable
Low believes in the longevity of cast iron skillets, noting that they're one of those products that "gets better when seasoned overtime."
Lodge's Classic line of cast iron skillets are an inexpensive example (with the sizable 10.25-inch version available for under $20 at multiple retailers), and they already come pre-seasoned!
Plus, depending on the circumference you choose (there are nine available), these can easily fit in any cabinet or can hang from any rack without taking up lots of room.
STAFF REVIEW: "This is another affordable and oft-used kitchen workhorse that has served me and my roommates well for years. Nothing can beat how well you can make a fried egg on it, and the vegan and gluten-free cornbread I made last Thanksgiving was a hit among the unwitting omnivores. We also got our 10-inch one on sale (it often is) — and for the performance (it stands toe to toe with some of the other big cast iron names out there), this one's a steal." — Fran Sales, Shop TODAY associate editor
Cast iron skillets are known for their versatility, as they're able to be used on the oven, in the stove, over campfires and even on the grill.
Outfitted with a silicone handle meant to prevent burns (especially helpful for oven or grill recipes), this version of Lodge's crowd-favorite skillet is loved by reviewers because it "does the trick" and it also "dissipates the heat nicely — meaning you won't be the cause of an apartment-wide evacuation.
An essential glass storage set that's versatile
Packing a lunch is one of the easiest ways to save money on weekdays. Low prefers glass over any other material for food storage: "It's easy to clean and doesn't hold onto odors like other materials." This means your glass containers won't be ruined or discolored even if you forget them in your lunch box for a couple of days.
This set includes three round containers and two square ones, perfect for leftover soup, pasta, sandwiches or salads.
Affordable, classy dinnerware that lasts
This is a seemingly obvious choice; however, getting the absolute basics right off the bat will help set you up for success.
"When starting out on your own kitchen, a must to look at having are a complete set of silverware," says Hayslett.
This 20-piece silverware set from Target's Room Essentials line comes with four dinner spoons, four dinner forks, four salad forks, four dinner knives and four teaspoons — more than enough for a small dinner party.
A viral TikTok find, this serveware often dubbed a "plate bowl" looks sophisticated — and indeed acts as both a plate and a bowl. Cereal bowls too small to hold your plate of pasta or hefty salad? These will do the job.
Available from Target in four different colors, these neutral and minimally chic dishes will match any and every kitchen aesthetic. Reviewers love them because they're "beautiful," "sturdy" and "high-quality."
Functional drinkware that shows off your personality
Adding items that reflect your personal style and aesthetic is one of the easiest ways to turn a first apartment or house into a home, emphasizes Low.
While Low recommends thrifting a mug as an affordable option to add sentimental value to your first kitchen, these monogrammed mugs are an alternative option to add a personal touch.
With every letter in the alphabet available, grab an initial for you and each of your roommates, and voilà! These tile mugs offer a distinct and timeless design that can be moved from kitchen to kitchen.
Whether you're showing love for your new city or one that you've visited before, these mugs boast a non-cheesy design that you'll be proud to display. They're both dishwasher- and microwave-safe, meaning you can use and reuse them without any hassle.
Plus, they help add that personal, sentimental touch to your space that Low refers to above.
Whether you're drinking smoothies, shakes, your morning coffee or your favorite soda, these fun and functional straws will add a touch of whimsy to your beverages.
Available in nine different colors, including yellow, pink and clear, these straws have been described by reviewers as "the cutest," "nice-quality" and "well-made." Plus, Low loves them for the material itself: "Glass straws make any beverage taste better!"
Best kitchen essentials Shop TODAY editors swear by
"Buy the good stuff the first time and you won't have to spend more to replace down the line," says Ali Deabler, Shop Today's deputy editorial director. Deabler has moved every year since 2007 — making her our unofficial expert on what kitchen items are really worth it.
Because the Shop TODAY team is based in New York City, our editors have mastered the art of utilizing every inch of a small space. Take a look at what we recommend below.
Cookware
A life hack practiced by senior SEO editor Jess Bender is purchasing kitchen tools and utensils from restaurant supply stores. While they're not the prettiest, they last forever, according to Bender.
"You can't beat having a no-frills stainless steel whisk," she says, adding, "I've had mine for about 10 years and it still looks good as new, and I use it about five times a week."
Both associate editor Stessman and deals editor Rebecca Brown agree that while this knife set is a splurge, it may be only one you'll ever need.
"The Our Place kitchen knife trio is far superior to other knife sets, and it's the only thing I use," says Brown.
Available in eight different colors, including Lavender, Royal Blue and Black, the brand notes that these utensils should be hand-washed and dried with a towel after each use.
RELATED REVIEW: Stessman is also a fan of Our Place's mini Perfect Pot and mini Always Pan. Read our full review of the collection.
Serveware
This six-piece basic plate set provides all the plates you'll need (and even a few more for hosting purposes). This tried-and-true collection from household name Corelle has lasted Bender since her college days. They're also available in fun teal and blue designs.
Associate editor Fran Sales loves this affordable 16-piece set, also from Corelle: "It's lightweight but sturdy, and they're not easy to chip."
Tools and appliances
If you can't start your day without a cup of ambition first, how about three different ways to brew it?
With options to make a French press, cold brew or pour-over coffee, your morning routine just became less mundane. Deabler praises this product, calling it "amazing."
RELATED REVIEW: Find out which coffee maker one Shop TODAY editor (with a cold brew habit) deemed the one to buy because it saved him so much money.
Say goodbye to accidentally cutting yourself on jagged edges with this tool from trusted brand OXO, known for its affordable but high-quality kitchenware. Deabler raves, "[It's] the best can opener if you want to keep things in the can and don't have Tupperware."
For those who might not have access to a dishwasher, this folding dish rack, also from OXO, will be your saving grace.
With spots to dry silverware, mugs, sheet pans and other dishes you use, this rack is loved by reviewers because it's also easy to store away when not in use.
Stessman is "obsessed" with this multi-tasking kitchen appliance: It's an air fryer, toaster, oven, dehydrator and broiler, all in one. "While it's big, it replaces the need for multiple gadgets," she says.
"My roommate and I honestly use it way more than our actual oven because it heats up so quickly," Stessman adds.
This smart oven, along with other products in Drew Barrymore's Beautiful kitchen line, are available at Walmart.
Storage solutions
Rather than haphazardly leaving silverware in a drawer, or letting a larger organizer take up the entire space, opt for this plastic organizer. It'll help you save space with its undersides, which are used to store spoons, knives and forks.
Whether it's used as a bar cart or a place to store extra appliances such as a microwave or a blender, this storage on wheels is the "real workhorse of a tiny or first kitchen," according to Deabler.
With hooks to store mugs or oven mitts, and a wooden top, this cart will help you make the most out of a small space.
Meet our experts
Linda Hayslett is the principal designer at LH. Designs, an interior design studio located in Los Angeles. After being a stylist for a portion of her career, she made the switch to interior design and has since had her work featured in Architectural Digest, Real Simple and Elle Decor, among other publications.
Shaolin Low is the owner and principal designer at Studio Shaolin, an interior design firm based in Honolulu. Low is a third-generation interior designer whose work has been featured in Good Housekeeping, The Washington Post, Sunset Magazine and other publications.