If your January resolutions this year include getting healthier, a key habit to look at changing is the way you eat and cook. But as tempting as it is to promise yourself a total overhaul, experts say the key to long-term success is actually not to make a resolution at all. Instead, make small, attainable goals, which turn into healthier habits, which turn into results.
But for many, applying this tactic to cooking is often challenging — making the time to meal prep and cook healthy meals can become a roadblock.
Enter: the air fryer.
One of a roster of gadgets that simplify healthy eating, an air fryer offers a quick (and tidy) way to prepare crisp, satisfying fried food without all the fatty oils — that's because it uses an estimated 70 to 80 percent less oil than traditional frying.
Plus, what you can make with it goes way beyond oil-free fried chicken and tater tots. For example, Urvashi Pitre, author of "Air Fryer Revolution," uses her air fryer for charring veggies, cooking steak and "hard-boiling" eggs, among other things.
We broke down everything you need to know about using an air fryer, plus listed the bestsellers on the market along with some of our favorites. Use the links below to jump to a specific category.
What to look for | How we chose | Basket-style air fryers | Oven-style/alternative air fryers | Air fryer FAQs | Meet our experts
What to look for in an air fryer
When it comes to choosing the perfect air fryer for your needs, there are few things to consider:
Price: Air fryers can range from $100 to $500. The more expensive versions include features like grilling or pressure cooking, potentially doing the job of other kitchen appliances — and saving you money and counter or storage space.

Style: The two most common types of air fryers are the oven-style and basket-style, says Meredith Laurence, chef and author of "Air Fry Everything." The oven style takes up more space, but it also has more features and can process larger quantities of food. The basket-drawer style has fewer functions, and you shake the food to redistribute it rather than turn it over. Laurence adds that since there is so much variety in air fryer designs, choose one that matches your kitchen's aesthetic.

Size: The size of your air fryer may be determined by how much counter space you have, but also consider the number of people you'll be cooking for. Stacking food can cause uneven cooking, says Pitre, so like a conventional oven, you'll want everything in an even layer. If you're cooking for multiple people, you want something with a larger surface area, like one of the square or rectangular options below.

Cleaning: If you hate dishes, opt for a smaller basket-style air fryer, Pitre suggests. There are fewer parts to wash, and they're super easy to clean. "I fill it with hot, soapy water, put it in the sink, then walk away and go eat dinner or have a glass of wine," she says. "Twenty minutes later, I come back and everything comes straight off."
How we chose the best air fryers
In choosing Shop TODAY's favorite air fryers, we considered each item's affordability, availability, how user-friendly it is and any special features. We want to offer buyers ideas for reasonably priced kitchen appliances that they can find in stores near them or get online.
For user-friendliness, many air fryer reviews say their kids use it often, so a device that makes cooking easy enough for kids to either prepare their own meals or help with a family dinner is a definite win. For special features, we considered perks like programming attributes that let the machine do the cooking automatically, or extra parts that let you diversify what you make.
We based our list on market research, air fryer specs and customer reviews to bring you our top 12 air fryers on the market.
Best basket-style air fryers
Capacity: 2.1 quarts
Compact and affordable, this air fryer is ideal for students, break rooms or those cooking individual meals. While it's small enough to stow in a cupboard, it also does the job of preparing meals quickly and efficiently.
The temperature dial controls the heat while the timer sets cooking time, and there's a 30-minute setting for automatic shut-off. All its removable parts are dishwasher-safe. This air fryer's simple and to-the-point features are the reasons it's earned more than 10,000 positive reviews on Amazon.
The Elite Gourmet is also available in a range of colors.
Capacity: 6 quarts
Featuring Dash's signature bright colors and sleek style, this basket-style fryer has a capacity of 6 quarts and comes in four colors to help you coordinate with your kitchen's color scheme. It comes with dials to coordinate time and temperature: The temperature knob goes up to 400 degrees, and the timer has an automatic 30-minute shut-off, making it easy to set it and forget it.
The Dash Deluxe has a cool-touch handle and a nonstick basket that is dishwasher-safe (though many users opt for handwashing with soap and a microfiber towel). It uses 1700 watts, comes with a cookbook and has a one-year warranty.
Even though it's on the large side of this style of air fryers, people love the versatility of what can be prepared, from steak to a whole chicken, from tofu to crisp-roasted veggies. This no-frills air fryer is so simple, it will make a cook out of anyone. It's also easy for kids to use.
Capacity: 6 quarts
Gourmia's 6-quart air fryer is big enough to cook a whole meal for a family using its patented FryForce 360-degree technology, which uses powerful circulating heat to get the job done.
Consumer Reports named this air fryer one of its top choices, giving it an Excellent rating for controls and Very Good ratings for noise level and ease of cleaning. Twelve settings allow you to program in what you're cooking, be it wings or seafood, or set it to what you're doing with it, like baking or dehydrating fruit.
It also has a setting to preheat and a reminder signal to put food in and to turn it.
Capacity: 5 quarts
This XL air fryer utilizes Oster's longest-lasting nonstick coating that's also on its oven interior — it's even infused with diamond particles, creating a stronger, more durable coating. Its dishwasher-safe basket holds 5 quarts, making it the ideal size for family-sized meals.
This fryer also has a digital touchscreen with eight preset cooking functions, each with an 80- to 400-degree temperature range, as well as built-in overheating protection.
Capacity: 6 quarts
This air fryer uses convection oven-style air to cook up your family's favorites, even items that are frozen, without defrosting them. It has a nonstick riser that's great for grilling and a stainless-steel reversible rack for multi-layer cooking. All the pieces are dishwasher-safe, too.
The Brio has 100 pre-programmed settings for grilling, baking, broiling, roasting, dehydrating and more. It also has 50 memory slots to store your own favorite recipes. NuWave's patented Linear Technology maintains and adjusts temperature throughout the cooking process.
EDITOR'S NOTE: Several models of Cosori's air fryers were recalled by Atekcity on Feb. 23, 2023, due to fire and burn hazards, the U.S. Consumer Product Safety Commission announced. The Dual Blaze 6.8-Quart Smart Air Fryer (model No. CAF-P583S-KUS), is not one of the recalled models.
Capacity: 6.8 quarts
Not only is the Cosori Dual Blaze one of Amazon's bestselling air fryers, but it's also a favorite of Consumer Reports reviews, garnering strong performance ratings in all areas tested.
While it's more expensive than other brands, it has a large capacity and is easy to clean, thanks to its block-like design. It comes with a two-year warranty, but most importantly, it's Wi-Fi-enabled and can be controlled and monitored with an app (or even Alexa!), allowing you to integrate your dinner time with your tech.
Capacity: 8 quart
Ninja's two-basket Foodi gives you the ability to cook two different foods in two separate baskets at the same time, thanks to its unique DualZone Technology that uses two different settings.
Each zone has six options, its digital display is simple to use, and it has a range of temperatures so your foods can be done at the same time. Its 8-quart capacity can fit up to 4 pounds of fries, and its nonstick finish makes for easy clean-up.
Looking for a smaller model with similar specs? Go for Ninja's single-basket 4-quart air fryer.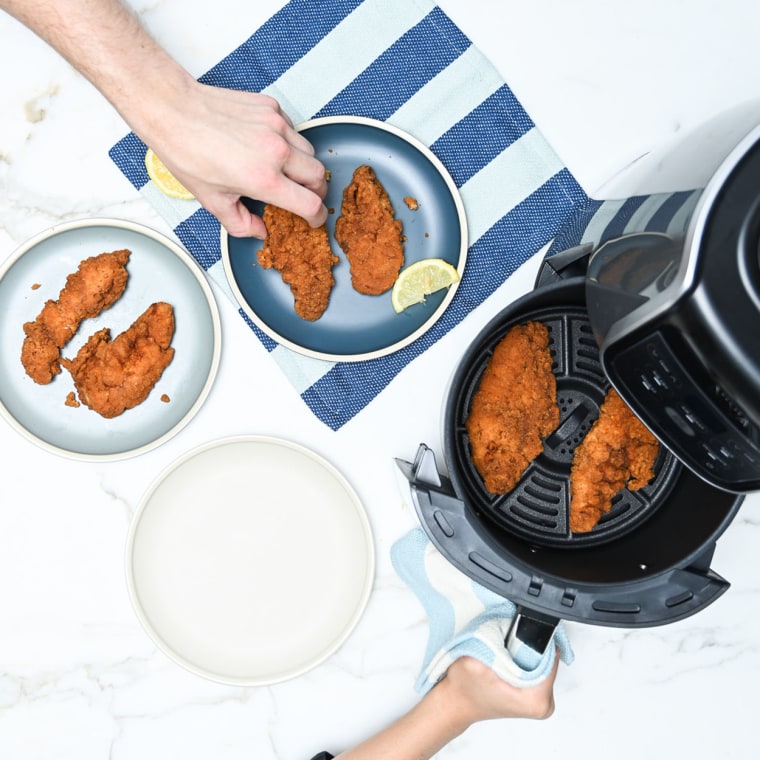 Best oven style and alternative air fryers
Capacity: 0.6 cubic feet
An air fryer and a toaster oven all in one, this appliance lets you preset it to cook up wings, fries, nuggets and veggies. Low-temp settings are ideal for proofing dough, dehydrating foods, slow-cooking and braising, while it can also be used for roasting a 4-pound chicken or baking a 12-inch pizza.
It features a large digital display with intuitive programming and a window for easy-to-view cooking. While this air fryer/toaster oven combo is quite spendy and large, it does a lot: It can bake, broil, roast, toast, reheat, warm and dual-cook, with temperatures from 80 to 450 degrees.
Capacity: 6 quarts
What we love about this machine is its versatility: You can slow-cook, steam, simmer, sous vide … and even make rice.
It has literally a dozen cooking presets that let you choose how to prepare your meals easily and quickly. You can air fry foods to perfection, while the grill plate gives foods those sexy char and grill marks.
Bonus: Its parts are removable and dishwasher-safe for fast, effortless clean-up.
Capacity: 10.6 quarts
This badass multi-functional air fryer can cook, bake and air fry using efficient, high-speed convection, with no preheating needed. With its huge 10.6-quart capacity, the menu opportunities are endless, and it's especially good when feeding a crowd.
The dehydrating feature dries herbs, jerky and fruit slices; there's a rotisserie spit and forks, a rotating basket — and it works as a convection oven.
There are 17 preset options, as well as an interior light and window to give you a view of your food as it's cooking. All the parts are easily removable and are dishwasher-safe, making for an effortless cleanup.
Capacity: 10 quarts
Instant Pot released its first air fryer in 2019, adding another useful kitchen appliance to its roster. Since then, the brand's line of air fryers has grown to include several options with different capacities and different bells and whistles.
The 10-quart Instant Vortex Plus is the mother of them all, featuring a digital control panel and seven functions from dehydrating to making a rotisserie chicken; the air fryer oven can bring food from frozen to golden in minutes.
There is a rotating rotisserie basket and rotisserie spit and fork, and like the other air fryers we've featured here, it's easy to clean.
Capacity: 6 quarts
Another air fryer that's a Consumer Reports fave, this large-capacity air fryer can cook six to eight servings in minutes and has easy-to-use digital controls. The fryer performed well in CR's noise tests, as well.
The grill tray allows you to easily and quickly grill food, while the elements are nonstick and dishwasher-safe. Program the function, set the time and walk away—making dinner couldn't be easier.
Your air fryer questions, answered
How do air fryers work?
Air fryers use convection heat technology to cook food, Laurence says. Each one has a fan directly in front of the heater that will blow the hot air onto and around the food for a speedy and efficient cooking process that won't dry out what's inside.
"You end up with crispy, brown exteriors and juicy, tender interiors," she adds.
Are air fryers healthier?
Air fryers tend to be healthier than conventional fried food because they use less oil, says Frances Largeman-Roth, a registered dietitian and TODAY contributor. But while it may be healthier, not everything you prepare in the gadget is going to be "healthy." Many of the recipes still suggest adding a little oil, so you may not save a significant number of calories during your meal, she explains.
Since it's so easy to use, it may help people get more creative with their "fried" options, thinking outside of the typical French fries and chicken wings. When used to fry vegetables like Brussels sprouts, zucchini and carrots, it may help you up your daily veggie intake.
"[It] makes veggies crisp, making them much more enjoyable for folks — adults and kids alike," Roth says. "Whatever we can do to make vegetables more craveable is a huge plus in my book."
Meet our expert
Meredith Laurence is a chef, recipe tester and author of "Air Fry Everything." She founded the cooking school and recipe website Blue Jean Chef.
Frances Largeman-Roth is a registered dietitian, author and TODAY contributor, where she develops and writes recipes. "I'm always checking out the latest fitness and food products that help me do that in a convenient, easy way," she says on her website.
Dr. Urvashi Pitre is the author of "Air Fryer Revolution." She is also a recipe creator for Two Sleevers, a recipe blog that includes low-carb and keto recipes, as well as air fryer and Instant Pot recipes.