Everyone could use a reliable pair of comfortable shoes. However, perhaps nobody needs them more than medical professionals who are hard at work and on the move for 12 hours or more at a time.
Nurses are a prominent example. Standing or walking for long periods of time puts an extraordinary amount of stress on their feet, which are enclosed in closed-toe shoes due to their work environment. But that's not the only risk to nurses and other workers on their feet all day, according to Dr. Krishna Tikiwala, DPM, a podiatrist at Northern Illinois Foot and Ankle Specialists.
"Unsupportive shoes can lead to joint pain and foot deformities," she explains. Dr. Bonnie Chien, an orthopedic surgeon at NewYork-Presbyterian/Columbia University Irving Medical Center, echoes this.
"Prolonged standing and weight bearing can predispose [one] to certain conditions, such as calluses, plantar fasciitis, leg edema (swelling) and pain in the ball of the foot or heel," Chien says.
That's why the foot and ankle experts we spoke to, many of whom work with nurses themselves, look for particular things when it comes to finding the right shoes for nurses: these include cushioned support, grip, fit and ventilation.
Using those key features, Shop TODAY asked nurses in addition to foot doctors for the pairs they recommend for getting through long shifts on your feet. From athletic sneakers to practical clogs, these are the 22 best shoes for nurses and what to look for when shopping. Use the links below to jump by category.
What to look for | Best overall nurse shoes | Best clogs for nurses | Nurse shoes under $100 | Shoes designed for nurses | Best athletic shoes for nurses | FAQs | Meet our experts
What to look for when buying shoes for nurses
Support: Constant standing and loading weight on their feet make nurses susceptible to various foot health issues, so Chien advises to go for comfortable shoes that have a thick-enough supportive sole. It's also important to have good arch support for stabilizing the foot and ankle, Tikiwala adds. Dr. Meghan Kelly, assistant professor of foot and ankle surgery at Mount Sinai Icahn School of Medicine, says that one way she tests for adequate support is by trying to bend a shoe in half. "A good supportive shoe will not easily crease in the middle," she explains.
Breathability: Nurses' feet are also often confined in closed-toe shoes for hours at a time. Ventilation is important "so that sweat (and odor) do not accumulate, and fungal/bacterial infections are prevented," Chien explains. For the medical setting, she recommends a sneaker with a mesh upper.
Shoe shape and fit: The biggest thing to keep in mind, Kelly says, is that shopping for nursing shoes isn't a "one size fits all" approach. "Based on the foot shape and associated issues related to the foot, some shoes may be more suitable and comfortable than others," she adds. Tikiwala echoes: "The biggest issue is that people are wearing one or two sizes smaller than their actual size, which can then lead to painful deformities." Make sure to avoid shoes with a narrow toe box so your toes don't rub against the tops or sides, Chien adds. A good rule of thumb is to measure up to the largest toe of your larger foot. Make sure, too, that there is "about half an inch, which is usually the width of a finger, between the tip of the longest toe and the end of the shoe," says Chien.
Non-slip sole: A grippy sole helps with stability and balance — helpful for nurses who have to walk or run around multiple times a day in an environment where they're likely to be exposed to various types of fluids and liquids.
Best overall shoes for nurses, according to nurses
"Brooks sneakers are extremely supportive but also extremely comfortable," says Monique Goguen, a nurse based in Boston. "Being on your feet for 12 hours a shift, comfort is so important."
The Brooks Levitate series are running sneakers, so they are designed with a runner's comfort in mind. They feature a removable cushioned footbed that provides support and also aids in shock absorption.
We previously recommended Levitate 5, and this updated version boasts a thicker, more responsive foam bed, as well as a mesh upper that's a little more flexible and breathable, according to the brand.
Levitate 6 is also available in men's sizing.
Kelly pointed to Hoka sneakers as one example of a shoes that often provide plenty of support, and that's largely thanks to its special molded footbed.
"Nurses are on their feet most of the day, so the Hoka sneaker provides great support for nurses with bad backs or plantar fasciitis, which is inflammation in your feet," says Goguen.
The popular cushioned shoe comes in regular and wide sizing and nine colors, and men's sizes are also available.
"I use Asics. A lot of nurses I know wear tennis shoes for the support," says Katy Morgan, a nurse in Belvidere, North Carolina.
The Asics Gel-Challenger 13 — which is also available in men's sizes — has a foam footbed, as well as two additional layers of foam under the heel that help to provide comfort and support. The mesh outer allows the foot to breathe, but also helps keep the foot sturdy and protected.
A note: Several reviewers say these run a little narrow, so size accordingly.
Audra Whitton, a nurse based in Chicago, recommends Dansko's sneakers if you're a fan of the popular brand but want something other than clogs. The outer material is waterproof, while the durable sole is slip-resistant to ensure safety.
Another nurse based in the U.S., who bought a pair from Amazon, shared this review: "This is my second purchase of these shoes. I wear them to work. I'm a nurse. They do not hurt my feet, they have good support and the waterproof and non-skid sole is very useful. Body fluids are easy to clean off. I also use them for my walks in the woods; they are great there as well."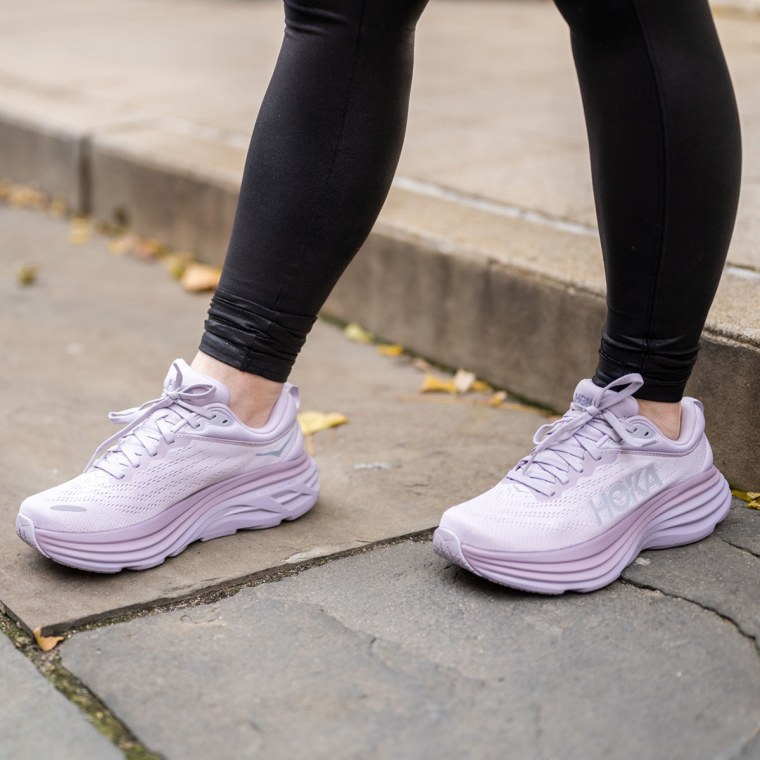 Best clogs for nurses, according to nurses
If you want comfort without sacrificing style, Dansko offers plenty of eye-catching colors to choose from. Plus, it's got a seal of approval from the American Podiatric Medical Association.
"Danskos come in lots of fun patterns, and since we wear scrubs, it's one place to express your personality," says Debbie Jok, a nurse in Novi, Michigan.
Tikiwala recommends these for those working in a medical environment, not only for their anatomical footbed, which helps with stability and comfort, but also for their antimicrobial lining.
Several nurses we spoke to recommend Crocs, noting that they're an affordable shoe that's easy to clean. The brand's classic clog style is a popular choice, and in their 2021 Environmental, Social and Governance report, they declared their goal to become Net Zero and reduce emissions by 50 percent per pair by 2030.
These low-maintenance shoes are popular among nurses and healthcare workers, and not only because they're easy to slip into and comfortable to wear: They also have the company's so-called Oofoam foam technology, which it claims absorbs up to 37 percent more shock than traditional clogs. Plus, they're machine-washable.
"These are perfect for workers who have plantar fasciitis pain and back pain [because of] their nice shock-absorbing memory," Tikiwala says.
Joanna Cannata, a nurse from Knoxville, Tennessee, recommends Alegria shoes for comfort. These close-heeled clogs are made for all-day wear, since the combination latex-and-cork footbed is intended to conform to the foot.
The footbed can also be removed to insert custom orthotics, while the outsole is designed to help prevent slips, and also guides the foot's heel-to-toe motion.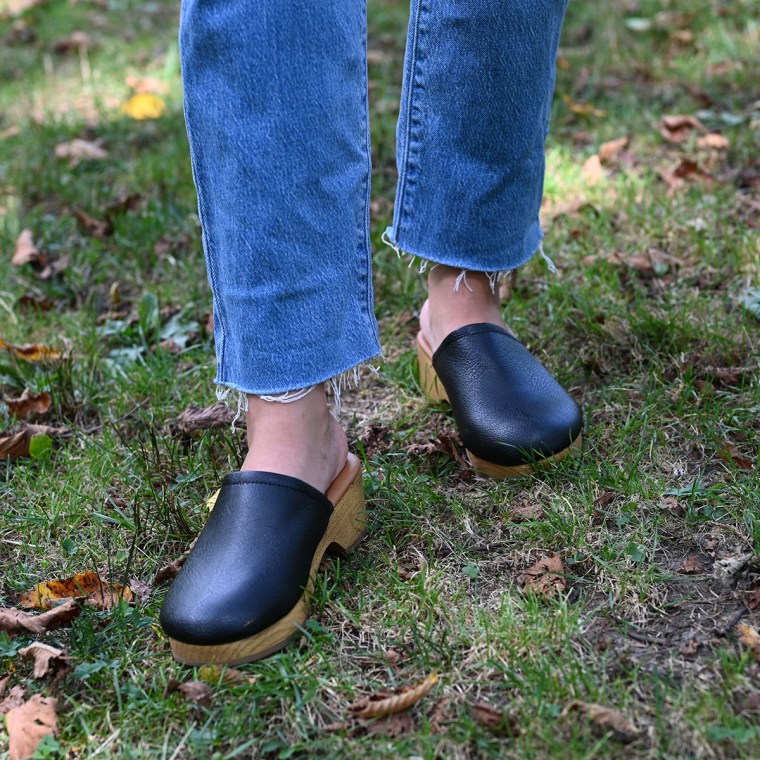 More shoes for nurses under $100
We couldn't write a "shoes for nurses" roundup without adding Allbirds, especially now that it's on offer for under $100 at the above retailers.
The brand tested this design on more than 90 runners, and it shows: The design boasts a responsive and flexible foam midsole, an improved shape that helps distribute impact more evenly, and even more grip than the first model, according to the brand.
Note: The Allbirds Tree Dasher 1 is also on sale on Allbird's site (the on-sale Dasher 2s are almost out of stock).
We've already featured a pair of Brooks above, and we're including another one here that is even more affordable. These ones are also designed for runners, but they're made to be a good transition from sportswear to streetwear, perfect if you're clocking out and still have errands to run after your shift.
The shoes still boast everything our experts say to look for in a nursing shoe, including a breathable knit upper, a soft textile insole and inner lining, and a responsive and springy outsole. There's also a whopping 18 colors to choose from.
Perhaps the "d'lite" in its name refers to the fact that this shoe is both sneaker and mule, or perhaps it's that they're both stylish and easy to wear. Whichever it is, nurses on their feet for long stretches will find plenty to like in these unique kicks.
For starters, its insole is made of memory foam, which more than one reviewer claimed felt "like walking on clouds." The shoe is also backless, minimizing the chances of raw heels.
The original version of these sneakers from Adidas have amassed over 56,000 verified five-star ratings on Amazon. Cloadfoam Pure 2.0, just like its predecessor, is lightweight, but the Cloudfoam midsole provides enough support for a springy feel. Whether you're heading out for a walk around the neighborhood or a quick errand run, they'll provide both comfort and function.
With a plush cushion and sturdy outsole, these walking shoes from New Balance are a top-rated option that prioritize comfort. The brand's shoes are also another example Kelly brought up when it comes to ample arch support.
"I had the cute-heeled nursing clogs, but at the end of my clinical rotation my feet were killing me, so I ordered a few pairs of all-white sneakers on Amazon, and these were the most comfortable out of them all," one verified reviewer said.
Shoes custom-made for nurses
It's no surprise that a company dedicated to making functional, comfortable and stylish scrubs for healthcare workers would work with a popular walking sneaker company to make a shoe tailor-made for nurses. Case in point: These unisex shoes boast an antimicrobial insole and inside lining, a lightweight mesh underlay, a water-repellent upper and laces, and a grippy rubber outsole.
These simple shoes made for nurses come in a variety of cute colors, but that's not all they have going for them. Made by Gales, a company whose products are designed by healthcare professionals who work in "fast-paced environments," these shoes' outsoles are made of so-called XL Extralight compound material, which the brand says are soft but durable, as well as ultra-lightweight.
Their removable Ortholite insoles are also no slouch: They add 7 mm of extra cushioning and are antimicrobial and machine-washable. Add to that the non-slip, grippy tread and air holes for extra breathability, and you've got a solid shoe to last you that 12-hour-plus shift.
Sure, we can run through all the impressive specs of this shoe: a supportive and impact-absorbing base layer that "hugs" your foot, an outer layer that's resistant to water (and other fluids!), and a high-traction rubber sole.
But let's let one emergency healthcare worker do the talking with this online review: "My feet don't hurt after running around the emergency department for 12 hours, and [the shoes] are definitely fluid-resistant," they said, adding, "I've gotten many compliments on the way they look."
Clove, a popular healthcare sneaker brand, is probably one of the first results to show up in your online search for a good nurse shoe. In addition to the brand's mission, this new Aero pair's design shows why. Also available in men's sizes, the chic shoes are designed with a lightweight mesh fabric and are an even more flexible iteration of the core Clove pair.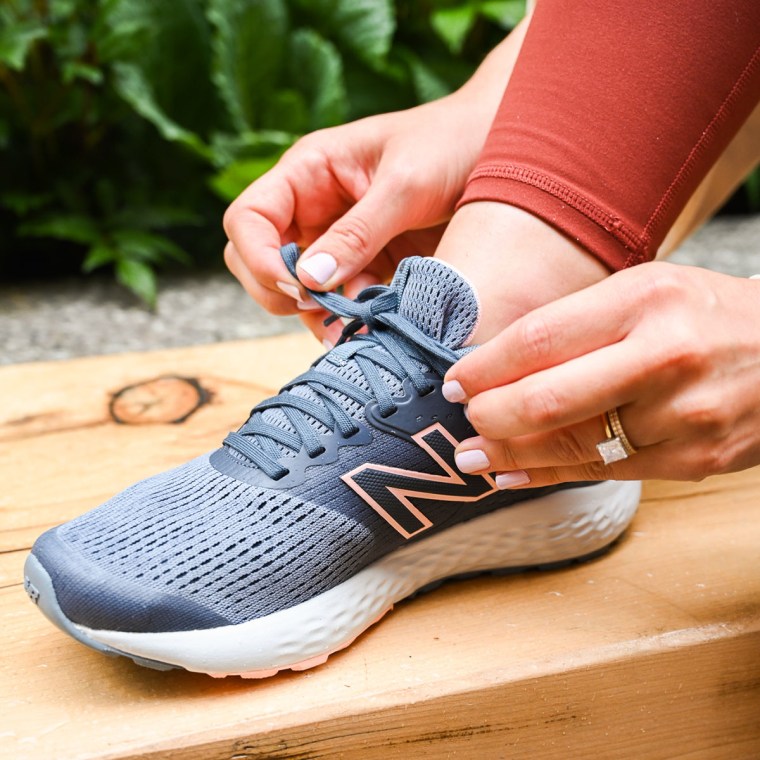 Best athletic shoes for nurses
Available in both women's and men's sizing, this pair of Hokas has updated features that make it suitable for nurses and other healthcare workers constantly on their feet, like its water-resistant leather construction and super-grippy rubber outsole. Tikiwala recommends the Bondis to her patients with plantar fasciitis, due to their ample width, the heel's memory foam that helps with ankle stability and good shock absorption.
These highly-rated sneakers (designed with Japanese bullet trains in mind!) are perfect for all-day wear — they're made of a mesh and leather upper and a springy yet absorbent foam support that will keep you light on your feet for those long hauls. Plus, a men's version is available. A bonus? They come in over a dozen different colors.
We previously recommended Vionic's Classic Walker, highlighting its removable cushioned insole and padding, which adds stability on walks or runs.
This newer model features Vionic's "lightest outsole yet," the brand says. The stylish walking shoe is made from a breathable, lightweight and slightly see-through mesh upper, and the EVA lining is removable so you can customize support (bonus: The insert is designed by podiatrists, according to the brand).
These lightweight, comfortable kicks, designed for trail runners, are the only athletic pair Tikiwala recommends. For starters, it has an airy soft mesh lining that she says allow for more toe space. It also has a cushioned midsole, which provides arch support and shock absorption.
Tikiwala also highlights two unique features. First, she likes super-responsive extra cushioning layer that protects against bruising on the heel and ball of your feet. But the "best part: The sole features drainage slits that release water, so the feet can dry more easily."
At almost $200, these are on the pricier end of our recommendations, but every penny may end up being worth it for those who have midfoot arthritis.
"The 'rocker bottom' soles take pressure off the joints in the middle of our foot as we walk as it makes the shoe do some of the work as well," Kelly explains.
The "rocker bottom," or curved sole, of this particular pair of running shoes boasts so-called SensorTechnology, which cushions impact on the heel, as well as "a strong Pivot Axis" that causes a "roll" from the back to the front of the foot, according to Michael Russina, the country director of MBT USA, Inc.
"[This] provides a rolling movement that disburses weight with less movement in the foot, which relieves pressure in the heel and toes. ... The forefoot then allows the shoe to roll forward with a toe-off rather than the typical bending of the toes when walking," he explains.
Something to keep in mind: The company says these run true to size, but some reviewers say they run a bit snug.
Questions about nursing shoes, answered by experts
How often should nurses replace their shoes?
There's no hard-and-fast rule for when nurses and other medical professionals should replace their shoes, our experts say.
Kelly compared checking whether your shoes need replacing to checking the tread on your car tire: That may mean having to replace your shoes every few months, according to Chien, or even up to every year, says Kelly.
"I recommend checking the bottom soles of the shoes about every four to six months and if there is a sizable part with wear and tear, consider replacing the shoes. Of course, the time frame depends on the activity level on your feet," Chien adds.
Kelly also recommends compression socks for nurses and other people who work on their feet all day.
"Ones that are either designed for healthcare workers or athletes tend to be less intense than medical-grade ones, but can help with the overall fatigue that the feet can feel at the end of a long shift," she explains. Chien agrees, saying they help prevent excessive friction.
Plus, Kelly adds, "They tend come in fun patterns, because life is too short for boring socks!" Who can argue with that?
What shoes should nurses wear if they have plantar fasciitis or are diabetic?
Go for a shoe with soft, cushioned insoles with good arch support, both Chien and Kelly say.
Kelly adds that, for people prone to the condition, the stiff orthotic of a given shoe may mean they should either look for a pair with more flexible arch support or add an insert with that feature.
"My favorite over-the-counter orthotics come from company such as Spenco, Superfeet or [Powerstep's] Pinnacle Max," she says.
Chien does caution, however, that even among those with plantar fasciitis, the type of arch support depends on the overall alignment of your heel and foot.
"If someone has flat arches, arch support helps, while if someone already has high arches, then less arch support would be better," she explains.
For nurses who have diabetes and tend to have poor sensation in their feet, Chien recommends a wider toe box, because those don't cause friction and pressure against the feet or toes. Furthermore, both Kelly and Chien also suggest going for shoes that are properly fitted and cushioned to prevent the occurrence of ulcers.
"Some patients with diabetes have neuropathy (abnormal and/or diminished peripheral sensation), and so it is very important to find well-fitting shoes," Chien adds. Those with a more severe deformity or a history of ulcers may also want to consider a custom molded shoe with inserts, the surgeon explains.
Meet our experts
Dr. Bonnie Chien, MD, is an orthopedic surgeon at NewYork-Presbyterian/Columbia University Irving Medical Center. She specializes in operative and non-operative procedures addressing foot, ankle toe and heel conditions.
Dr. Meghan Kelly, MD, PhD, is an assistant professor of foot and ankle surgery at Mount Sinai Icahn School of Medicine, specializing in foot and ankle disorders. She also serves on the health policy and humanitarian committees of the American Orthopaedic Foot and Ankle Society.
Dr. Krishna Tikiwala, DPM, is a podiatrist at Northern Illinois Foot and Ankle Specialists in Crystal Lake, Illinois. She completed her three-year foot and ankle surgery residency at Mercy Health St. Vincent Medical Center in Toledo, Ohio.