Not so long ago, employees with "remote access," who were "working from home" or dialing in from a "satellite office" were put into air quotes for a fairly logical reason: Many co-workers stuck to the office grind couldn't possibly imagine their telecommuting cohorts working productively at home.
Back then, part of how the working world measured employees' worth was by time spent on the job — including how long they stayed in the office when it came to burning the midnight oil. But thanks to technology and some savvy upstarts — as well as legacy companies that have come around to seeing the value of flexibility for employees — the rules are changing, and the way some of us work is as easy as turn on, login, max out.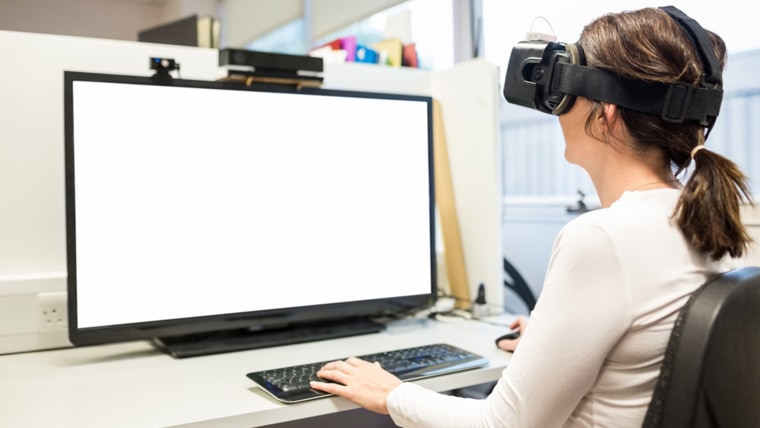 It's undeniable that face time at work is crucial. But how much is enough? At companies like YouVisit, a virtual reality company with offices in New York, Miami and a handful of other states, employees have real-time access to each other without having to be physically present.
RELATED: As millennials eye better work-life balance, is the US ready for a 6-hour workday?
They meet in the virtual world instead.
According to CEO Abi Mandelbaum, giving his employees virtual reality (VR) headsets has created a world of opportunities. "Now, we can have team and breakout meetings," he said. "People across departments meet in VR."
Employees who've dialed into a WebEx or conference call might be familiar with joiners who miss the memo, forget to hit the mute button, and treat everyone to a spontaneous concert of their crying child or barking dog from somewhere in the vortex. Mandelbaum says VR eliminates this entirely because during meetings, everyone can see everyone. "I want to see reactions and I can do that," he said. "The benefit of in-person meetings is that you can see body language and get a sense of the atmosphere. VR allows you to do that."
Related: Jobs with the best wage growth — and the worst — according to CareerBuilder
If being able to access one another virtually is one aspect the technology creates, attracting good talent no matter where they are located is surely another. In 1999, Jason Fried started what is now known as Basecamp, a digital project management and collaboration tool.
"Great people are everywhere all over the world," he said. "Why limit yourself to a 20-mile radius to the office? If someone lives in another state and is willing to work for you there, what is it about having to see people and having that control?"
Yahoo CEO Marissa Mayer's headline-making decision to clamp down on telecommuters in 2013 is evidence that relinquishing that control can be challenging for some employers. But newer companies that seek out the services of YouVisit and Basecamp have clearly gotten the memo. Similarly, IBM and American Express have embraced some of these practices.
According to Brie Reynolds, director of online content for FlexJobs, there are two common misconceptions that often go hand in hand with employees who work remotely. The first is that it's a vacation or slacking off disguised as a day at work. "People who work from home actually tend to work more than in-office workers. 53 percent of telecommuters work more than 40 hours/week," she said. "Only 28 percent of non-telecommuters do, according to a 2014 study by Intuit. And a Stanford study found that remote workers tend to take fewer sick days, so they're working more days out of the year overall."
Related: Employees' top 10 absurd excuses for missing work according to CareerBuilder
The second misconception is that remote and flexible jobs only exist for certain professions. FlexJobs found that the career field with the highest number of telecommuting and flexible work opportunities is medical and health, followed by administrative, customer service, sales and computer and IT. Rounding out the top 10 fields are education and training, accounting and finance, bilingual, Web and software development and research.
Meanwhile, in order to attract good talent, some companies offer flexibility or remote access from the get-go. Paul Wolfe, senior vice president of human resources at Indeed.com, a job search app and online database, said that flexible work arrangements are something prospective employees desire more than ever now.
Wolfe's team, which consists of some remote employees, meets in person and online, and includes digital "lunch meetings" when the occasion calls for it. "The mindset needs to change. If people are performing, I don't care where they're doing it," he said. "As long as people perform and are getting stuff done, let them do their job."