Thalía Sodi, the Mexican-born singer and actress who recently launched a fashion line at Macy's visited with Hoda and Kathie Lee Tuesday morning to talk culture, family and style. All of which got us thinking—Mexican food sure is good!
We're not alone. Did you know there are more Mexican restaurants in America than there are Italian and Chinese ones? And that one out of every 10 eateries in the U.S. sells Mexican food? Bottom line: Americans love Mexican food.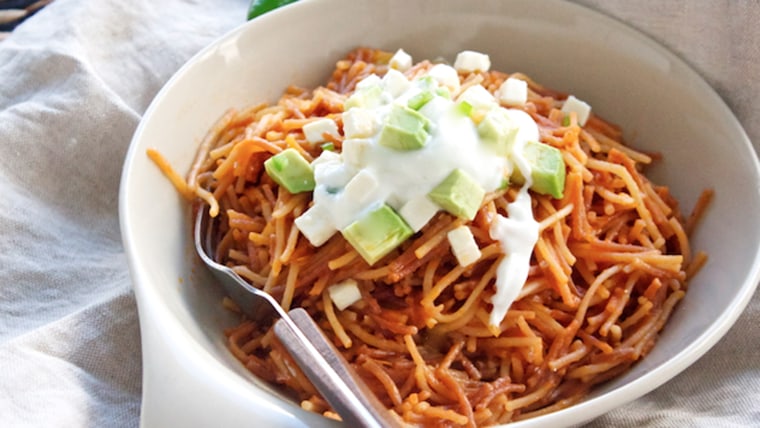 And so today we're bringing you an easy-to-make Mexican classic, something beyond those ubiquitous tacos and burritos. In Spanish it's called sopa seca, or dry soup—a delicious oxymoron. Of course, it's not exactly a soup. It's more like a moist pasta dish, traditionally made with thin noodles, rice or even thin tortilla strips. One of the country's most iconic dishes, sopa seca is as likely to appear on restaurant menus across Mexico as it is to have its own chapter in cookbooks.
YouTube star Guzii cooks up an over-the-top enchilada casserole
This recipe comes from Iliana de la Vega, the celebrated chef and owner of Austin's acclaimed El Naranjo restaurant. She's also a former Culinary Institute of America professor and expert in the history of Central and South American food and ingredients.
"I like sopa seca with a lot of avocado, cheese and Mexican crema," de la Vega says. If you've never tried Mexican crema, it's worth an experiment. Milder and not as thick as American sour cream, it's available at most Hispanic grocery stores, though you can also swap it out for French crème fraiche.
Try mangu, the Dominican breakfast of champions, for a taste of island life
Below, de la Vega garnishes her casserole with a serrano chile, but points out you can instead use deep-fried, thinly sliced rings of dried pasilla chiles for even more depth. But, she adds, "don't mix the fresh chilewith the dried chile. It's one or the other." The casserole can be served on its own, as a vegetarian pasta dish would be, or as a side to chicken or beef.