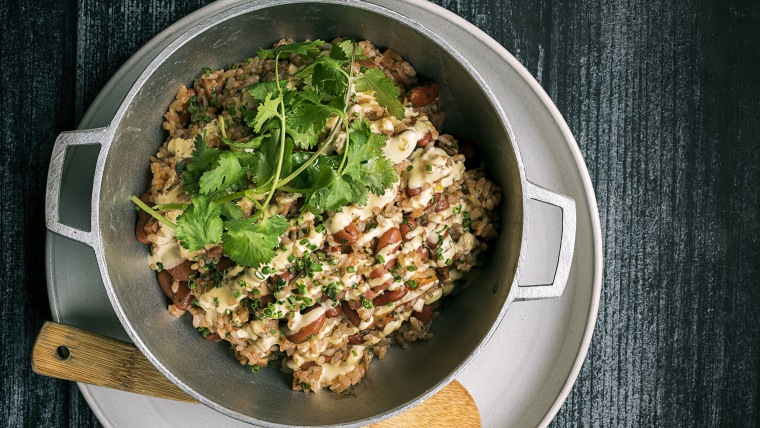 It's a classic combination around the globe, yes, but in few places more than Latin America is rice and beans considered as much a part of the cultural DNA as is speaking Spanish. Perhaps that's because it's a dish born of the region's history. Beans are native to the Americas, where Christopher Columbus first laid eyes on them growing in fields. The European settlers who followed in his footsteps, and later the slaves brought to America from West Africa, introduced rice to the region. The two were combined into one dish, as the West Africans had done in their homelands, and culinary history was forever forged.
Today, whether it's Nicargua's gallo pinto, Cuba's moros or Venezuela's pabellon criollo, rice and beans are consumed at every meal, as a side dish or main course—even as breakfast. But it's in Puerto Rico where the arroz mamposteao takes flavor and texture to another, delicious level. It's a dish that can easily rely on leftovers, for one. Rice is given new life, and the flavors of red bean stew are allowed to deepen overnight. The other key is that the ingredients are stir-fried together just before serving, so that it all remains a moist and creamy affair. Consider it a Puerto Rican inflected fried rice.
The recipe below, though it demonstrates how to make the stew fresh, comes from one of Puerto Rico's brightest culinary stars, José Mendín, the Miami-based, James Beard-nominated chef behind the Pubbelly Boys, a group that operates four acclaimed restaurants in Miami and that recently partnered with Norwegian Cruise Lines to open an on-board eatery, called Food Republic. His addition of an aioli drizzle as a garnish at the end is not part of the classic recipe, Mendín pointed out. It's something he picked up during his travels to Spain, where it is a tradition of top rice dishes with creamy mayonnaise. And so the borders continue to come down.
Betty Cortina-Weiss is a food writer based in Miami, where she also serves as Editor of lifestyle magazine Indulge. Follow her on Instagram and Twitter @bettycortina.