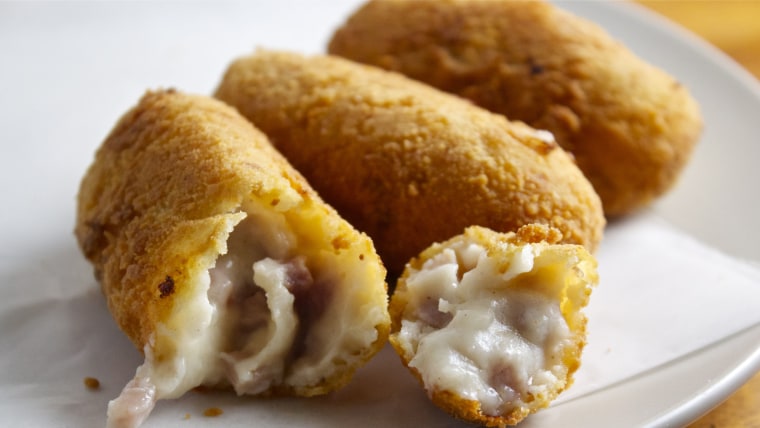 There are some classic, Cuban dishes whose fame transcends culture and geography, meaning you've likely heard of them whether or not you're Hispanic or from the island. There's the legendary Cuban sandwich, the beloved black bean soup and the succulent pork. (Oh, that pork!) Then there are classic dishes that haven't "crossed over " — delicious little culinary secrets worth discovering. The Cuban croqueta is by far the best of these. Fried little ovals, they are crispy-on-the-outside, creamy-on-the-inside, and positively addictive. Go ahead, try to eat just one.
Make Puerto Rican rice and beans, a bowl of comfort with deep roots
Croquetas, in fact, have a presence in various Latin American countries. And while the stuffing may change—in Mexico they're made with tuna or chicken and bound with potato, while in Cuba ham is bound with creamy bechamel sauce—the roots remain the same. They originated in Spain, an adaptation of the French croquette. One of the earliest fusions in food, Spanish cooks employed one the classic French mother sauces (bechamel) and applied to it a quintessential Spanish technique—frying. Essentially it's a fritter, and it can be made with just about anything. In Spain it's common to mince leftovers from the day before, blend them with the bechamel sauce and fry it all up in a pan. A delectable way to reduce food waste!
Real Mexican food: Try sopa seca, an easy, classic noodle casserole
In Miami, home to the largest Cuban community in the U.S., where famed ventanitas—little windows—call your name with the aroma of afternoon café wafting through the air, croquetas are the second most popular reason to drop by a traditional Cuban bakery or lunch counter. Of course, they taste best when you they've just been fried, so timing your arrival is key.
In case said timing is off, or in case you're nowhere near a decent croqueta, we bring you instructions for how to make your own at home. The recipe below uses serrano ham—Spain's answer to prosciutto—as its main ingredient, but feel free to replace with chopped chicken, seafood, mushrooms, cheese or just about anything. Simply add a heaping cup of your desired ingredient to the bechamel base, and you're on your way.