Imagine you could travel to any place, or moment, in time? Maybe it's traveling back in time to your wedding day, or visiting a sight that you've been itching to see for quite some time, but don't have the necessary means to do so.
For World War II veteran Ernest Reitzel, it's about finally paying his respects at the World War II Memorial in Washington, D.C.
Reitzel, 90, is physically unable to travel far beyond his home in Buffalo, New York, but with a new nonprofit called Honor Everywhere, all he needs to do is put on a virtual reality headset, and instantly be transported to wherever his heart desires.
RELATED: Teens serve as pallbearers for homeless military veterans
Honor Everywhere is designed to aid veterans who are no longer physically able to travel by providing them with a sensory experience straight from the comfort of their own home. The process: virtual reality headsets play a three-dimensional, 360-degree video of the memorial that makes vets feel that they are actually there.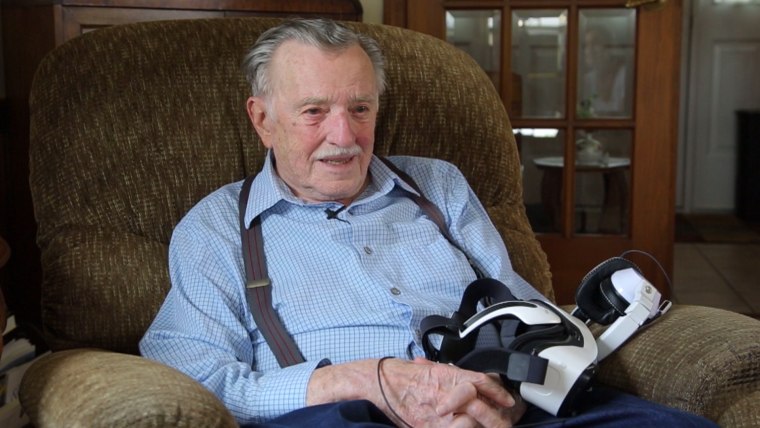 For Founder Sarah Hill, the program was a labor of love — Hill's grandfather was a World War II veteran, but he was never able to travel on an honor flight to see his memorial before he passed away.
RELATED: Female Navy vet gets apology after being shamed for using veterans-only parking
"Sadly, a lot of these men and women aren't able to physically travel anymore because we're losing them at a rate of 500 a day nationwide and they're too weak to travel," Hill told TODAY. "So, what Honor Everywhere does is provides them a virtual tour of their memorial and they can feel like they've traveled even though they aren't able to leave their hospital room or their private residence."
Hill added: "(Virtual reality) is not just to watch games or just to watch movies. It's to transfer people to places where they're not otherwise able to visit."
Now, with the help of a custom-built virtual reality camera, Hill's dream to help other veterans like her grandfather is a reality all its own.
RELATED: Virginia Tech coach bring veterans to teach team respect for national anthem
"Virtual reality isn't for you and I," Hill said. "It's for them."
To learn more about Honor Everywhere, visit their website.