Peter Way's internal injuries cut far deeper than the wounds that ultimately cost him his right leg a year ago.
He originally hurt the leg in Afghanistan in 2003, but a series of infections over the next dozen years ultimately led doctors to amputate the limb above the knee in February 2015.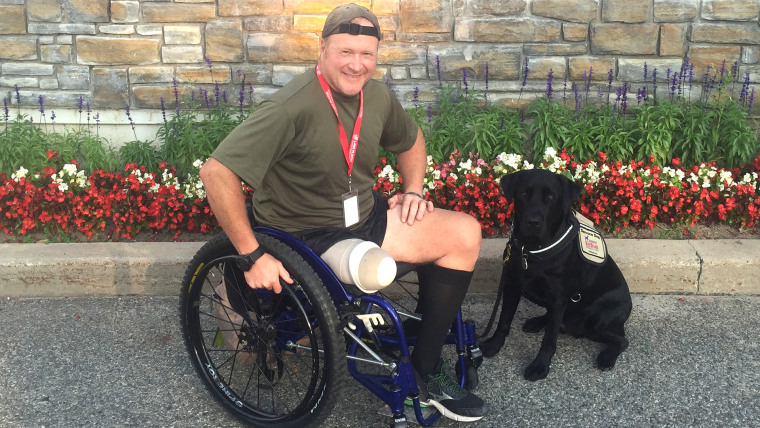 "Prior to that I sort of had my mental breakdown," said Way, a retired Army major. "The physical just sort of pulled it all together. For years, I had existed on pain pills and trying to hide the feelings that were going on inside me. When all that just came to one giant collapse, I was in pretty rough shape mentally."
Way's internal struggle began to shift the day he got Rory, a service dog trained to help veterans with post-traumatic stress disorder.
"Pre-Rory, I was probably on the road to being one of the 22 veterans that kill themselves (every day). Things were pretty bad," he said.
RELATED: How this WWII airman is helping veterans heal — with the help of 4-legged friends
Way, 50, received his black Labrador in January 2014, during a mandatory two-week, in-residence training course that America's VetDogs requires before they formally match up owner and pet. Way said he felt himself change as early as back then: Upon returning home, he took his teenage daughter out to the mall — a crowded, public place he had avoided for years.
"PTSD is a lot like deafness. It is an invisible disability," said Ken Kirsch, the service dog training director who developed the PTSD program for America's VetDogs. "The purpose of the service dogs is to mitigate the disability, so that the person can live a normal or near normal life."
People with PTSD have psychological injuries affecting their ability to socialize and control their anger, anxiety and other emotions. Kirsch, a veteran who's battled the condition himself, kept these symptoms in mind when he developed the program.
One key command used with the PTSD service dogs is "rest." It signals to the animal to come closer to its owner and lean against the person's leg or, if the veteran is sitting, to rest its chin on his or her lap. The action provides just enough pressure to help soothe and comfort the anxious owner.
RELATED: Veteran and surfing dog form life-changing bond: 'She gave me freedom'
The dogs also are trained how to turn light switches on, so the veterans don't have to enter dark rooms or homes, and "go get" items ranging from medication, cellphones or even help from another person.
But the most frequently used technique by the dogs is nightmare interruption, Kirsch said.
Once the dogs realize their owners are having nightmares, they pull on a special clip that has been attached to the blanket or bedsheet, peeling it off the veteran. The dog then "rests" until the person has calmed down.
The technique has been instrumental for helping Mark Hansen deal with his PTSD from the day he got his service dog, Junior.
"From the first night, he was waking me up from nightmares," said Hansen, who served two tours each in Afghanistan and Iraq.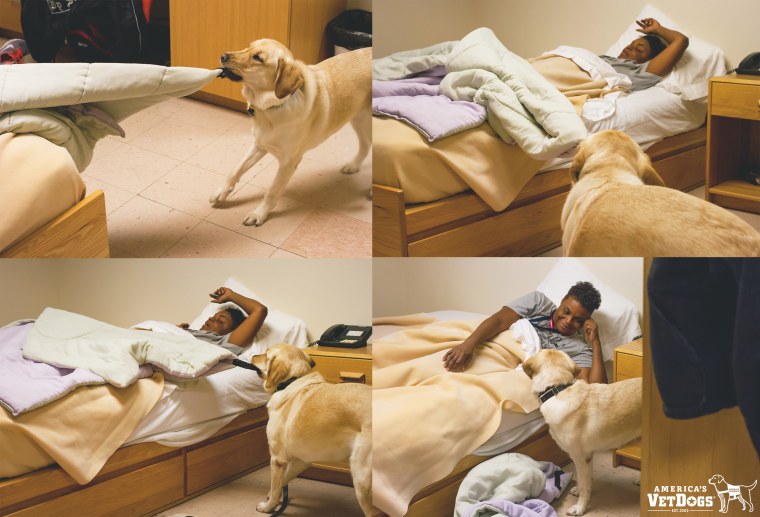 RELATED: Amputee cat helps a veteran with PTSD find 'purpose beyond her despair'
Junior first pulls the covers off but if that doesn't work, or there's no blanket to pull, he nudges his shoulder or puts his paws on the bed until Hansen wakes up.
"He won't stop until I acknowledge him and tell him everything is OK. Then he knows, 'OK, I can go back to sleep,'" he said.
The interruption is usually enough to help Hansen, 48, from dwelling on the memories or images he dreamed about the following morning.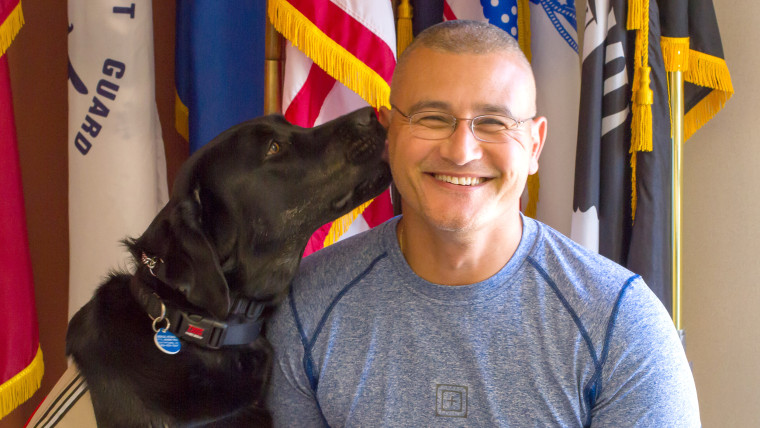 Hansen got Junior in August 2015, after seeking help to leave his Honeoye Falls, New York, home more often.
"I wasn't showering, I wasn't doing laundry or other housework. Because my depression would hit so hard, I just couldn't do everyday functions," said the single father of three. "There were a couple of times when my daughter would come home and say, 'Dad, you need to shower.' Or just that I needed to eat."
RELATED: Female Navy vet gets apology after being shamed for using veterans-only parking
America's VetDogs places about 70 service dogs a year, 25 percent of them specifically for PTSD. The organization provides its service dogs for free and covers all costs associated with the two-week training at its Long Island headquarters. But the application process is extensive and the waiting list runs up to 13 months, Kirsch said.
Hansen continues to battle PTSD, as well as depression, but having Junior has helped ease his symptoms. As a result, his confidence has improved, along with his relationship with his children. He can now play outside with them, and interact with them in the public.
"Junior lets me focus on something other than the crowds or whatever is causing me the anxiety," he said.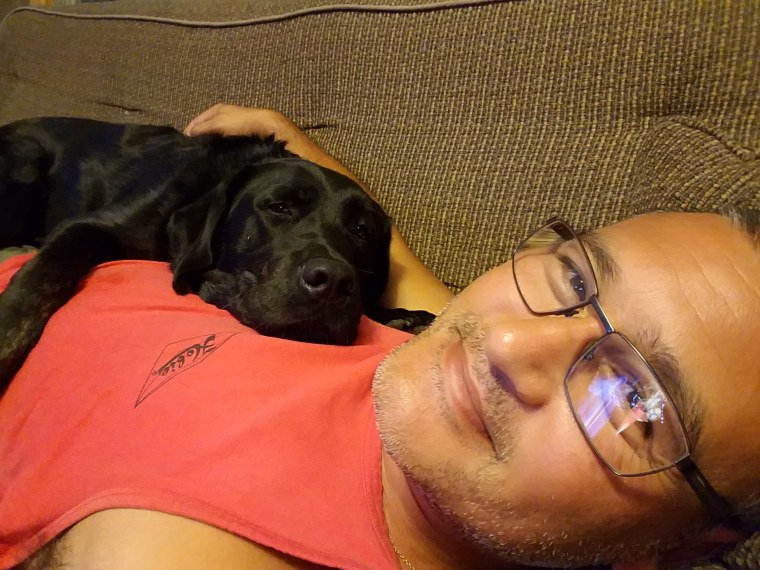 The dog also senses when Hansen's depression sets in.
"He won't leave my side," he said. "For him to even recognize that and be there as a support for me without me having to tell him anything has been huge."
That's how Way, who lives in Martinez, Georgia, feels about Rory.
"I've gone through a few dark periods with Rory, and he picks up on that. He's literally saved my life more than once," Way said.
RELATED: Meet veteran Joe Worley, whose life changed when he met this dog
Rory also has helped heal his family. While he still struggles with PTSD, Way now manages to do things he couldn't imagine before. He goes out to dinner with his family. He flies on airplanes. He attends his children's sporting events. Last month, he even spoke about PTSD service dogs to college students in his daughter's abnormal psychology class.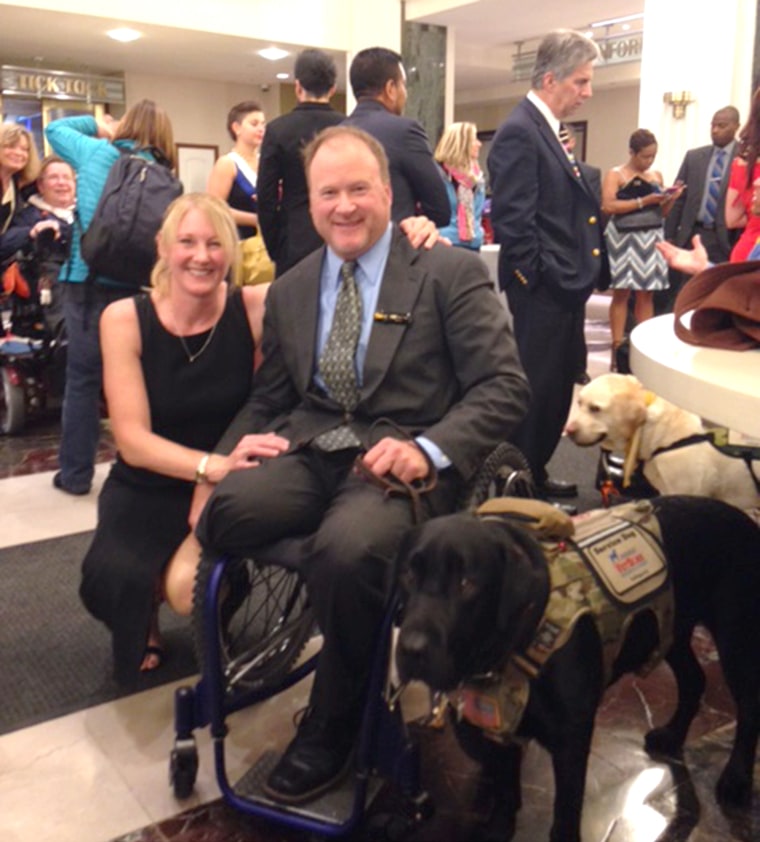 Way's wife, Anne, said her husband has come a long way from the days when she'd come home from work uncertain what mood she would find him in.
"Rory changed all that when he joined the family. It was a turning point in our marriage, " she said. "I got my old husband back. I like to say that Rory makes my husband a nicer person."
RELATED: Tom the cat has 'sixth sense' in comforting ailing veterans
Today, Way trains on a mountain handcycle and hopes to earn a spot on the 2018 Paralympics biathlon team.
Both he and his wife find irony in the fact that it was only after Way lost his leg that people truly understood the pain he felt inside.
"I'd love to have my leg back, but when I'm around fellow veterans, particularly with TBI (traumatic brain injury) or PTSD, I always say, I've got it easy in that sense," Way said. "People walk up to me and say, 'Thank you for your service.' But these guys, who served in Iraq or Afghanistan or Vietnam or wherever, they've got emotional and mental pain and it's just as deep but it's not as visible."