When U.S. Army veteran and retired Staff Sgt. Randall Dexter came to San Diego in 2012, his only job was to get healthy. After two tours in Iraq as a combat medic, he lived in a warrior transition unit at the Naval Medical Center; he was diagnosed with post-traumatic stress disorder, along with sustaining a traumatic brain injury.
Dexter's unit had been hit with an improvised explosive device, and later, back in the States, he took a severe hit to the head during a flag football game.
"It was all brutal," Dexter told TODAY, as he recalled the long list of medications he was prescribed back then. "I was contemplating suicide and was a hot mess."
Approximately a year later, through the hospital's recreation therapy department, he heard about Paws'itive Teams, a forward-thinking nonprofit that trains service and therapy dogs in San Diego County to work with people like Dexter.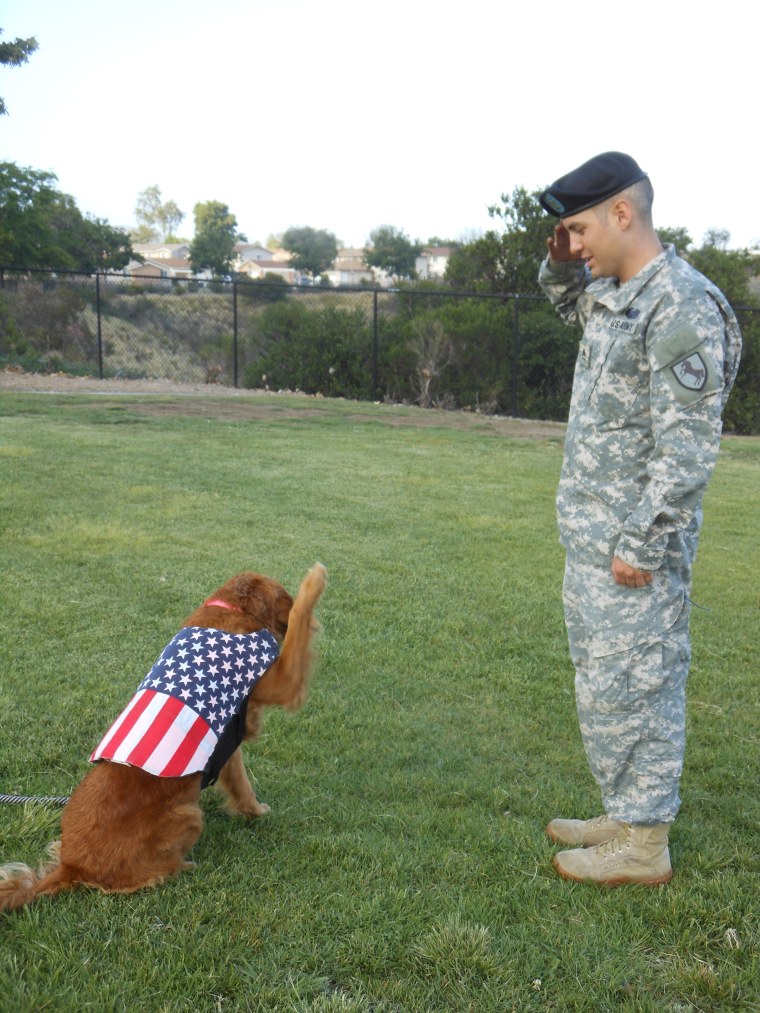 RELATED: Meet veteran Joe Worley, whose life changed when he met this dog
After applying to the Paws'itive Teams program, he was assigned a therapy dog for six weeks to determine if a permanent commitment with another dog made sense. Dexter also learned a lot about trust, he said, because for his initial outing, he wasn't paired with just any therapy dog.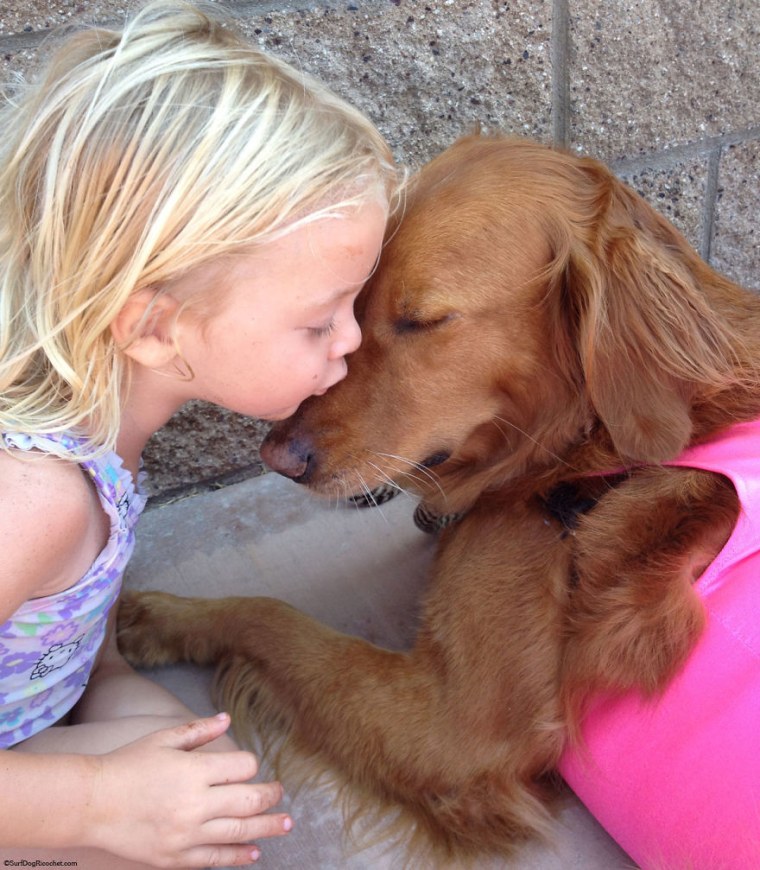 His canine partner was Ricochet, a renowned registered and certified therapy dog who's worked with more than 50 veterans so far. Her owner and trainer, Judy Fridono, has dubbed her prodigy a "SURFice" dog, because Ricochet — aka "Rip Curl Riki" — surfs as an assisted aid, as demonstrated in this touching video.
"Ricochet is in two dog-surfing halls of fame and has won pretty much every dog competition she's entered," Fridono told TODAY.
Pawing it forward
"The minute Ricochet came up to me, my wife — who's also my caregiver — noticed a big change in me," Dexter said. "Ricochet has this amazing softness in her eyes. It was definitely a turning point when I met her."
RELATED: Amputee cat helps a veteran with PTSD find 'purpose beyond her despair'
The father of three young children, Dexter was immediately drawn to the endearing 8 1/2-year-old golden retriever who "hangs 10" with children and adults who have special needs or disabilities. Ricochet has also helped raise more than a half-million dollars for human- and animal-related charitable causes.
Further along in their relationship, Dexter learned to surf with Ricochet. "She gave me freedom and gave me my life back," he said. "If you love surfing and you love dogs like I do, it was the perfect match!"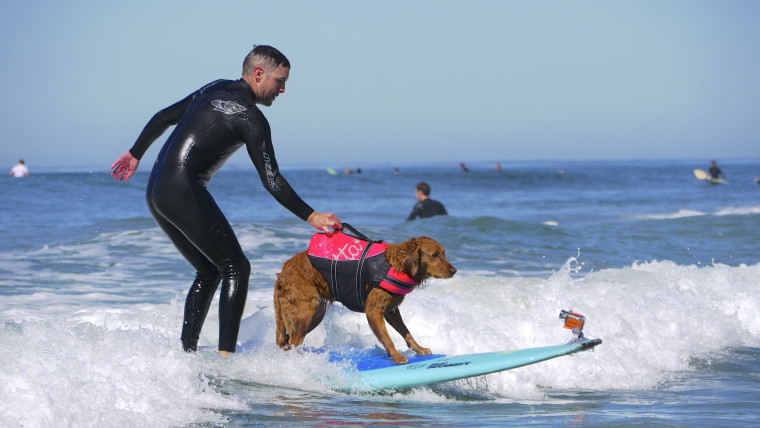 When they weren't chasing waves, Ricochet did her best to sense possible psychological triggers for Dexter, said Fridono. "She's trained to 'alert' to anxiety or pain in others and to eminent danger," she said. "Once they both were in a big-box store and she suddenly stopped and planted all four paws. She wouldn't let him move."
A few minutes later, Fridono took a couple steps forward and noticed a metal beam swinging from the ceiling above their heads. If it had fallen, Dexter could have suffered another brain injury, she said. Ricochet's keen "sixth sense" helped saved the day.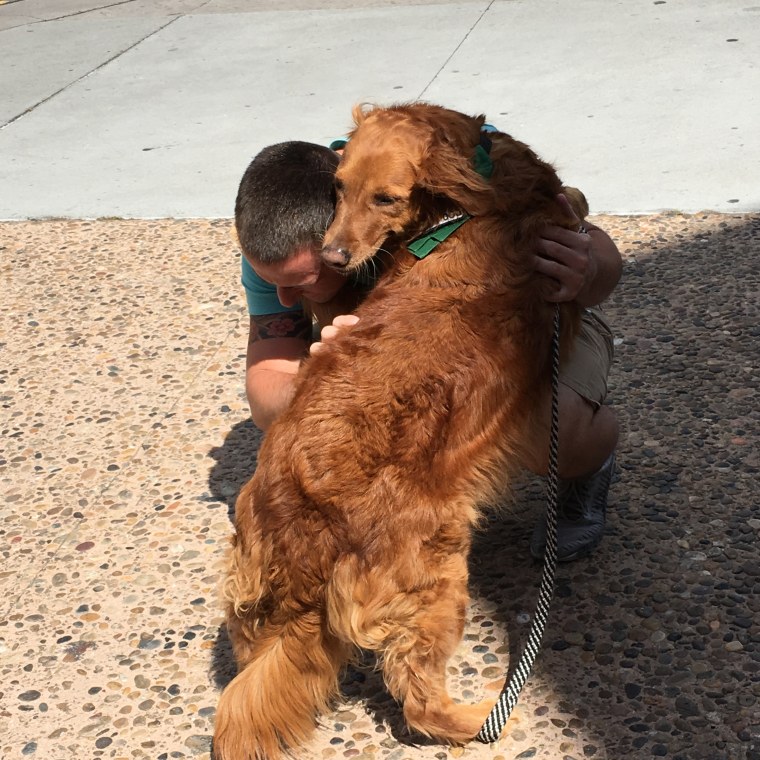 Making magic on water
The dog and human pairing of Dexter and Ricochet evolved "organically," said Fridono. Soon, she saw other ways her gifted canine could bring joy to other people's lives. In their honor, earlier this year she created Waves of Empowerment.
The concept pairs a "Wave Warrior" — someone Ricochet has already helped on a surfboard — with a newbie or another person with a disability, special needs or PTSD who hasn't surfed with her yet.
RELATED: Bomb-sniffing dog who served two tours in Iraq gets 21-gun salute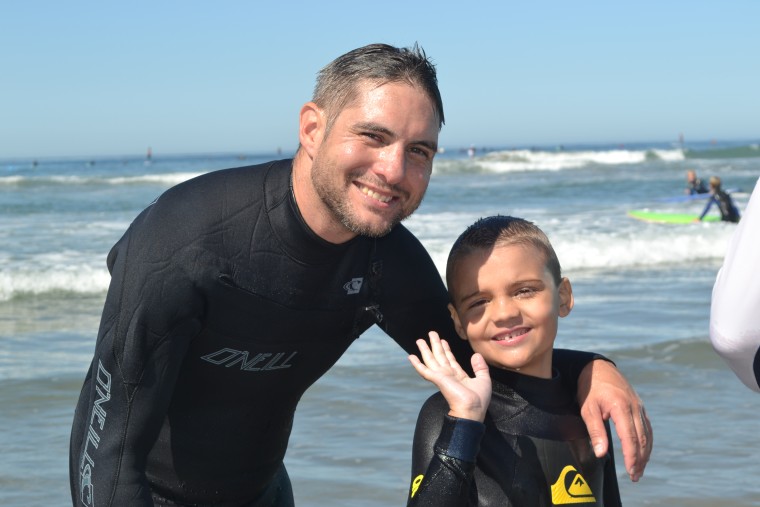 It all started the summer of 2014 when Dexter met West Butner of Orange County, California, at a surfing event. West, then 8 years old, was diagnosed with moderate autism and moderate to severe apraxia of speech — a condition in which a person can't say what he or she wants to say normally.
The child, who was once frightened of both dogs and water, managed to overcome both fears and was surfing with Ricochet that same day, as was Dexter.
The human pair formed an immediate connection, West's mother, Lauren Chavez, told TODAY. "Their life stories are different, but their symptoms were similar, including social anxiety," she said.
Before Dexter and Ricochet headed out into the surf for their competitive run, West told the veteran not to worry, but to "just go have fun." After all, Ricochet had surfed with more than 150 humans.
RELATED: Tom the cat has 'sixth sense' in comforting ailing veterans
Now the two Waves of Empowerment volunteers work together to help people who are where they once were. West, once timid, is now eager to take Dexter's hand and pull him toward the rolling surf. The pair are the first participants to become volunteers for the program, which currently has 20 members.
A second career
As for Ricochet, it was a roundabout path to becoming a surf therapy dog. A brilliant puppy who was on her way to becoming a service dog for the physically disabled, at 15 months, Ricochet decided she no longer wanted do the tasks that Fridono asked. Her devoted pet parent decided to leave her alone for a year. Then one day at the beach, the dog voluntarily jumped onto a surfboard with a boy who has quadriplegia — and surfing history was made.
"She balances the board and adjusts her style to adapt to the disability, just like a tool," Fridono said. "That way, the person doesn't have to worry about balancing so much, so they can stand or kneel."
If someone wants to lie down, Ricochet stands on the back of the surfboard. And no, she can't push the board past the breakers, but relies on her volunteer team to do that. They wait for the right wave, and then it's all "go"! Dog and surfing human ride their way back to the beach.
RELATED: Female Navy vet gets apology after being shamed for using veterans-only parking
Fridono, who has both arthritis and Lyme disease, has to worry about potential fractures, she said, so she stays off the board. "Ricochet doesn't like to surf with me. She doesn't want to wipe out!"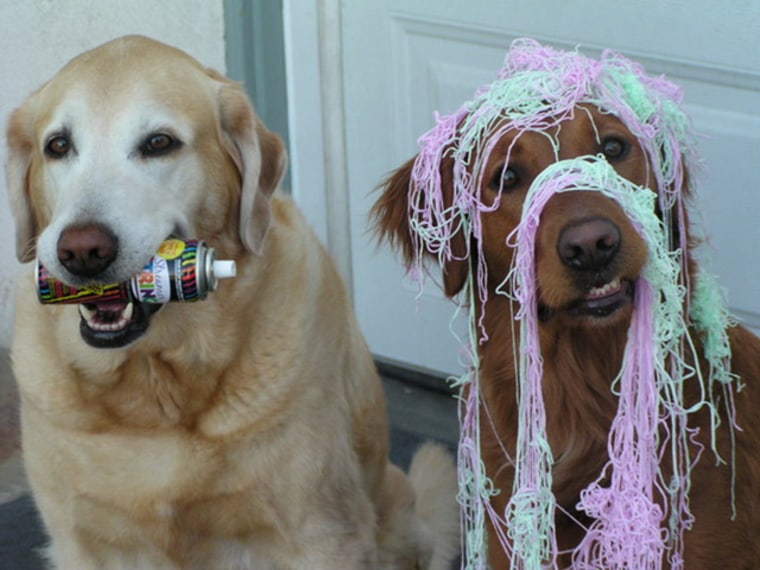 'Captain' of his life
A little over two years ago, Fridono and Ricochet helped raise funds for Dexter to pair with his own service dog, Captain. He's a rescue, a Labrador-blue heeler mix, who is 3 years old. Dexter wrote him a touching thank-you letter, chronicled in this video. The veteran has been on an upswing since meeting Ricochet, he says, and Captain is another reason why.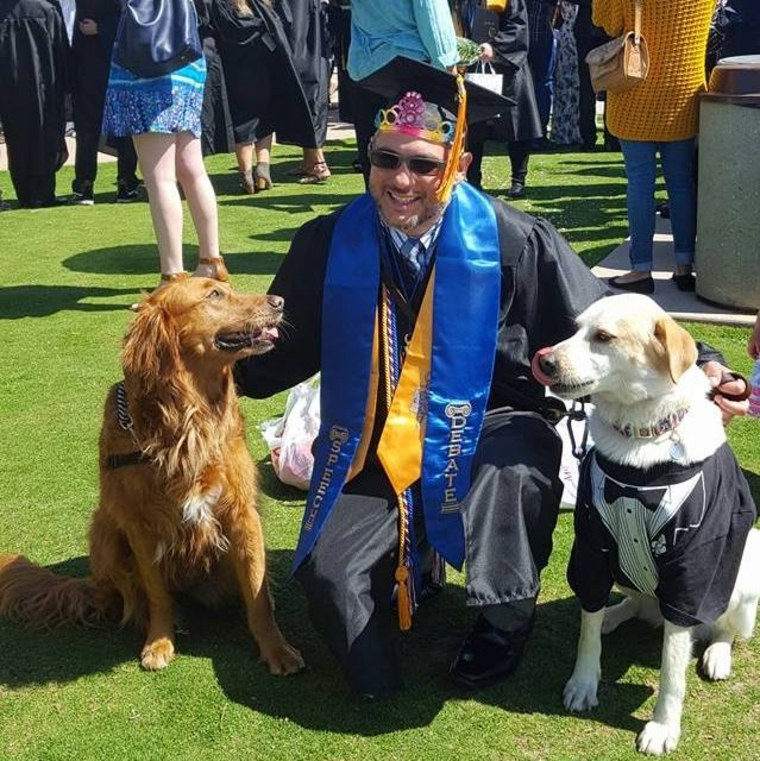 Dexter went back to school in 2014, became president of the Phi Theta Kappa honor society at his community college of San Diego Miramar, and competed on the debate team. Now living in Las Vegas, he hosts his own radio show and has made straight A's this semester at the University of Nevada, Las Vegas. Set to graduate in 2018 in communications studies, Dexter also welcomes new student veterans to campus as a volunteer peer adviser.
RELATED: After taking down White House fence jumper, dog rewarded with juicy hamburgers
Through it all, he remains a Waves of Empowerment volunteer. "Not everything we do is in the water," Fridono said. "So there are times when Randy and Ricochet attend events to raise awareness and help others."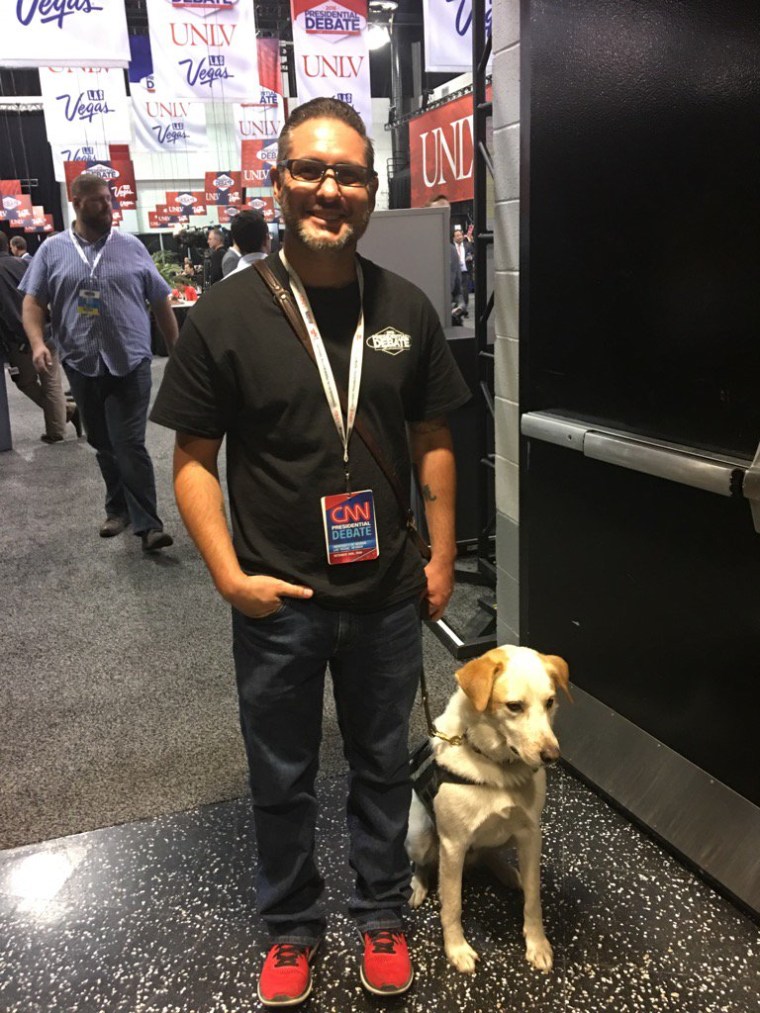 Meanwhile, Ricochet continues on her mission of "balancing boards, balancing lives." She's set to appear in an IMAX film called "Superpower Dogs" in 2018. The film is about working canine heroes and is being funded now on Indiegogo.