Following a dizzying two-year period in which he lost his eyesight in an explosion in Afghanistan and then came back to become a Paralympic gold medalist, Navy veteran Brad Snyder decided he wanted to adopt a service dog.
Gizzy, his German shepherd, has been with him since 2013 in his inspiring journey from being rendered blind by an improvised explosive device five years ago to winning seven medals in swimming between the Paralympics in London and Rio de Janeiro.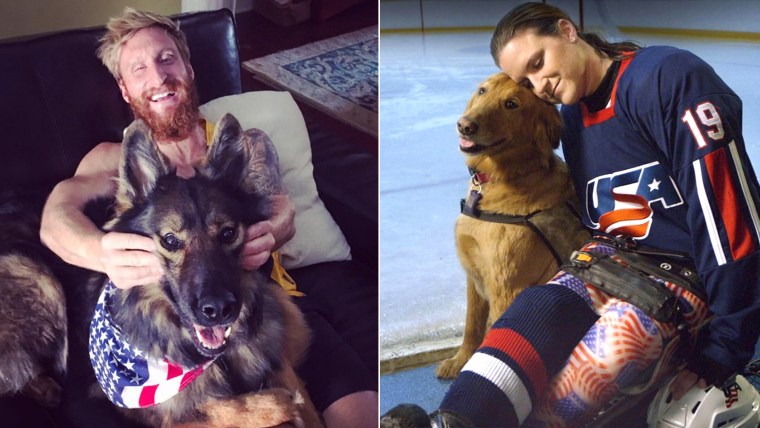 "I adopted her in a year that I used to put my life back together after a major change,'' Snyder told TODAY. "She is an integral part of my life infrastructure now, allowing me to get from one place to another and not feel trapped in my house. Independence is a big part of who I am, and she helped give a lot of that back to me."
RELATED: 92-year-old veteran's service dog will 'follow me to the end of the earth'
Snyder, 32, was working in explosive-ordnance disposal with a SEAL team in September 2011 when he stepped on an IED while rushing to help two Afghan personnel who had triggered another IED. Despite undergoing more than 100 hours of surgery, he lost his eyesight.
All of this came on the heels of a tumultuous period that included a DUI that nearly derailed his military career and the death of his father while he was in Afghanistan.
"I went through pretty much every really major negative life experience and emerged on the other side,'' he said.
RELATED: TODAY's puppy with a purpose hits the road to visit the Naval Academy
One of the few places he felt comfortable while acclimating to his new life without sight was the pool, as he was a former captain of the Naval Academy's men's swim team.
"When I was first injured, everyone wanted to put me in this victim box,'' he said. "I didn't want to be a 'disabled vet,' and I had this chip on my shoulder. Swimming was a great first start because I already knew how to do it and there wasn't a lot of adaptive equipment involved. My mom could see me swim and see me as Brad, not 'Brad messed up in the hospital.'''
His passion for swimming led him to train for the Paralympics, where he had great success at the 2012 Games in London, winning two gold medals and a silver in the S11 category for athletes who are completely blind. However, his life was at a crossroads a year later when he adopted Gizzy and moved to a new house in Baltimore.
"I still had a lot to figure out after London,'' he said. "It was an introspective time of, 'What do I want do with my life?'''
Gizzy was there to help him with all aspects of his life, from stress over the future to more practical matters.
"People who grow up congenitally blind get pretty good with their canes and perceiving space, but it takes those like myself who incurred our injuries later on a while to adjust,'' Snyder said. "Guide dogs are a great way to speed that process up and get us going."
RELATED: How service dogs help veterans with 'invisible' trauma heal, embrace life again
Snyder built an immediate bond with Gizzy while deciding he wanted to pursue the 2016 Paralympic Games in Rio and defend his titles from London. Gizzy helped keep him on a daily regimen.
"Owning a dog, I get up at the same time every day, brew coffee, feed the dog, have a second cup, take my dog out for a walk, and then my day goes on from there,'' he said. "She is an augmentation to my habitual lifestyle and we thrive together.
"Also, because I'm blind, I don't create melatonin, so I don't sleep well sometimes. What helps me sleep is staying on a rhythm, and once Gizzy and I are in sync, we're on the same (sleep) cycle."
He attained his goals in Rio, winning three gold medals in the freestyle events, including beating a 30-year-old world record in the 100-meter freestyle.
Gizzy was not able to accompany him to Brazil due to logistical hurdles, but she became a bit of a star in her own right in the time leading up to the Paralympics. She even has her own Instagram account.
RELATED: How an ex-military dog rescued the veteran who needed him most
"I took her to the U.S. Olympic Committee media summit, and she's a bigger star than I'll ever be,'' he said. "I hadn't moved a muscle and the photographer was already going gaga over her. She's basically the Heidi Klum of dogs, just hamming it up."
Snyder is facing another introspective time following this year's Paralympics as he tries to figure out what he wants to do with the rest of his life. He is currently a sought-after motivational speaker and the author of a book about his journey called "Fire in My Eyes."
"It's almost depressive after the Games, where it's like I feel sad I don't have this gnawing desire to get up and go to the pool,'' he said. "The great thing about Gizzy is that when I come back home and I'm stressed or the world doesn't make sense, she just comes over and puts a tennis ball in my lap. I feel like if Gizzy can be this happy, I can let all this other stuff go."
Defying the Odds
Sledge hockey player Christy Gardner had been rehabilitating traumatic injuries suffered in 2006 while serving as a sergeant in the Army in South Korea when she was first paired with her guide dog, a golden retriever named Moxie.
RELATED: How this WWII airman is helping veterans heal — with the help of 4-legged friends
Doctors had told her she may never be able to ride a bike, live alone, swim or even bathe alone after she suffered two skull fractures, injuries to her cheekbone and jaw, and a spinal cord injury during a mission that she prefers not to discuss.
"When I came home they labeled me 100 percent disabled,'' Gardner told TODAY. "I was missing two fingers, I had to use a wheelchair, and I had to wear a helmet all the time, so it was pretty devastating."
During her ongoing rehabilitation, Gardner, who worked at an animal shelter as a teenager growing up in Maine, was told it would be a good idea to get a service dog.
"Moxie's been stuck with me ever since,'' Gardner said.
Moxie has helped Gardner, 34, make a mockery of those predictions about her future and become an athlete who is able to live an independent life in Lewiston, Maine.
The dog is trained to lie down and monitor Gardner in the event of a seizure, which she has about once a month. Moxie is also trained to fetch a phone and call 911 as well as ring a neighbor's door for help.
"It was definitely different learning to trust her,'' Gardner said. "She's expressive, and you have to read the signals. It's sort of like doggie sign language."
Moxie also can fetch and carry items, turn on light switches, push buttons to open doors and help Gardner with her balance. Gardner has had each of her legs separately amputated within the last 18 months and is learning to walk with prostheses. Moxie has a balance harness in case Gardner needs something to lean on.
As Moxie assisted her with the day-to-day part of her recovery, fellow injured veterans helped get her active in sports, where she was once a field hockey player at Long Island University.
"The support of other veterans was huge for me,'' she said. "I had a Vietnam vet harass me all the time at physical therapy to go to a kayaking and waterskiing event. I fell in love with it, and away I went."
RELATED: Veteran and surfing dog form life-changing bond: 'She gave me freedom'
Gardner eventually gravitated to the ice, where she is now the captain of the U.S. women's national team in sledge hockey, which has been part of the Paralympics since 1994. When she isn't on the ice, she can be found throwing the shot put and now is planning to participate in next year's DoD Warrior Games and Invictus Games with her new prosthetic legs.
Since first being paired together in 2010, she and Moxie have never been apart, which also has helped her mentally.
"Besides the fact that she forces me to get out of bed, she's been motivating now that I've been walking,'' Gardner said. "Sometimes it's also just her being there. She's not trained for emotional support and PTSD, but she fills that role as well when I wake up at night with nightmares."
Moxie also helps her with each sport, fetching the implements for her throws and even helping with the hockey training.
"She plays defense,'' Gardner said. "She's been awesome."
Follow TODAY.com writer Scott Stump on Twitter.