A group of high school students are volunteering to serve as pallbearers for fallen military members who otherwise would have been buried alone.
"This was an opportunity to give something to somebody who finished their life on the fringe of society," said Tom Lennon, a former student at the University of Detroit Jesuit School. "These veterans were men I had never met, but they helped make the country I live in safer and stronger. No matter who they were or what they did on earth, every person deserves a proper burial."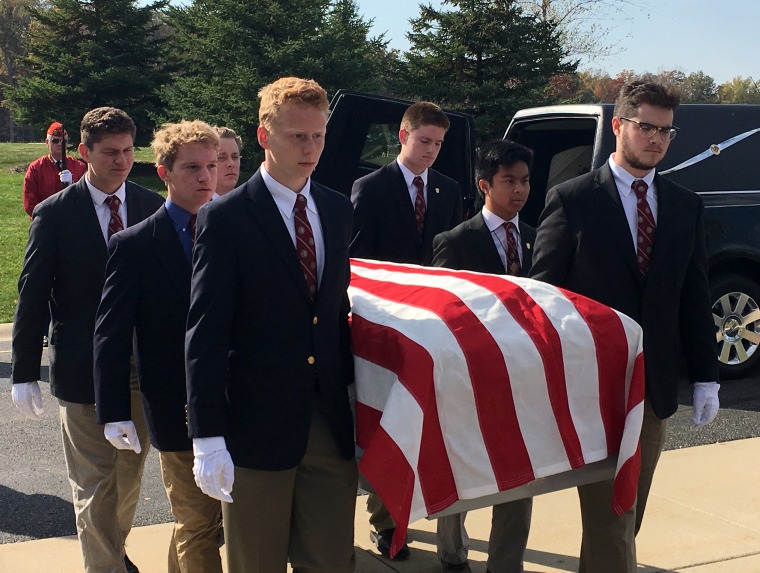 The school's student service team began helping with the funerals in 2015. Todd Wilson, a faculty member who leads the efforts, said more than 150 students have participated in the program since it's start.
"This ministry continues to be an important part of the school community and there is no shortage of students signing up to be trained," Wilson told TODAY Parents, adding that last year, students participated in more than 35 funerals. "We still hold true to our mission of being present for anyone who requests our service...the students have fully embraced the mission of celebrating a person's life without judgement and offering a final tribute to a person's life journey."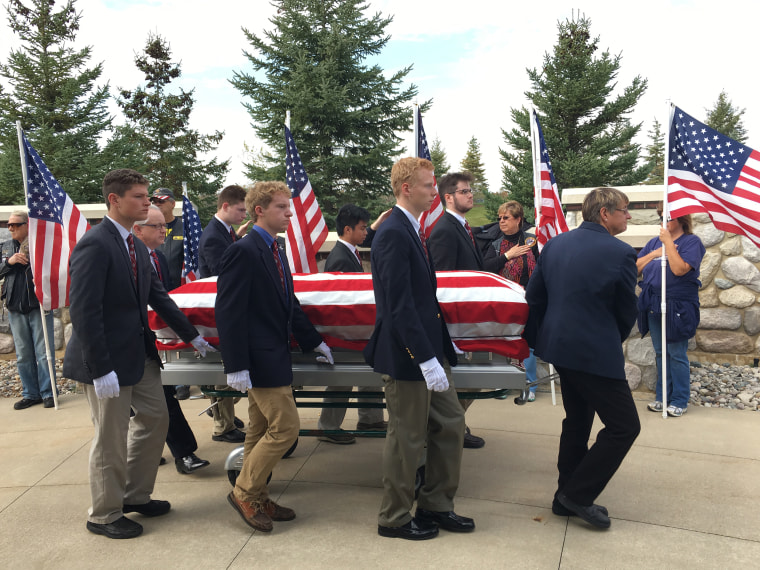 John Desmond, funeral director at A.J. Desmond & Sons Funeral Home in Troy, Michigan, said his funeral home has partnered with another funeral home in the area and the county medical examiner's office to ensure that all abandoned veterans receive a proper burial at nearby Great Lakes National Cemetery.
The Dignity Memorial Network's Homeless Veterans Program provides caskets for these veterans — but without family present at the burial, there are no pallbearers to carry them.
"The students' service is quite simply valuable to our firm because that is what we do — we serve our community by caring for and honoring the dead, regardless of financial circumstances," said Desmond, adding that the veterans they provide internment for are turned over to their care after the county has attempted, unsuccessfully, to locate relatives to claim the bodies for 90 days.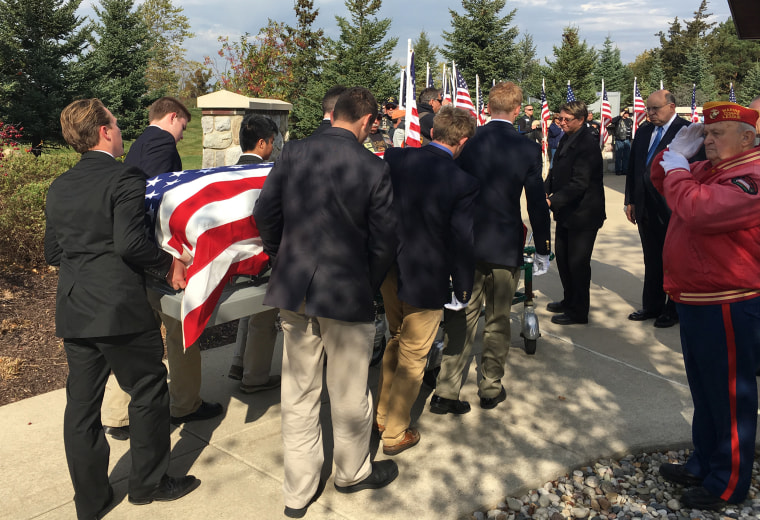 Wilson said he is proud of the students who have stepped up to pay their respects to these unidentified veterans.
"To watch them develop this program and to give so generously of their time and talent is impressive," said Wilson. "I have seen our students reach out of themselves and truly give selflessly to others. The students have come to understand that it is not our place to judge someone and their circumstances in life, but rather to celebrate and respect the dignity of that person's life."
Nick Benedetto, a former student at the school, said during his time in the program, he spent a great deal of time reflecting on his experience as a pallbearer.
"I know that these people had loved ones and, whether or not these loved ones could be there to say goodbye, it does not change the fact that everyone deserves a proper burial," Benedetto said. "During the funerals, while listening to the eulogies, I heard a particular statement that I feel was very important. 'While you didn't know him by name or sight, we are all here today to recognize his service to our country.'
"I realized that none of us present knew anything about the deceased. However, we were all there to pay them respect for serving our country. After that, I felt a sense of peace and was thankful that I was able to be a part of the services."
Editor's note: This story was first published on Oct. 26, 2015 on TODAY.com.