After angrily responding to a nasty note about her using a veterans-only parking space, a female U.S. Navy veteran has received an apology from her anonymous critic.
Dr. Rebecca Landis Hayes initially blasted the note on Facebook after finding it on the windshield of her car on June 13 at the Harris Teeter store in her hometown of Concord, North Carolina.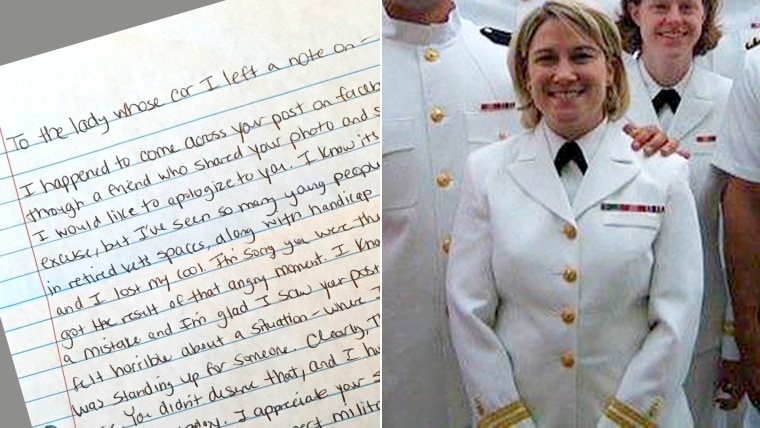 The note read, "This parking is for Veterans, lady. Learn to read & have some respect."
On Monday, Hayes, 42, who is now a family physician after having served in the Navy from 2000 to 2008, received an anonymous letter of apology with no return address that was mailed to her office.
Posted on Facebook by Hayes and addressed "to the lady whose car I left a note on," the letter apologizes to her for assuming she was not a military veteran.
"I immediately felt horrible about a situation where I assumed I was standing up for someone,'' the letter read. "You didn't deserve that, and I hope you can accept this apology. I appreciate your service to this country and I highly respect military men and women."
The veterans-only spots do not require special military license plates, and they operate under the honor system. That day was the first time Hayes had used one.
"It's always nice when someone owns up to their mistakes,'' Hayes told TODAY. "I guess they understood the error of their ways."
RELATED: Military mom 'proud' of breast-feeding in uniform, despite criticism
Hayes had taken offense to the notion that because she is a woman, she couldn't have been a military veteran.
"I'm sorry that your narrow misogynistic world view can't conceive of the fact that there are female Veterans,'' she wrote in her initial Facebook post.
"I'm sorry that I have to explain myself to people like you. Mostly, I'm sorry that we didn't get a chance to have this conversation face to face, and that you didn't have the integrity and intestinal fortitude to identify yourself, qualities the military emphasizes."
RELATED: Military mom surprises son at graduation with hugs, tears
The fact that the apology was anonymous was not an issue for Hayes.
"Whether it's Mike Smith or Mary Smith it won't make a difference,'' she said. "An anonymous apology is just as good to me."
Hayes also received numerous comments from people who have experienced their own discrimination while using designated parking spaces.
"There's been a lot of talk about people with disabilities in general parking in handicapped spots getting nasty looks or notes because people assume that in order to be handicapped people need to be in a wheelchair or look a certain way,'' she said.
"This is a more universal issue just in general about judging people just by the way they look or having your own preconceived notions about how somebody who fits in a certain category should appear."
Follow TODAY.com writer Scott Stump on Twitter.