While running errands on a hot day this week, Dr. Rebecca Landis Hayes decided to use a parking space reserved for military veterans at her local grocery store.
Later, after returning to her car at the Harris Teeter store in Concord, North Carolina, she found a note on the windshield.
It read, "This parking is for Veterans, lady. Learn to read & have some respect."
Hayes, 42, who rose to Lt. Commander in the Navy while serving from 2000 to 2008, wasn't having it. She posted an angry response to the note on Facebook.
RELATED: Military mom surprises son at graduation with hugs, tears
"I'm sorry that your narrow misogynistic world view can't conceive of the fact that there are female Veterans,'' Hayes, a family physician, wrote.
"I'm sorry that I have to explain myself to people like you. Mostly, I'm sorry that we didn't get a chance to have this conversation face to face, and that you didn't have the integrity and intestinal fortitude to identify yourself, qualities the military emphasizes."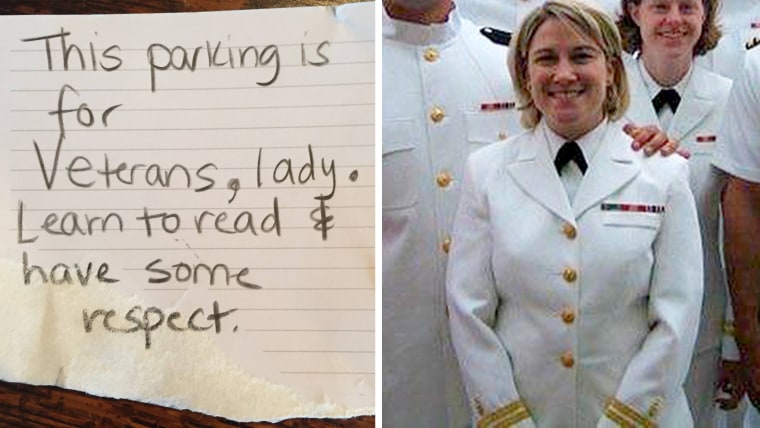 The veterans-only spots do not require special military license plates, and they operate under the honor system. Monday was the first time Hayes had used one.
She told TODAY she has not heard from the mystery scold since her note went viral.
"The fact that it's 2016, a major party's candidate is a female and somebody can't conceive of the fact that a woman would be a U.S. veteran is very disappointing to me,'' she told TODAY. "I feel like women shouldn't have to explain themselves."
It was at least the second time something like this has occurred in the parking lot of a North Carolina Harris Teeter.
In January 2015, Air Force veteran Mary Claire Cane told NBC affiliate WECT she received a nasty note at a store in Wilmington that read, "This space is reserved for those who fought for America...not you."
RELATED: Military mom 'proud' of breast-feeding in uniform, despite criticism
Harris Teeter, which has 230 stores across seven states, said in a statement that they'd reached out to Hayes to thank her for her service. They also invited her back to the store this weekend for a small show of appreciation.
"It is unfortunate anyone would receive a note like this, and we are certainly disappointed it happened while this veteran was shopping in our store,'' the statement read.
Hayes had been driving around to multiple stores trying to find the right cake for a baby shower at her office the next day.
Most of the feedback on her note has been supportive and positive.
"I want people to know that veterans don't come in a certain stereotype," she said.
Follow TODAY.com writer Scott Stump on Twitter.