Dodge, catch, throw ... Sounds easy enough, right? Wrong.
Then add in some jumping and you've really got a challenge.
You can only image what happened when I tried trampoline dodgeball for the first time at SkyZone in New Rochelle, New York.
I met up with national trampoline dodgeball champions, Kill the Comp team, who were going to teach me everything there was to know about playing the game.
I wasn't nervous until the team headed onto the court, well in this case trampolines, and started busting out impressive flips and super high jumps during their warm up. What did I sign myself up for?
I hadn't been on a trampoline since I was in middle school and the last time I played dodgeball was back in gym class, in elementary school, so the skills that I had (if any) were long forgotten.
The Kill the Comp team had to teach me everything starting with basics, so I joined them on the court and got ready for dodgeball 101.
I learned the proper way to dodge, catch and throw, and yes, there is a right and wrong way. This sport is seriously no joke.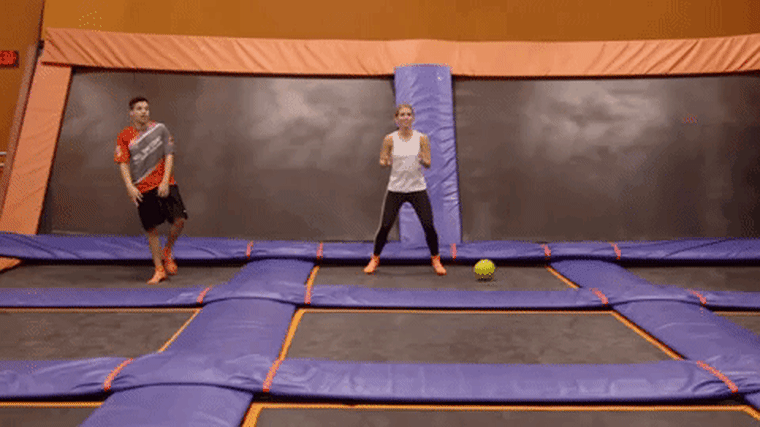 Just from learning the basics, I was completely out of breath and that's coming from someone who regularly exercises.
Next, it was game time. We split up into Teams and I put my new skills to use. The pressure was on and there was so much to remember that I was just focused on trying to stay on the game. This was tough!
Luckily, my teammates were pros and we ended up winning the match.
But what surprised me the most was how physically challenging it was. In all honesty, I went into the afternoon not expecting to get much of a workout. I was thinking that I would head to a spin or Pilates class afterward, but boy was I wrong. By the time we left SkyZone, I was exhausted.
The crazy thing was I had so much fun along the way — I didn't even realize I was working so hard until I would find myself out of breath.
And the next morning and even the day after that, I was still feeling the burn. My legs were sore, my abs hurt and my arms were feeling extra tired. If you had told me beforehand that I would really work all of those muscles and get my heart rate up, I would have thought it was impossible.
But as sore as I was, I can't remember the last time I exercised that hard and had that much fun.