The Winter Olympics were great. Amazing. Inspiring. The figure skaters, the snowboarders, the curlers... and the pizza dancers?
It might sound cheesy, but learning the skills of "pizza dancing" was one of the highlights of my trip to South Korea for the Winter Olympics. On a break from the true athletic action, I visited Seoul to check out this fitness trend that has been popular in Korea for years, but just started bubbling up online.
I spent the morning training with Korea's "Dream Team" — trust me when I say their skills definitely weren't baked overnight! On a normal day, they practice anywhere from four to five hours.
No wonder the crew holds two world championship titles and one Guinness World Record! (Fun fact: It's for 38 over-the-shoulder dough tosses — the most in 30 seconds!)
"At first I was just working at the (Mr. Pizza) store, but I found dough dancing really interesting and practiced a lot. I went to the championship games and won a title," Moon Ky Lee, a member of the Dream Team, told TODAY.
It wasn't as easy as the pros make it look — the skills I learned typically take a month for someone to develop. For me? Maybe a little longer!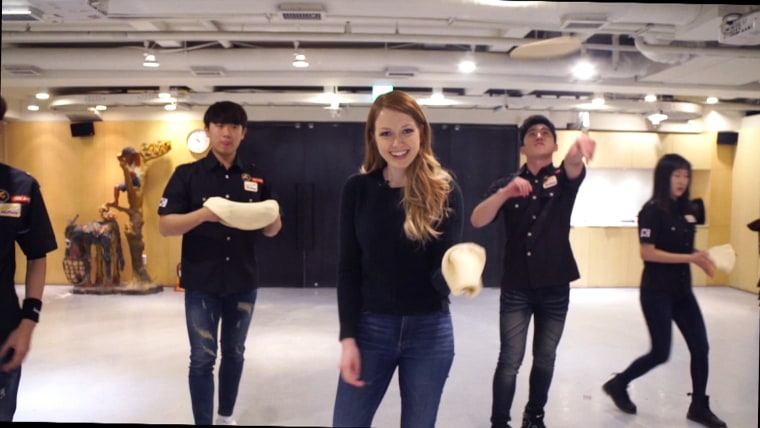 Luckily, I wasn't too sore after practice. I just had a little stiffness in my joints... and a very big appetite!
I might not be competing in the World Pizza Games anytime soon, but I can say for sure this Korean trend left me asking for all the extra toppings.