If you don't love to ski or snowboard, the winter can feel like a big fitness bust. You're stuck in the gym, on the treadmill, dreaming of warmer outdoor workouts. Though, there is one more option that not many people know about: snowshoe yoga.
I headed north to Bow, New Hampshire to give yoga's colder (and dare I say cooler) sibling a try. Kate Kretschmer, founder of snowshoe yoga, created the class after an almost other-worldly experience snowshoeing on her local trails.
One day she was snowshoeing and was struck by how beautiful the light looked peaking through the trees and felt inspired to start practicing yoga. As a trained instructor with over 20 years of experience, she decided to develop this personal moment into a larger class for those in her community.
On a sunny Saturday morning, I met Kretschmer and the group of seven women at the base of that very same trail for the 2-hour class. Equipped with some borrowed snowshoes and ample cold weather gear, we got on our way.
Having never walked in snowshoes before, I was already behind some of the more experienced members of the class. Because the shoes are so big, you have to keep a wide stance while you walk. It was awkward at first, but after a few minutes of practice it became much easier.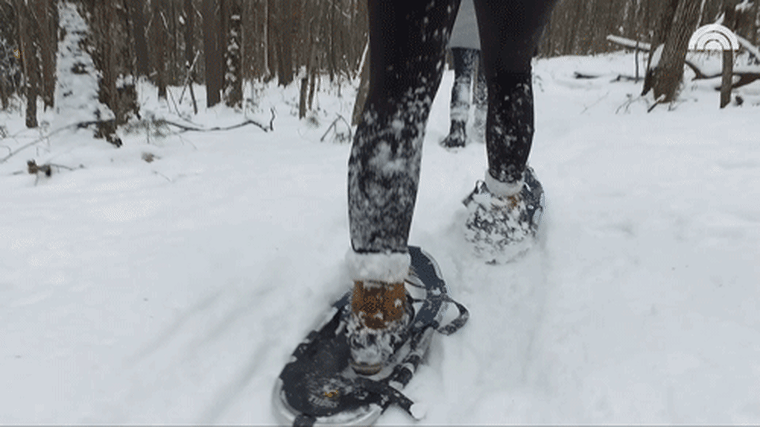 Kretschmer led us through a 20-minute hike with mindfulness practices incorporated throughout, to bring our attention to different things along the way. Winter is synonymous with whitewashed landscapes and a lack of plant life, so for one portion she encouraged us to focus on the color green and the various shades of green that we saw on the trail. Green also represents the heart chakra and Kretschmer encouraged us to imagine breathing the color into our heart center.
When we made it to the edge of a frozen pond, Kretschmer led us through the beginning of our yoga practice. And while the poses were pretty standard — the scenery took the class to the next level. Imagine taking a deep cleansing breath in the middle of a yoga class and smelling fresh air and evergreen trees instead of a sweaty yoga mat.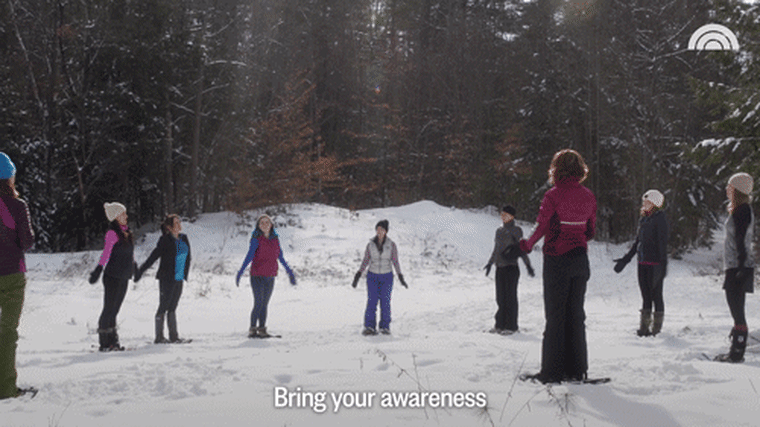 We moved on from the pond and continued along the trail to another clearing where we advanced to chair pose, tree pose and all three warrior variations. The snowshoes include metal spikes on the bottom, so tree pose required some special adjustments, but the extra challenge made for a great, playful class. I may have fallen once or twice, but no one judged me.
After another round of hiking and yoga-ing, we reached the entrance to the trail and were surprised with hot tea and energy bites from Kretschmer herself. The ladies stayed to chat and enjoy a snack, perfectly capping the experience with an extra burst of the camaraderie built along the way.
I left with one lingering thought: Can you snowshoe in Central Park?