Show me a woman who can keep her lip color on longer than an hour and I'll show you the contract she made with the devil.
OK, fine, maybe she just knows the secret to long-lasting makeup, but after a lifetime of reapplications and bare-lipped disappointment, I have to believe there's some other sorcery involved.
RELATED: These men tried wearing heels for one day — and failed miserably
That's why, when I heard about a new lip stain that promises to last for a whopping 10(!) hours, I was intrigued — and also pretty skeptical. I mean, it usually takes me about 15 minutes to lose, ingest or wipe away whatever balm I've slathered on my lips. A full 10 hours of eating, drinking, mouth-wiping, laughing, talking, screaming, selfie-ing and smiling with just one coat of color? Blasphemy.
Besides, lip stains have been around forever. I've used them! Sure, they last longer than your traditional lipstick, but their staying power isn't that revolutionary.
However, this one product in particular — the "Cocoon Lip Stain" by a company called Cailyn — seemed a bit different from the outset. Unlike your traditional lip stain, which you apply pretty much the same way you would a lip balm or lipstick, the Cocoon stain sits on your pout for 10 minutes before peeling off to reveal a tattoo-like color beneath.
RELATED: I tried 'The 30 Clean' diet and here's what happened
I wanted to find out if this new and improved stain could hold up to its promise. Scratch that: I needed to find out on behalf of women everywhere. So I ordered the color, then filmed and documented my experience for TODAY Style.
Did the stain hold up? Well, here's what I found.
10 a.m.
I unwrap the product from its pretty whi
te packaging — its "Devilish Rose," the deepest color available, but it also comes inthree other snazzy shades — while explaining to Melanie and Rebecca, my producers, that it's meant to be something like a semi-permanent, day-long lip tattoo that lasts up to 10 hours. We all laugh. Oh, the hilarity! Ten hours?! Pshhh. (Turns out that Melanie and Rebecca, like me, have trouble keeping lip color on. You see? I'm not alone here.)
I apply the stain with a small brush, wait 10 minutes and peel it off, expecting to have to pick off little pieces of the stuff in a most unbecoming and grotesque fashion.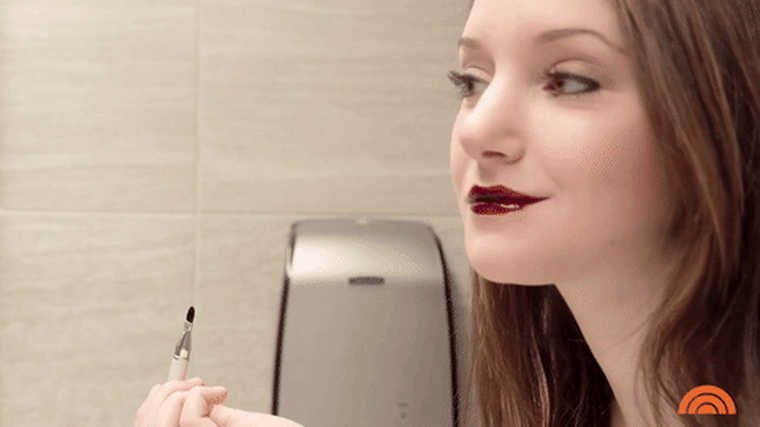 Lo and behold, the stuff comes off in two (well, two-and-a-half) long, thin tendrils of color from my upper and lower lip. I'm left with a gorgeous, rich hue somewhere between red wine and neon pink. Could it be? Are we really off to a ... *gulp* ... good start? Melanie, Rebecca and I exchange excited glances.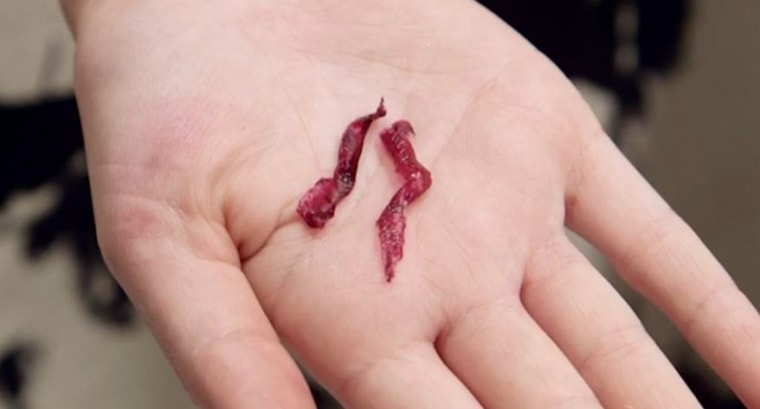 Still, it's only been 3 minutes.
12:39 p.m.
Lunchtime! My boss Ashley Parrish, the TODAY Digital executive producer, kindly orders a delicious Southern meal for the entire office. Time to put my lip color through the ringer: I devour chicken, waffles, salad and an egg frittata. Not to mention, I use a napkin, drink water, talk to a coworker, drink more water ... and still, the color doesn't move.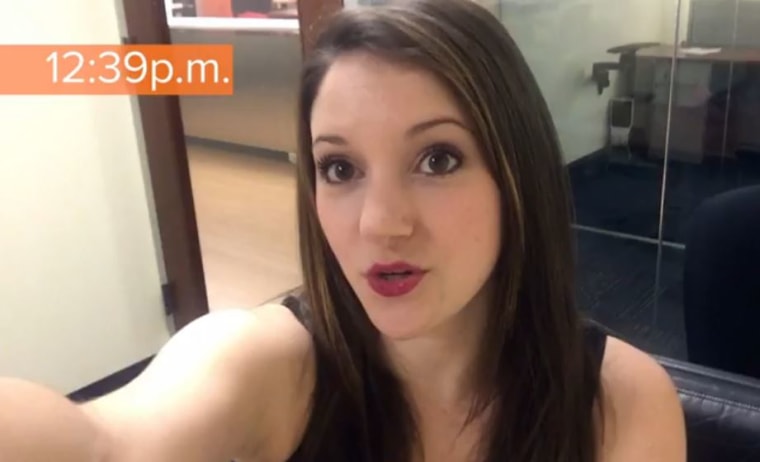 I mean, this stuff isn't "faded-but-still-on-my-lips." It's bright and just as saturated in color as it had been that morning. Still skeptical but warming up to the idea that, hey, maybe this stuff could actually work, I clear my desk of lunch supplies and carry on with the day.
2:15 p.m.
I'm noticing that my lips are pretty dry. While the product's great at holding onto color, it's pretty terrible at retaining moisture. I suspect it lacks some of the moisturizing agents of traditional lipsticks, but the color is just as bright as ever and I'm getting compliments left and
right. Dry lips be damned! (I do take the time to apply some clear gloss, which helps some.)
4:30 p.m.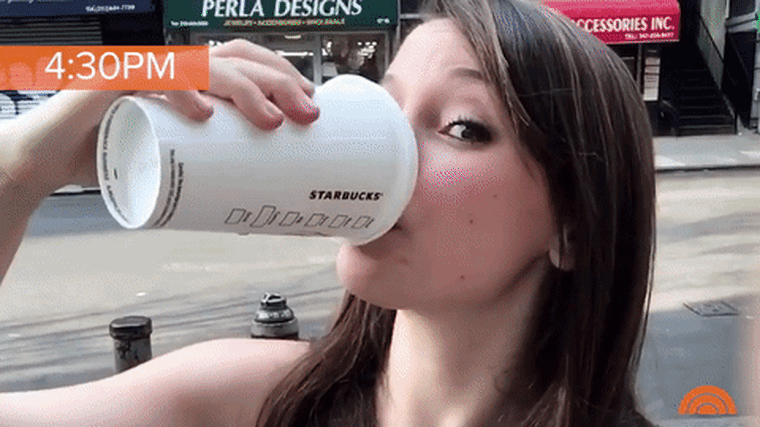 Six hours in and my workday finished, I begin to get a little anxious. Will I ever see my natural lip color again? Am I wearing a more permanent color than I'd bargained for? Will I have to match my outfits to this hue for the rest of eternity?!
As these and other deep, philosophical questions plague my mind, I grab a vanilla chai latte from Starbucks and give my lips their second drink test. None of the product (seriously, zero) comes off on the rim or the cup — almost to my dismay.
Oh, colorless, natural lips of mine. I barely knew ye.
6:30 p.m.
With just two hours left before the big one-oh mark, I depart yoga class sweaty and, um, decidedly unattractive in every way. Even after all that water at lunch, I'd barely survived the teacher's intense poses.
Guess what did survive, though? THE LIP COLOR.
7 p.m.
I make myself a quick dinner in my apartment, which was no match for the color (but who's surprised at this point, really?).
8:30 p.m.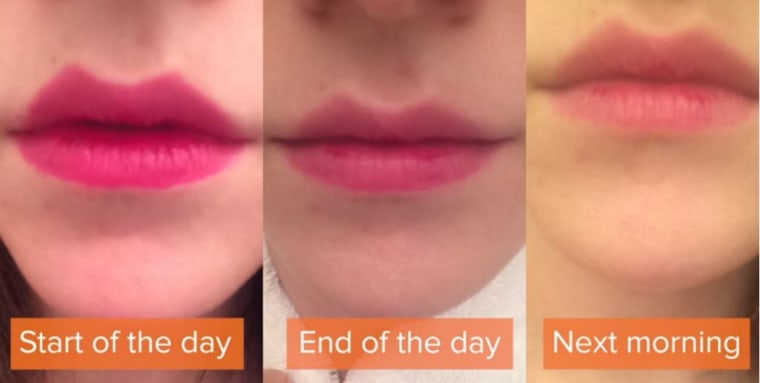 TEN HOURS, LADIES AND GENTS! It lived up to its promise. I can't believe it.
At this point in the night, there's no difference in the color except that it's not quite as flashy and bright as it was in the morning. So I decide to give it a last rigorous test and hop in the shower. There, I scrub my face with an exfoliating wash and finally — FINALLY! — the color begins to fade. But does it go away completely? No. It just sort of turns to a dull rose.
10:45 p.m
Yep, it's still there. The stain has officially overstayed its welcome. But it did its job supremely well and I can't fault it for that.
Is this the lip color we've been waiting for all our lives? I hesitate to say "yes," because there is one caveat: the whole moisture thing. It really needs a colorless balm or a clear gloss (like I used).
Another word to the wise: Be sure to apply a thick coat of the stain and don't cheat the initial 10-minute wait time if you want the flawless peel-off experience I had.
Besides that, trust me: You want this in your makeup bag.