When I first discovered tutorials on how to make lipstick out of crayons, I was intrigued. Could something I used every day in elementary school really be the answer to finding my perfect shade?
I was a little hesitant: Was this a brilliant hack, or would I end up with a Pinterest fail smeared all over my face?
Before trying it out, I did a little research to make sure that this was completely safe.
Crayola's website says that "all Crayola and Silly Putty products have been evaluated by an independent toxicologist and found to contain no known toxic substances in sufficient quantities to be harmful to the human body, even if ingested or inhaled."
Nontoxic: Check!
But then, I also found this on the site:
"Although our products are nontoxic, we do not recommend using them to make eyeliner, lipstick or other makeup and strongly discourage their use in this manner. The products were never intended to be used on the skin or face in this manner."
Strongly discouraged: Yikes!
Despite the disclosure, I wanted to test it out for myself. I figured that if children eat crayons, I should be OK to put them on my lips.
Here's what I discovered:
It's really cheap to make.
All I needed was a box of crayons, coconut oil and a small jar. That's way cheaper than my usual $23 lipstick from a department store.
It's (fairly) simple to do.
It was just as easy to make as it seemed online, which isn't something I can say about all Pinterest trends. From start to finish, it took about 15 minutes to whip up. Even someone with the most basic DIY skills (ahem, me) could do it with ease.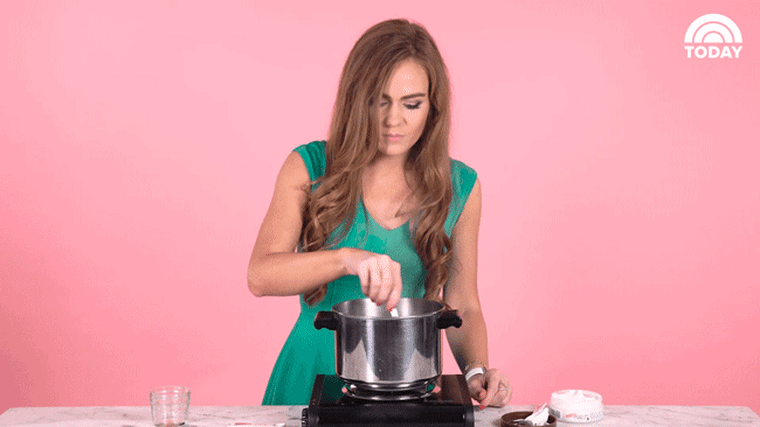 It looks really pretty — at least in the jar...
I chose the classic "Scarlet Red" from my box of Crayola crayons to try to mimic a color that I might actually wear.
Skeptically, I assumed that the color would appear very sheer after melting the wax and combining it with coconut oil. (Side note: I find it so frustrating when a lipstick looks so sheer on that it's basically lip balm.)
The crayon lipstick, however, was true to its roots: The color was perfect. It was vibrant, bright and essentially a wearable version of my childhood doodles. But I will admit that it wasn't exactly "Scarlet Red" by the end — it looked a tad pinker than the crayon itself.
...but not so much on my face.
After mixing the crayon and coconut oil together for five minutes and letting it cool (as instructed), it looked creamy, vibrant and completely ready to test out.
Much to my surprise, it was NOT ready. At all. When I put it on my lips, it was thick, dry and had tiny chunks of crayon bits in every application. Yuck.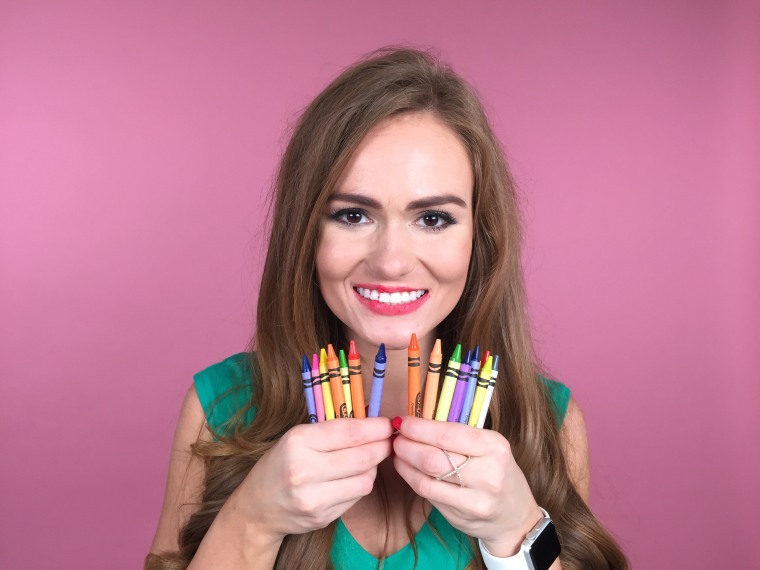 My final thoughts?
Well, I couldn't wear the lipstick out the door as I hoped. The consistency made it look really bizarre on my lips — like I had accidentally eaten a candle and forgotten to wipe off the crumbs afterward. The mixture of coconut oil and crayons just wasn't enough to create the lipstick of my dreams.
The color, on the other hand, would have been perfect otherwise.
If I were to try it again, I would heat the mixture for a longer period of time and add another ingredient (perhaps water?) to try to make it a smoother and creamier texture. The chunks were a big no-no.
For now, I'll have to stick to getting my lipstick from the pros. Maybe Crayola will one day come out with a lipstick line of their own. I'll be waiting!