Editor's note: The second batch of Savannah's shirts are now sold out! Thank you for your generosity.
Savannah's fashion statement doesn't just have a message we like, it has a cause we love.
In September, she teamed up with chic yoga brand Spiritual Gangster to create her TODAY's Original product: a super-soft T-shirt with the words "Like You."
The shirts completely sold out the first day they were available and were made available again at Spiritual Gangster on November 18. But they quickly sold out again, for a wonderful cause.
All proceeds went to Feeding America, a charity that provides food to 46 million Americans every year. It funds programs like Food BackPacks, which sends kids home with meals and healthy snacks to feed them over the weekend.
"It feels like I go home with a pack of gold, because in place of having nothing, you get to enjoy whatever you have when you get hungry," said Jailena, a 4th-grade student at Savin Rock Community School in West Haven, Connecticut.
More than 7,000 shirts were sold, with about $240,250 going to charity. That translates to 2,402,482 meals!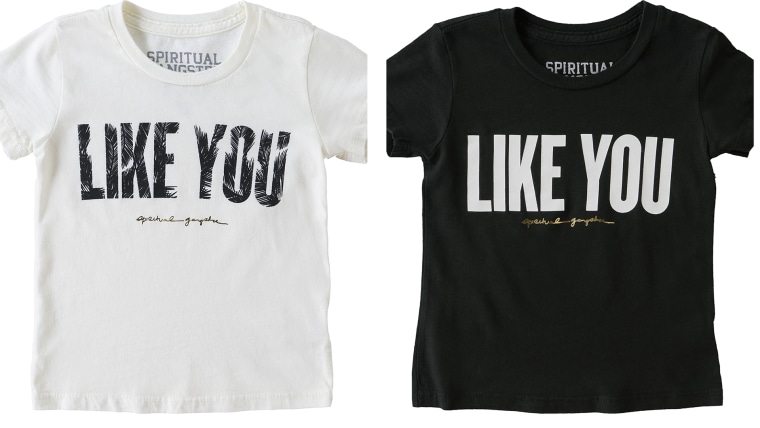 Savannah chose those words "Like You" because she wanted a mantra that was positive, inclusive and aimed to bring people together.
"The idea is that it's just something that sends something positive into the world, so maybe it means 'I like you,' or maybe it means 'I am like you,'" Savannah explained.
The shirt is available in two different styles and colors in women's and kids' sizes. Visit Spiritual Gangster or The Shop at NBC Studios to get one of your own!
The collaboration is part of the TODAY's Original series, in which Al, Matt, Natalie and Savannah are all creating their own products to benefit the charities of their choice.
Matt's Shinola collection is available at Shinola's website or The Shop at NBC Studios and NBC Universal's online store. Al's Shake Shack #Rokerburgers were all gobbled up, but you can still make your own.
Share your mantra or photos of you wearing your TODAY's Original shirt by using the hashtag #Likeyou and #TODAYsOriginal for a chance to be featured on TODAY!