Patton Oswalt considers himself lucky to have won the heart of his wife, Meredith Salenger — and he told her so in a sweet anniversary tribute.
"Happy one-year anniversary, sweetie. Thank you for stepping into the life of a widower who had resigned himself to merely functioning. You reminded me that there's still sunlight to feel on my skin, that my daughter is amazing, and that life can contain both bitter and sweet. I love you," Oswalt, 49, wrote Sunday on Instagram beside a pic of Salenger, 48.
Oswalt also tweeted a pic from the couple's wedding day, gushing that Salenger swept him and his daughter Alice, 9, "up out of the cobwebs and into the sunlight."
"I will never be able to repay you, baby, but I'll never stop trying," he added.
"Oh baby. I love you so," Salenger responded.
The actress also celebrated on Instagram with her own tribute: a gallery of photos of herself with Oswalt and his daughter.
"Happy Anniversary my love!!!! I'm so happy I get to spend my life with you and Alice! You are both the light of my life and I am forever full of gratitude that I found you!!!!" she wrote in the caption.
When the pair met in 2017, Oswalt was still grieving the loss of his first wife, Michelle McNamara, who died in her sleep the year before. Just 46 years old at the time of her death, the true-crime writer succumbed to a combination of prescription medications and an undiagnosed heart condition.
Brokenhearted Oswalt spent three months chatting with Salenger on Facebook. It didn't take him long to realize she was someone special.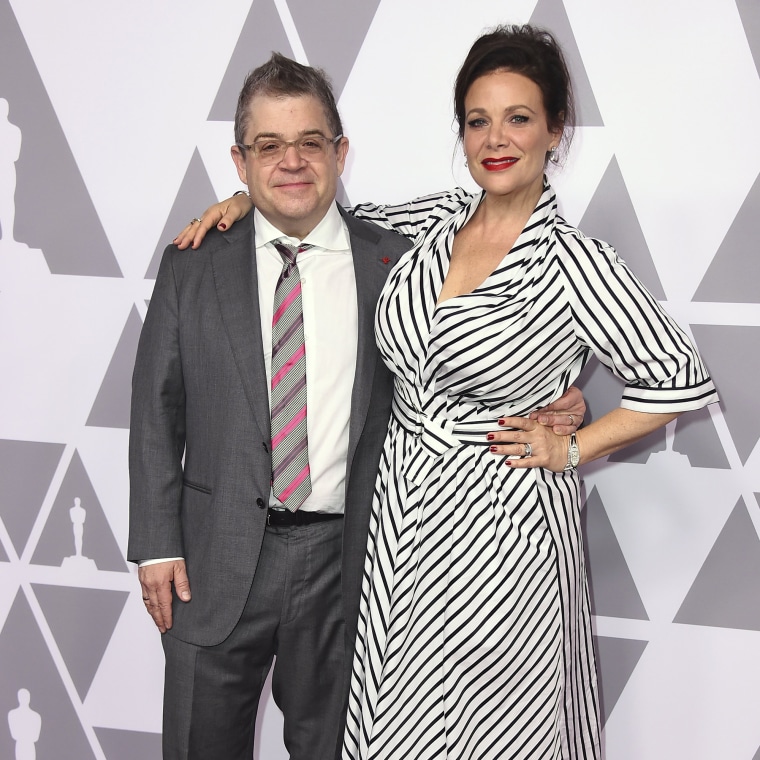 "I got to know what an extraordinary human being she was. So it was just a no-brainer for me to know that this is the person that I want to be with," Oswalt told Us Weekly in February, adding that his new wife is "an amazing stepmom" to Alice.
The "Young Adult" star also revealed a beautiful moment from the pair's wedding ceremony.
"My favorite moment was when I was standing up at the altar and my daughter came down the aisle — she was a flower girl. And she just spontaneously gave me this huge hug," he said.
"It was like, we're safe now. Things are OK. I almost started crying. I was so happy the way that she held me. Like, things are OK now. It felt amazing. That moment."