If you only know Mariska Hargitay as the tough-yet-tender Lt. Olivia Benson on "Law & Order: SVU," here's an all-points bulletin: She's so much more!
With that in mind, for her 52nd birthday on Jan. 23 we thought we'd tell you a little more about this arresting, Emmy-winning woman and at least some of her most awe-inspiring accomplishments.
1. She will physically go to the mat for her "SVU" role.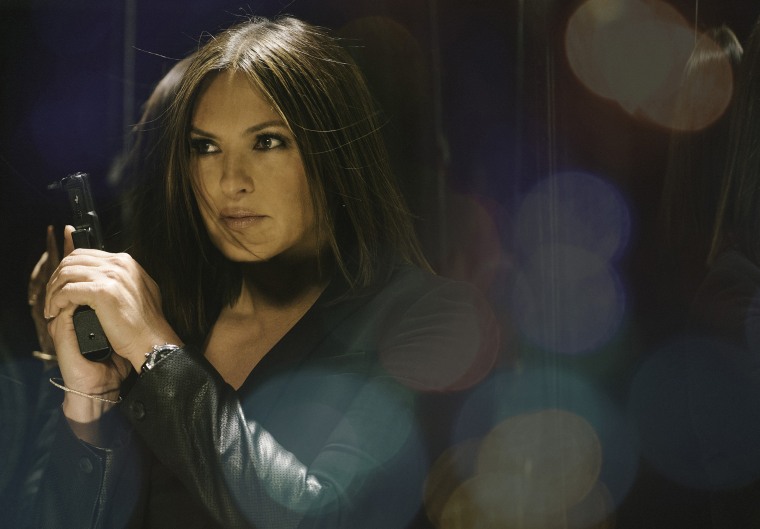 Over the past 17 seasons, Hargitay's Benson has been tied down, kidnapped, assaulted and nearly blown up — just for a start. And the actress has gone through the wringer too, even collapsing a lung doing a stunt in 2009. Then there was the time Hargitay chased guest star Lou Diamond Phillips at top speed through New York City's Port Authority — while heavily pregnant. If Benson feels real, it's because Hargitay is behind her.
2. She's taken Benson's job to heart in real life.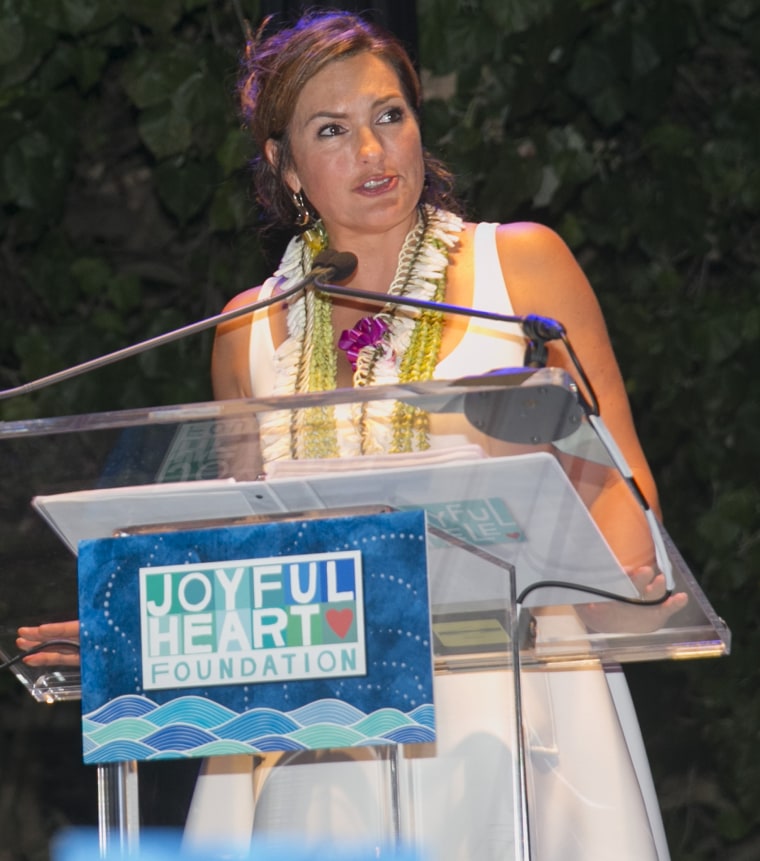 Early on, Hargitay realized she wasn't just playing a role. "Just walking down the street, I'd have women grab me, going, 'Your show changed my life. I wish you were the detective on my case. I wish someone would have believed me,'" she said in 2009's "The Law & Order: SVU Unofficial Companion." She started the Joyful Heart Foundation to raise awareness of survivors' issues, and devotes a good portion of her personal website to the cause as well.
"It made me sad that people were emailing a character on a TV show because they didn't know where to go," she said in the book. "I felt like God put me on this show for a reason."
3. She played a significant role in the White House's PSA campaign against domestic violence.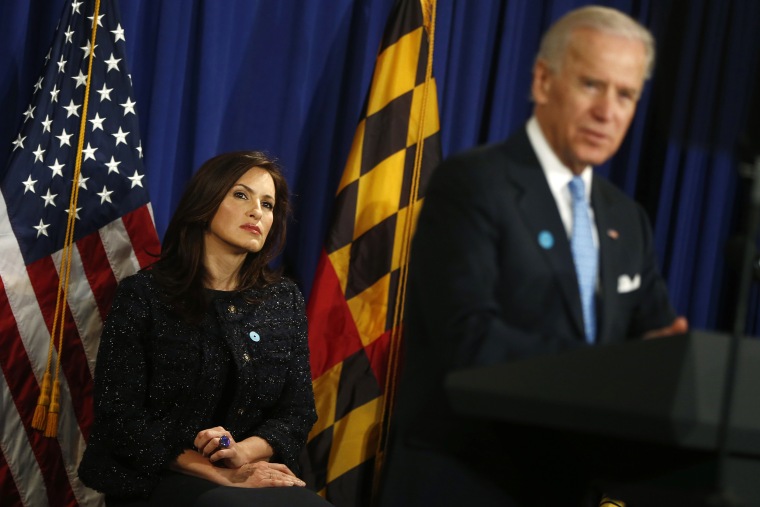 In 2014, she paired up with Vice President Joe Biden to appear in public service awareness spots focusing on domestic violence and sexual assault, and both offered ways for viewers to get involved. It was part of the White House's 1is2Many initiative, which the vice president championed.
4. She thinks adoption is awesome, and has two adopted children.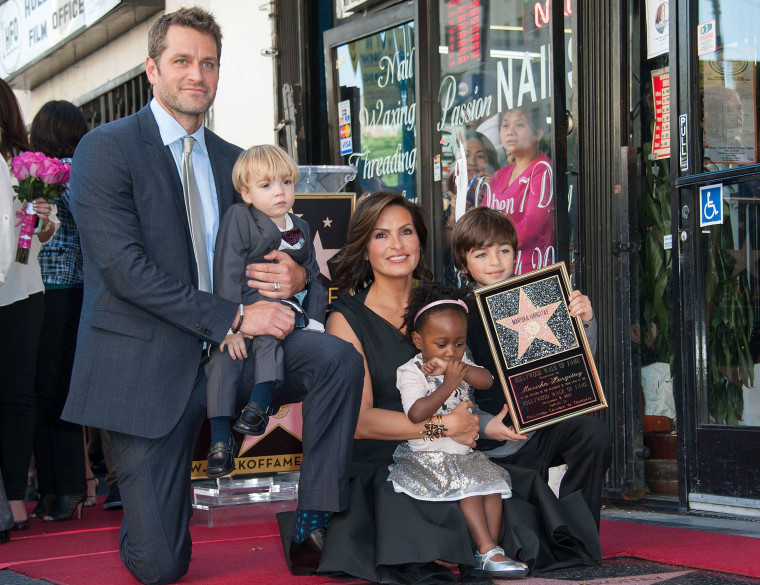 The actress gave birth to her son August with husband and fellow actor Peter Hermann in 2006, then went on to adopt Amaya Josephine in 2011 and Andrew Nicolas in 2011.
"I love talking about adoption because I think it's the greatest thing on the planet," she told TODAY in 2012, adding to comments she had made in a recent magazine article. "I think any time you embrace life so fully, so heartily, there are highs and there are lows. What I said in the [Good Housekeeping] piece was that the process takes you on a ride. And the end of it is better than any pot of gold that you can imagine. There's a child."
5. She inspired Taylor Swift, and let Taylor Swift inspire her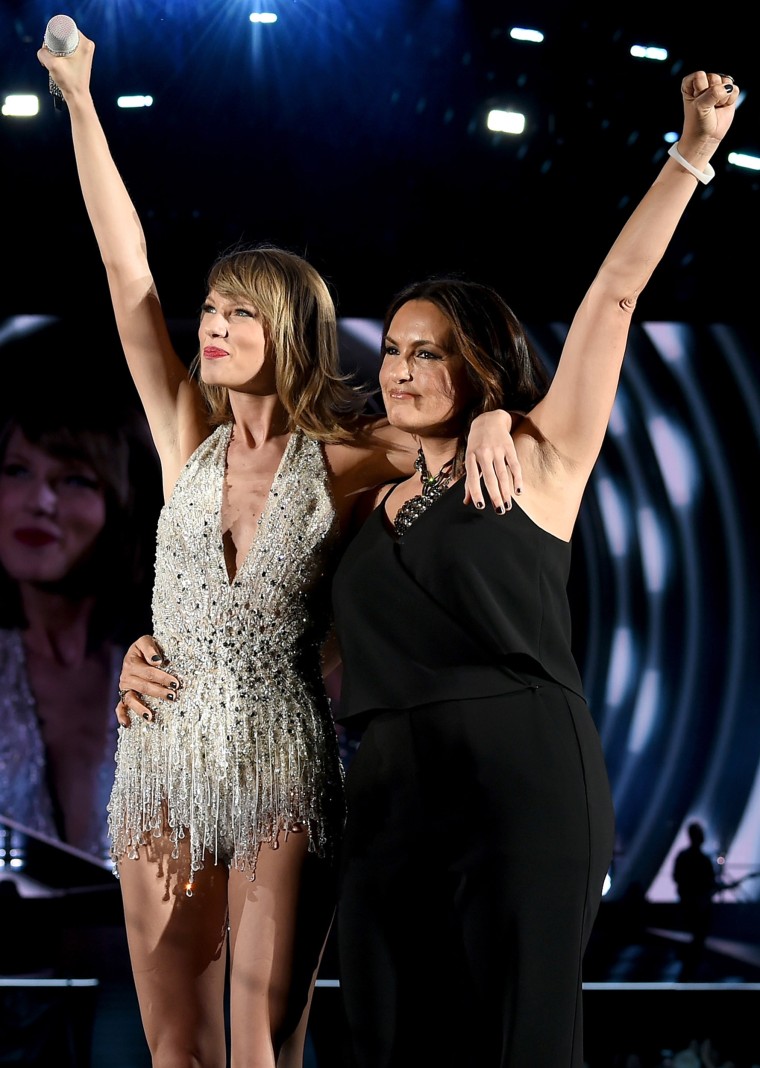 Of course, Mariska Hargitay is influential for many people, but few have the public heft of Taylor Swift. Swift was the one who kicked things off in 2014 by adopting a Scottish fold kitten and naming her Olivia, after Hargitay's character. When the pair finally met last year, Swift invited Hargitay to appear in her "Bad Blood" video, and Hargitay discovered there was a deeper meaning to "Shake It Off."
MORE: Adorably arresting: Mariska Hargitay meets Taylor Swift's cat Olivia Benson
"I thought, 'What a beautiful message to send to people,'" Hargitay told TODAY last September. "I've certainly had thin skin at times, and things hurt my feelings and you sit there and go, 'Why do you let that hurt your feelings? And you know what? Shake it off and move on.' What a beautiful lesson."
We're all still learning from you, Ms. Hargitay. Happy birthday, and keep shining your joyful light!
Follow Randee Dawn on Twitter.