Looking to make some extra cash? If you've never considered putting your house up for rent on a site like Airbnb or VRBO, you should read this first. There are millions of properties listed by people just like you, and it's not as scary as you might think — at least according to some homeowners we talked with.
Whether you're going on a trip and want to earn some extra money while you're away (those pina coladas don't pay for themselves!) or you want to justify that pricey vacation house, renting your home out to strangers can be a smart financial strategy.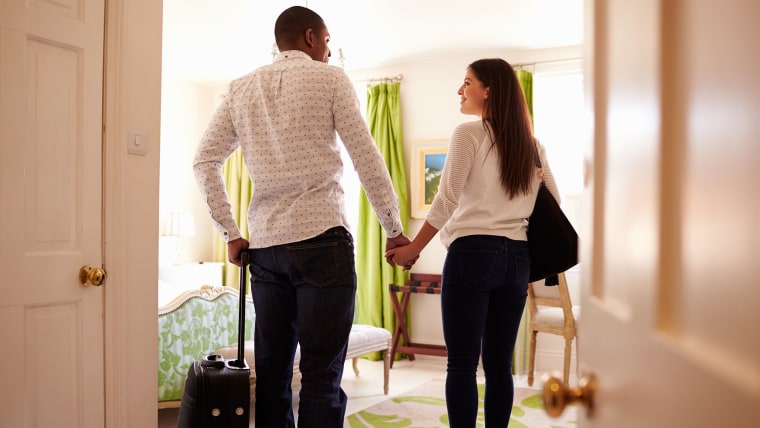 Below, three homeowners reveal what they love about sharing their home with others, plus some tips they've learned along the way:
1. The income will help out more than you think.
If you have a home that you don't occupy full time, your rental could be lucrative enough to pay for the mortgage and beyond. Ben Smith has a four bedroom, three-and-a-half bath home in the mountains of Montana that he decided to put up on Airbnb about five months ago.
"I was traveling so much that I was hardly home, and it made sense to try and cover some of the expenses," he told TODAY Home. But it paid for more than just some of the expenses — it went from a full-time home into a cash-flowing vacation property. The money he makes from rentals (which is currently booked up to three months out) covers the mortgage plus all the utilities.
"It's also better to not let a mountain home sit empty," he said. "Montana is such a great place for travel in the summer, and I had no idea it would book up as much as it did."
2. People are typically respectful of your place (but you still might want to take a few precautions).
"When people stay in a private-home setting, I find they're more respectful than a hotel," said India Hatch, who has two properties in New Mexico listed on Airbnb. She said that she has lots of personal touches in her homes that include things like nice art and dishes, and on the rare occasion someone has broken something, they've left a note for her about replacing it. But she always takes a damage deposit every time — just in case.
"Go through your things and put away your valuables that you're worried about," she said, adding that she's set up owner's closets with locks to put away some precious things. "Overall, just make the place comfortable and functional for your guests." And most likely, they'll treat it with respect like it's their own place.
3. Hire a good cleaning person.
One thing every homeowner we talked to mentioned to ensure success was finding a professional cleaner to maintain the place in between renters.
"It has to be hotel clean every time," said Hatch.
"It's key having someone around that you can trust if you can't be there," Smith added. The bedding and towels should always be fresh and the entire home should be spick and span.
4. Do something special for your guests.
Besides providing a place for people to sleep, your home is a major part of their vacation. Lodging can even make or break the entire trip. John McCabe, who rents out his lakeside vacation home, said he tries to go out of his way to make guests comfortable.
"I would always leave a bottle of wine on the counter with a couple of glasses and a corkscrew," he said. "People want to have something special. When they get here, they'll say, 'Look at this — how nice!'"
He added that a huge part of putting your home up for rent is interacting with people, so it's important to be as nice and helpful as you can. He even recalls the time an upcoming renter told him how she envisioned sitting outside of the gorgeous property in an inflatable arm chairs, so he went out and bought her two of them. "She was ecstatic," he said.
5. Try to book longer stays (even if that means giving a discount).
Here's a trick you might learn over time, but if you're just starting out, take note and try it now. Smith said that he's found that it's better to book for longer stays at a discount than trying to make a few extra bucks with numerous people at full price.
"Having to keep up with multiple bookings in one week can be hard," he said. Besides, it'll save you money on the in-between cleaning fees.