A hand-scrawled "for sale" sign on the windshield of an old car might bring back fond memories of a seemingly simpler time. But it isn't enough if you want to get the highest price possible for your vehicle while minimizing the potential hazards of handling the sale on your own.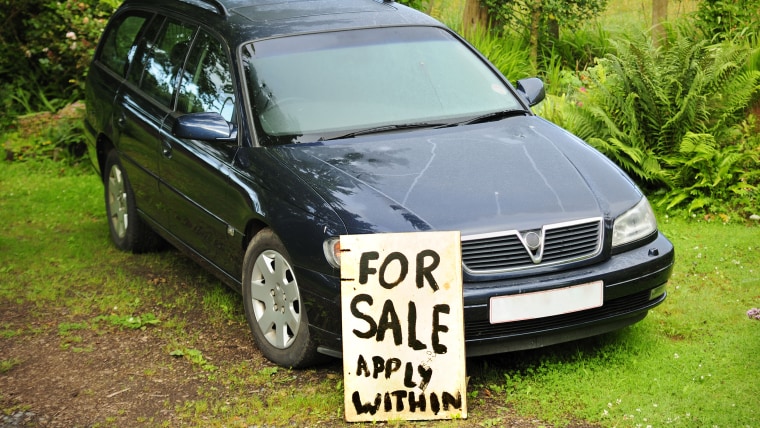 Selling a car successfully takes planning, organization and some elbow grease. You'll need to clean up the vehicle, gather its service records and other paperwork, and come up with a flattering but honest way to present it in an attention-grabbing ad. This sounds like a lot of work, but selling a car the right way is not as complicated as it was in the pre-internet age mainly because the web makes it easier to reach potential buyers.
Here is a short list of often-overlooked tips that will help sellers avoid common obstacles that slow down the process.
1. Time it right.
While it might not be the most important thing to think about when selling your car, timing can make a difference. Demand for cars and sport-utility vehicles with all-wheel drive tends to rise as winter approaches — a time when you should avoid putting a convertible sports car on the market. Minivans and SUVs with generous interior space are especially desirable for summer road trips and the college drop-off season.
RELATED: Electric and hybrid cars: Why buying used may offer more value — for less money
2. Estimate value.
Online sources like Kelley Blue Book and the National Automobile Dealers Association's NADA Guides can help you determine how much your car is worth based on condition, mileage and other factors. But you'll have to be honest about condition. Remember there are very few 10-year-old cars worthy of the "excellent" rating.
3. Where's that paperwork?
Avoid last-minute anxiety by collecting the documents you'll need to sell the car, including the title, bill of sale and maintenance records. If the car is still under warranty, have the papers ready. If not, include an "as is" document that makes clear the new owner will be responsible for all repairs and other expenses once the car is sold. If you misplaced the title (it happens all the time), the bill of sale may serve as a substitute. Your state's Department of Motor Vehicles website can confirm which documents you need.
RELATED: Strangers rally to help man who walks 15 miles to work every day
4. Prepare the vehicle.
Call it "show time." This is your chance to present the hardware. When potential buyers arrive to check out the car, it needs to look good — to pop, if possible. This indicates that you took good care of it and increases the chance of getting the price you want. A clean, detailed car also looks better in advertising photos, so be sure to wash and wax the exterior, clean the wheels and tires, vacuum the interior and wash the windows inside and out.
5. Take lots of photos.
Nothing turns off online car shoppers like a for-sale ad without pictures of the merchandise. Including just one photo is almost as bad, so make a point of taking many pictures from several angles. They help answer buyers' questions before they show up at your house. Be sure to photograph the front, rear and both sides of the car. Sellers often make the mistake of skipping interior shots, which might lead shoppers to think the car's cabin is too embarrassingly horrible to show. Photos should show the front and back seats, dashboard, carpets, inner door panels and trunk.
RELATED: Top 10 longest-lasting cars and vehicles
6. Advertise.
Decide whether you want to advertise your car locally (on Craigslist or eBay Motors) or nationally on sites like Cars.com and Autotrader. Your ad should include the following information: asking price, mileage, condition of vehicle, damage and accident history, aftermarket upgrades, recent service or repairs and a vehicle identification number (VIN).
7. Screen potential buyers.
After posting the ad you'll have to answer shoppers' questions online or by phone and arrange test drives for those who seem serious about buying. Be sure to get the person's full name and be clear about which forms of payment you will accept. For many people cash is still king in this market.
8. Make the pitch.
When shoppers come to see the car, switch into sales mode. Let them know about features that make your car attractive, like reliability, safety, interior space, fuel economy, towing capacity or anything else that helps it stand out. Resist the temptation to oversell, but make sure to point out the vehicle's strong points.
RELATED: Safest used cars for teens: Insurance Institute for Highway Safety's top picks
9. Negotiate the price.
After you've shown the vehicle and given a test drive, let the buyer know if the asking price is firm or open to negotiation. It is best to have a starting price that is higher than the amount you are willing to ultimately accept. Keep a dollar amount in mind that is the lowest you are willing to accept. Stick to it. Don't be afraid to walk away.
10. Close the sale.
Once you and the buyer agree on a price, you'll need to collect the payment, sign over the title, complete the bill of sale, fill out the release of liability and submit it to your state DMV if required, provide maintenance records and any other records, and wave farewell as the buyer drives away.