Some people call me dramatic. I like to say I exaggerate for effect. But everyone admitted my freak-out was warranted when, three weeks before my wedding, I found myself without a wedding dress.
I want to blame the downtown boutique that sold me my first dress (traumatic details on that below), but looking back, I realize that every predicament I found myself in was actually preventable — it's just that I didn't know what to expect. Allow me to spare you from making the mistakes I made.
1. "Say Yes to the Dress" is not real life
There will not be a crowd of 12 hooting, hollering or happy-crying when you walk out in "the dress." Most stores (including Kleinfeld, where #SYTTD films) only let you bring two people — maybe three — to your appointment.
My tip: Invite the most honest person you know and the most sensitive person you know. My mom (honest) would tell me if a dress flat-out didn't work (after trying dozens on, sometimes you lose touch with reality). And my aunt (sensitive) told me I looked beautiful in everything. And my friends stayed home.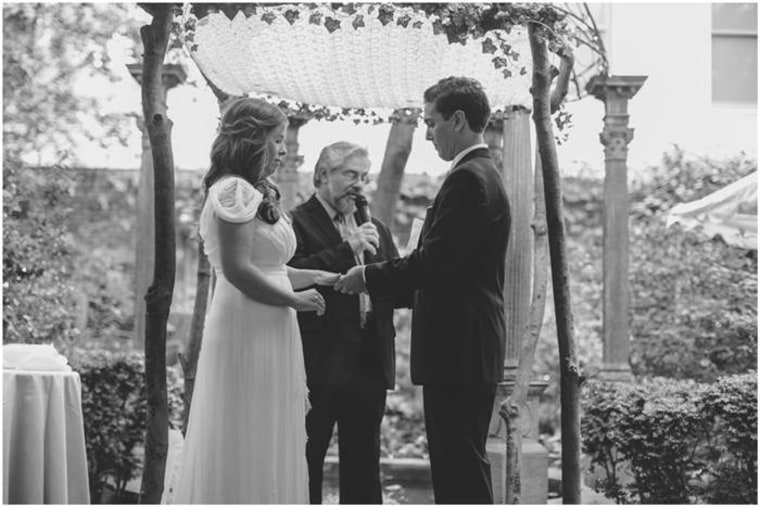 2. If you don't wear strapless dresses in real life, don't wear a strapless dress on your wedding day
Ninety percent of the wedding dresses you'll look at will be strapless, which makes absolutely no sense when you think of how few real-life dresses are strapless. I was talked into buying a strapless dress — "Have an open mind!" — even though I've never worn one in my life. (Except when those Juicy Couture felt-y dresses were briefly a thing. Was that Summer '05?) Your wedding day is not the day to try a new style.
3. If a dress does not look good on you at the store, don't believe "It'll fit better in your size"
I was told the sample I tried on would work when it arrived in my size — that I wouldn't even need a bra. (That should have been a red flag; I have a size D cup). When my strapless dress arrived, I was shocked to find it offered no support to my rack. When I brought it to a seamstress, she suggested spaghetti straps. SPAGHETTI STRAPS.
4. Go to a store with an in-house seamstress
If the dress comes in and does not work on your body (did I mention the spaghetti strap suggestion?), you'll want the store that sold you the dress to feel invested in the final result. Plus, in-house seamstresses are familiar with the dresses on their boutique's racks, and know ahead of time what's possible and what's not.
5. If you don't go to a store with a seamstress, splurge on a good one
I took my ill-fitting strapless dress to the (relatively) cheaper of two recommended seamstresses for a fitting. After hearing I needed to deconstruct the entire dress over the course of a month to make it work ("You have large breasts! You need a bra!"), I took it to a pricey New York City tailor. She didn't fix the dress I hated, but she offered lots of options — and she didn't make me cry.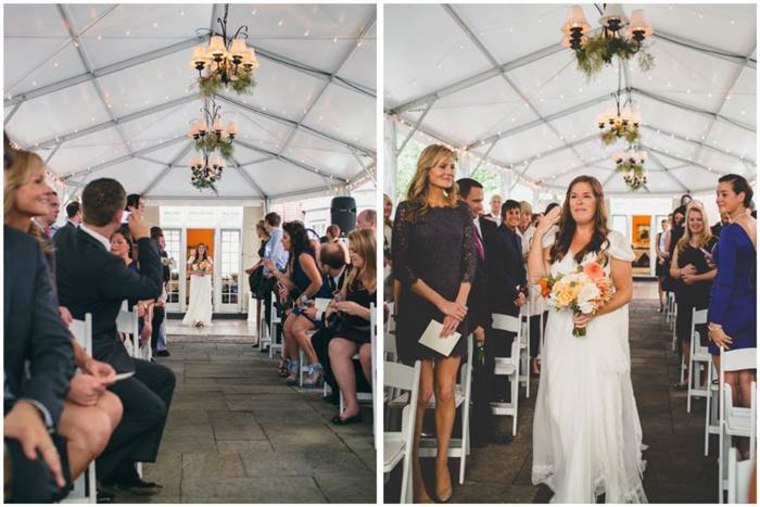 6. If you cry hard enough, a store will stay open late for a consultation
This is the part where I return the strapless dress.
After I realized that the first dress I bought — which was lost and delayed even though I'd paid to have it rushed — would not fit the way the boutique I bought it from said it would, I found myself sobbing and wandering the streets aimlessly. Then, a friend told me to get to J. Crew. Staffers offered me Pellegrino and tissues and told me they were booked solid, but that if I came back at 8 p.m. (after the store closed!), they would squeeze me in. And they did! Into a dress that arrived at my front door by noon the next day. (If only J. Crew still did bridal!)
7. Pre-owned dresses are awesome
Until I found myself without a dress just 20 days before my wedding, I didn't consider wearing a pre-owned dress. But, while waiting for my last-minute J. Crew appointment, I scoured the Internet for other off-the-rack options, and found that one I absolutely loved — a whimsical Alberta Ferretti gown WITH straps (not spaghetti!) — was being sold for one-third of its original cost by a girl within driving distance. I made it to her apartment, tried on her dress (which was in perfect condition, having only been worn once) and wrote her a check.
I'm not the only bride to deal with wedding dress drama; when I shared my saga with coworkers, everyone seemed to have a helpful tip — the kind of advice that could have saved me a lot of stress.
So from us to you, here's what TODAY newlyweds wish we'd known before buying a wedding dress: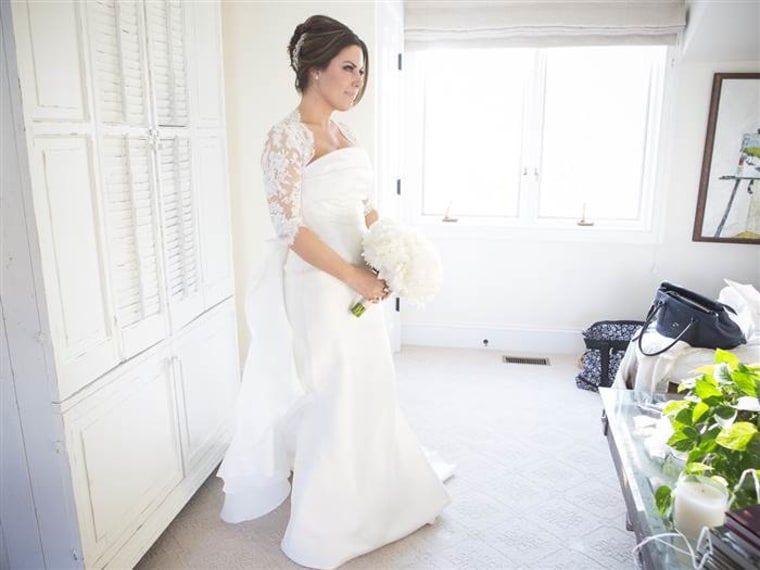 8. Keep an open mind
As you know, I let TODAY.com viewers pick my dress ... and for me, it was probably best to let go and just trust. I swooned for a dramatic navy blue floral Douglas Hannant ball gown and then considered a sweet simple white cotton maxi dress. I can be indecisive, and with six weeks to plan everything, it helped to have some boundaries. - Bobbie Thomas, TODAY Style Squad member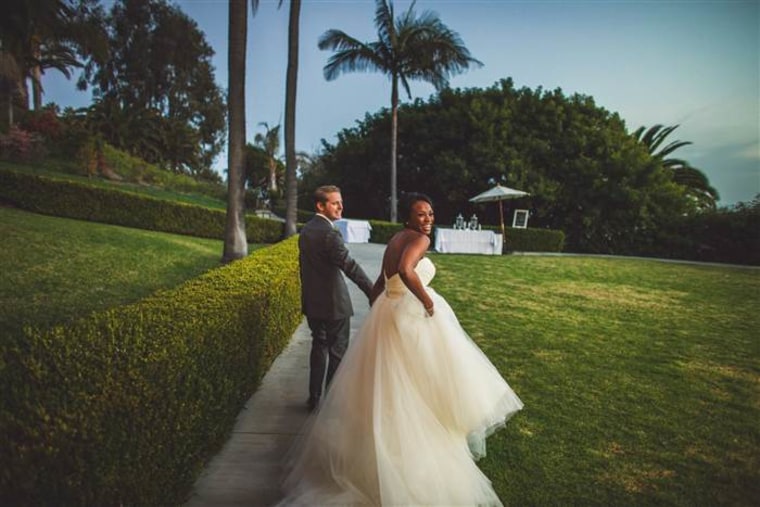 9. Don't be scared to hate your "dream" dress
I walked in with a clear image of what type of dress I wanted and ended with something TOTALLY different. You have to be able to kill your darlings ... even in the dressing room. - Charisse Larado, TODAY producer
10. Don't commit to a dress until you've set the date and picked your location
What you love might not fit with the season and/or venue you ultimately book. A silk dress for a summer southern wedding?You're going to sweat straight through that puppy! - Charisse Larado
11. If you buy a dress that you hate, don't worry
You can always buy another one and resell the first dress online. - Charisse Larado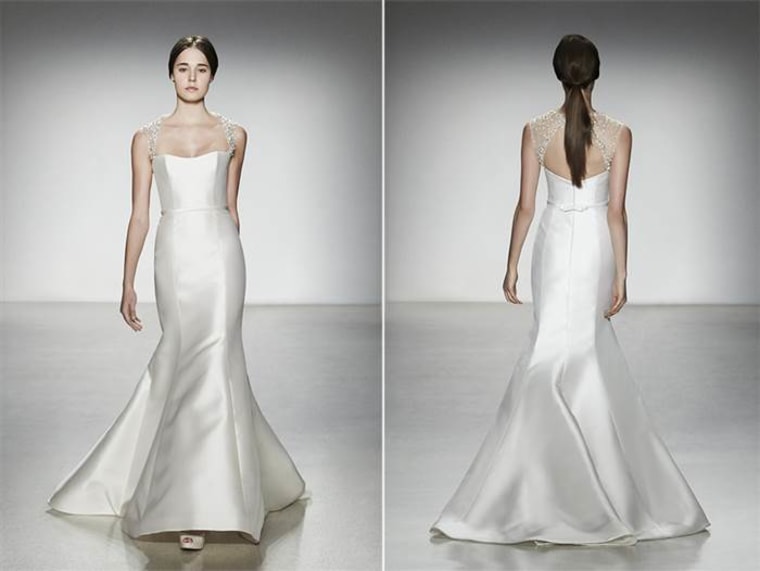 12. If you order within the six-month mark, you can be charged a rush fee
Be sure to make a decision before six months to go hits (if you aren't planning on buying off the rack). - Katie Buckley, TODAY producer
13. Don't feel pressured to buy the veil or accessories from the bridal salon
Shop around for accessories. A bridal boutique in New York tried to sell me a veil for $1,100. I took a photo, brought it to a fabric store in the Garment District, and they made the same one for around $375. - Katie Buckley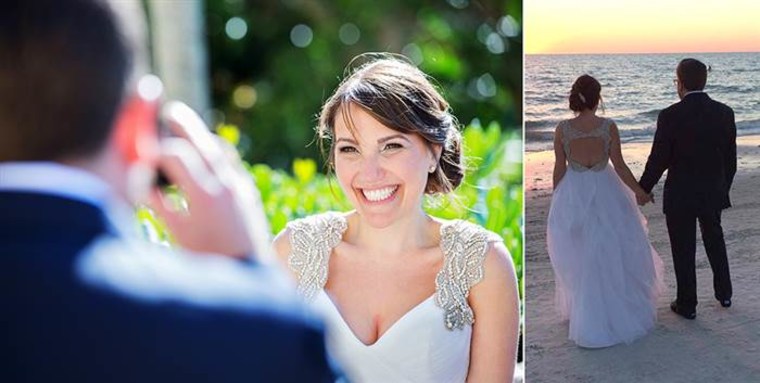 14. Go to a store where you can actually walk through and touch dresses, feel fabrics, etc.
Pictures of dresses and actual dresses can feel quite different. - Vivian Fel Solomon, TODAY producer
15. Trust your gut
I was surprised to like a lot of dresses on! And any of them would have totally worked. But there is *one* that sticks in your head. Take a walk after trying dresses on to clear your head … and you will keep thinking and imagining yourself in the *one*. It's subjective. You have to love it. - Vivian Fel Solomon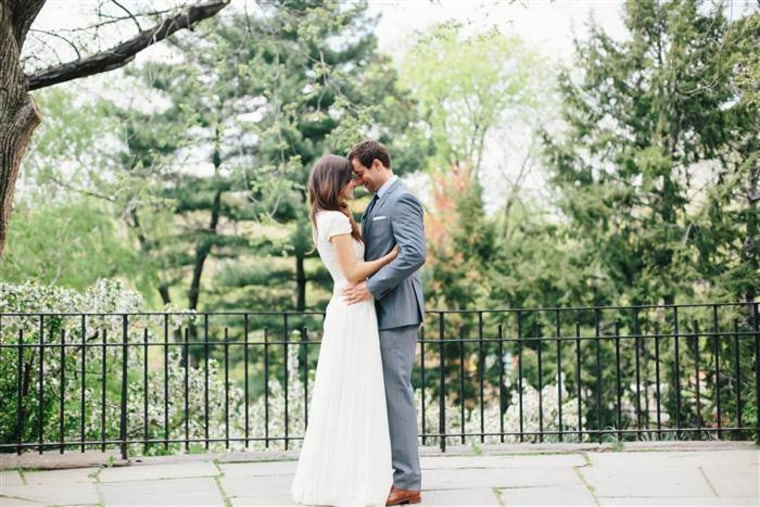 16. Eat a good meal before you go shopping ...
... Even if you think you want to be as slender as you can be for the experience. If you get hungry, you will get cranky and that makes everything worse. I become an emotional, indecisive mess on an empty stomach, so I downed a Chipotle burrito before heading to the bridal shop. Keeping it classy. - Amy Eley, TODAY.com managing editor
17. Keep an eye out for sales at the store even after you buy the dress
J. Crew ran a 30-percent-off sale on wedding dresses three weeks after I bought my gown. I called and they honored the new sale price. Cha-ching! - Amy Eley
18. If your dress has sleeves, make sure you can lift your arms up
I could not, and I didn't realize that until my wedding day when I went to hug my husband. - Amy Eley
19. Don't buy a smaller dress and put that pressure on yourself to lose weight before the big day
J. Crew only had a size 2 left of my gown. I am not a size 2 (never have been) but I convinced myself that I could chug green juice and exercise every day and then I would be a size 2. Guess what? My wedding day came around and I was still not a size 2. Breathing was a major struggle. - Amy Eley
20. Wear the same bra to your fitting that you'll wear on your wedding day
A tip from my seamstress to get that bodice fitting just right. - Amy Eley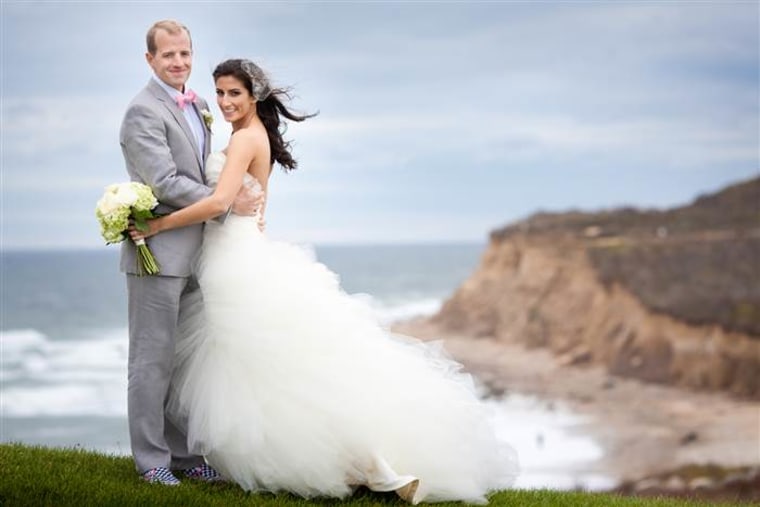 21. It's OK to get cold feet — about your dress
It's normal to regret your wedding dress in the months between buying it and actually getting to your fittings, since you don't get to spend that much time in the dress before you have to pull the trigger — and then you have to wait so long for your actual gown to arrive.
I bought a dramatic, mermaid-style dress — exactly the opposite of what I thought I would end up with — because when I put it on, it felt amazing and fun. But in the months before my fittings, all I had to remember it by was a blurry photo snapped by one of my friends from a bad angle, and I started to feel like I'd made a huge mistake. I couldn't stop thinking about another dress I'd almost bought, a slim, silky cut. As I waited for my dress to arrive, this other dress loomed large in my memory. But sure enough, when I finally put my dress on, the original feelings flooded back — I was so happy! — exactly what I wanted.
If you loved it when you bought it, don't stress! As long as you were sure it was "the one" when you put it on and it makes you feel beautiful and happy, then it will still make you feel that way when it's time for you to actually wear it. - Meena Duerson, TODAY.com editorial director
You see, it shouldn't have to be that hard!
This article was originally published on Jun. 18, 2014 on TODAY.com.