As we age, our mindset and perspective aren't the only things that change — our skin does, too! Loss of collagen, environmental exposures and hormonal ups and downs are just a few of the factors that affect how our skin reacts.
RELATED: The 6 biggest health mistakes women make in their 20s
In other words: If you're still using that same old acne wash from your teenage years, it's time to listen up.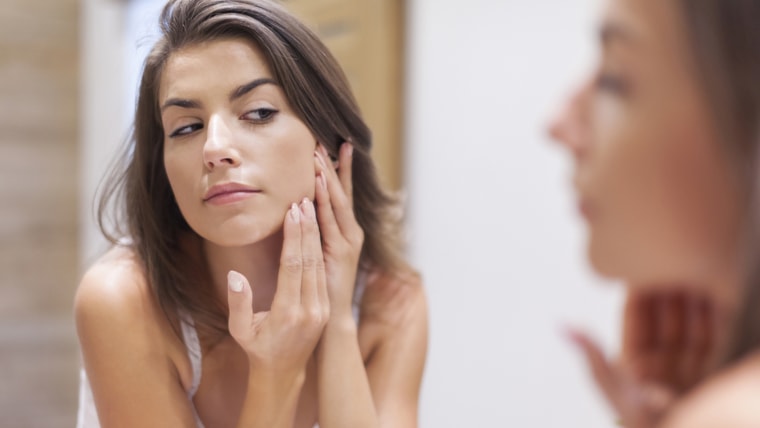 TODAY spoke to two highly respected dermatologists for the scoop on what we should be using at different stages in our lives. Dr. Joel Schlessinger, a board-certified dermatologist and CEO of LovelySkin.com, and Dr. Hilary Baldwin, medical director at The Acne Treatment and Research Center in Morristown, NJ, put together a list of the most common skin complaints they hear from women in their 20s to 70s and beyond.
For starters, here's how to treat the two most-common concerns in the tumultuous 20s.
Dark circles
There are a lot of big life changes that could be causing stress in your 20s: late nights at the office, relationship drama, bills to pay. But Baldwin explained that dark circles are not only a reflection of needing more sleep (though, that's part of it). Primarily, he explained, dark circles are an inherited trait that may be exacerbated by allergies and/or an iron deficiency.
Before you start blaming mom and dad, there are a few steps you can take to combat the issue.
The solution:
"Consult with an allergist to address any sensitivities that may cause you to rub your eyes," Baldwin said. Also, check with your general physician for any iron deficiencies. He or she may prescribe a supplement or suggest some changes to your diet.
Of course, there are hundreds of cosmetic eye treatments to try. Baldwin suggested looking for a formula that is a moisture-based with SPF to protect the sensitive skin in that area.
RELATED: How texting can keep you acne-free (and 8 other zit-fighting tricks)
Adult acne
Although it's most common during teenage years, adult women often still have acne flare-ups. In your 20s, Baldwin explained, "it's mainly due to an inflammation of the hair follicle and sebaceous glands stimulated by hormones."
The solution:
If you're experiencing a real issue, your doctor may recommend a prescription retinoid such as Retin A, Differin, or Tazorac. The good news is that most insurance companies cover the cost of retinoids for acne treatment. But in general, a basic benzoyl peroxide, which is available over-the-counter, can also be helpful. For cleansing, try an oil-free acne wash.
In general, women in their 20s often overdo the amount of products that they use. So remember to keep it simple!