A lot of people in their 50s, 60s and 70s are downsizing for the future and embracing a new concept called "workamping."
Here's what "workampers" are not: They are not a merry band of retirees who trade work simply for a parking space for their RV.
Here's what they are: Anyone who combines part or full-time work with an RV lifestyle. In general, they get paid in two ways: They trade labor for a place to park their RVs, but they also earn minimum wage (sometimes more) for working in theme parks, campgrounds, national parks, dude ranches, at spring training — wherever seasonal work takes them. And while some "workampers" are working in retirement, others are in their mid-50s (the median age is 53) and haven't retired at all.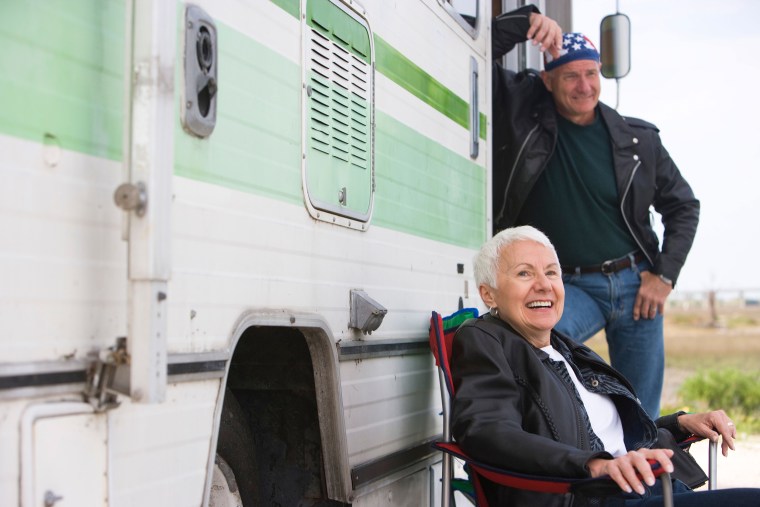 Living in an RV, however, really requires you to downsize. What lessons can we learn about the right — and wrong — ways to do it? As part of our #StartTODAY series, we gathered the lessons of "workampers" and downsizing experts alike.
You need a vision
Try to figure out what you're trying to accomplish before you start. Why are you doing this? What's the end goal? Think about where you are going and what will fit. If you're having trouble thinking about fitting into a very small space, try remembering back to when you were in your very first home and the belongings you had then. Also, consider how your life will be when you don't have so much stuff to clean, dust, vacuum, etc.
Go shopping in your own home
Go room by room. Downsizing, particularly if you've been somewhere for a very long time, can be daunting. So don't try to tackle the entire thing in a day or even a weekend. Start with the smallest room of the house and ask yourself this question: Would I buy this again today? Or, alternately, If everything was gone, is this something I would replace? If the answer is yes, then ask: Where in my new place am I going to put it? Approach collections as individual items and take only the one or two that are the most special.
RELATED: Retirement doesn't have to be the end: How working longer benefits you
Eliminate duplicates
Two sets of dishes. Multiple sets of sheets, comforters, etc. (for company). The backup coffeemaker. A half-dozen pairs of black pants. There are some things (the black pants) you will likely want several of, particularly if they're a uniform for you. Others, not so much.
Strategize for books, DVDs, CDs
Many of us collect books; it feels somehow wrong to get rid of them, but they take up a lot of space. Keep only those you think you'd want to read again or want someone in your family to read. Dive into those you've never read (often there's a reason you're delaying), sell the rest or give them away. Put CDs on your computer. If you have a Netflix subscription or have Amazon Prime, get rid of your DVDs.
Deal with memories in a new way
When you begin, every piece has the potential to be a museum piece. Everything in your home has a story — when you got it, who you were with at the time. When you're downsizing, you're not erasing those memories, you're simplifying your life. So take a picture of the things you love the most that you're parting with. Make a scrapbook or a photo book online and take it with you.
Make four piles: Sell, donate, trash and take
Sell: First, weigh the cost of selling items against the cost of moving them. In some cases, you may be better off doing the latter. There are hundreds of sites for selling used technology online (you can compare them at ResellerRatings.com), but you can sell many other things as well. Keep in mind, damaged goods can have value — just not as much.
For larger items, it's easiest if you deal with local buyers. So look at sites like Krrb.com for selling used furniture locally, as well as on Facebook pages that are based in your location.
Apps like OfferUp, letgo and 5miles deal in anything you might sell at a garage sale. Or you could have a garage sale itself. To price these items, search online for similar items that are selling and use that as a guide. If you can't find anything similar, start by pricing it at 50- to 70-percent off the original price.
RELATED: If you don't have $250,000 to spare, how to pay for long-term medical bills
Donate: For things you're unable to sell (or don't want to bother to sell), donate them to a charity and take a tax deduction. You can pinpoint values by looking at eBay to see what items have recently sold for, or by using the donation guides of sites like Salvation Army or Goodwill. If you want to claim a deduction for donations of more than $250 in value, you need to get a written receipt from the charity. The receipt has to describe the goods that you donated and provide a good-faith estimate of their value.
Trash: Anything you can't sell or that has no value to a charity can be thrown away. But do it safely. Many electronics retailers provide a way to safely dispose of your electronics. Talk to your town or municipality about rules for disposing large items.
Take: Take the rest and if there's still too much consider a storage unit, but only temporarily. If you have belongings that you feel too tied to to get rid of immediately, put them in storage. A year later, come back and visit them. Many people find that by that time, the ties have lapsed. At that point, you can sell or donate them.
RELATED: Jean Chatzky on how to make your money last after retirement
Finally, if you're not downsizing to move to an RV but instead to another house, make sure you keep the costs of that transaction in mind. According to the Living In Retirement report from Fidelity Investments, many people overestimate the amount they'll save by downsizing because they neglect to take into account the transaction cost to sell one house, buy another house, move (which, according to the American Moving & Storage Association, costs $1,170 if you're staying in the same state and $5,630 between states), furnish the new place, and so on. Run the numbers to make sure you'll actually be there long enough to save over time.