Jenna Bush Hager is a busy mom, who doesn't have much time for herself. That's about to change with her #startTODAY plan. Meet Pedram Shojai, also known as The Urban Monk. Throughout this month, Shojai has been working with Jenna to help her be more mindful and find breaks in her day where she can take a few moments for herself and simply breathe.
These are a few of his major lessons for Jenna, and a 30-day mindfulness challenge she has been following.
Here are seven tips to managing your time, energy, money and attention a bit better this year. The more sanity you can get back from the chaos out there, the better you'll feel.
FOLLOW ALONG WITH #STARTTODAY BY SIGNING UP FOR TODAY'S ONE SMALL THING NEWSLETTER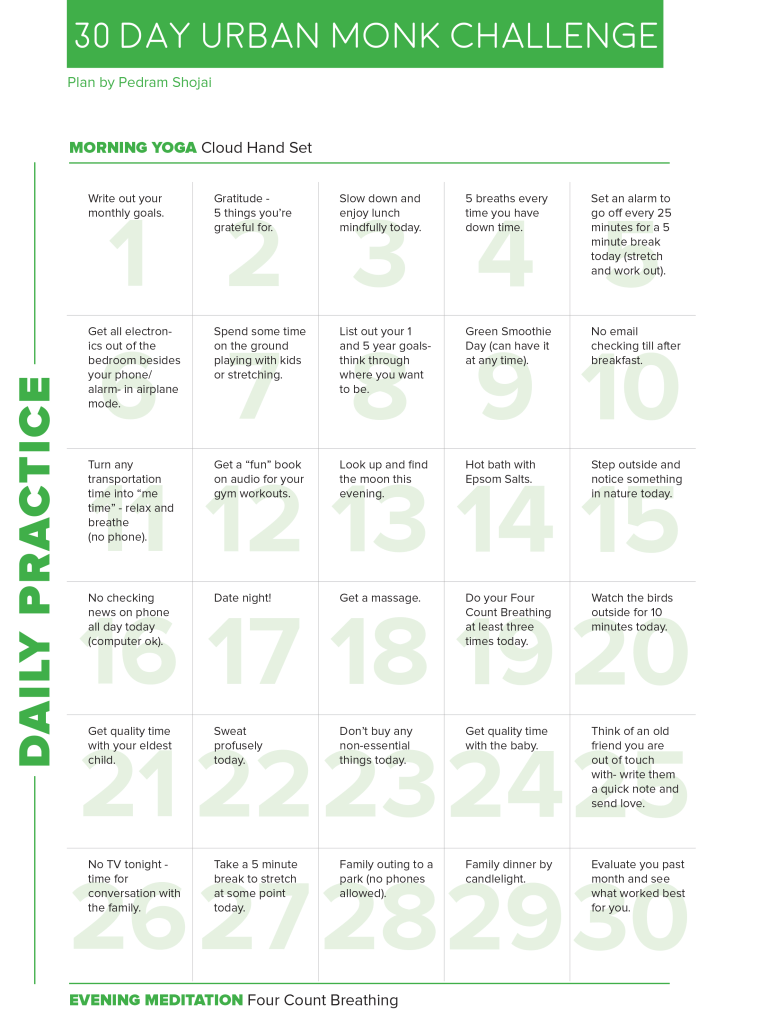 1. Be careful of what you say "yes" to.
Every time you say "yes" to something new, you're effectively saying "no" to the things you've already committed to. Dinner with friends tonight may mean "no" to the gym you promised yourself you'll get to. A new book may sit on top of the five neglected ones on your dresser.
Pay attention to this, as your time and energy can only stretch so far. Once overstretched, that gnawing feeling of stress starts to creep up.
RELATED: This 4-minute meditation is the secret to a better morning
2. Book time for yourself.
If you don't block off time for yourself in your calendar, that time will get swept up by life's crazy parade. If you say you want more yoga this year, then block off time for it. The gym can be a regular appointment that you keep.
RELATED: The 1 yoga pose to strengthen your arms
3. Put the phone down.
We're leaking more time into our phones than ever before. Next time you find yourself having to wait for something, be it a cab ride, a lunch pickup or even a red light, instead of reaching for your phone, just take a few deep breaths to your lower abdomen.
Our attention is becoming increasingly scattered in the modern era and this is making us less whole. Try to notice the happenings around you and take a moment to circulate your breath several times during the day.
4. Keep moving all day.
Sitting is the new smoking and we all do too much of it. Set a timer on your computer or phone to remind you to get up every 25 minutes. Take five minutes to do some quick exercises, stretch, grab some water and take a few deep breaths. It'll do wonders for your energy levels, mood and posture. We're not built to sit all day so let's build in a new habit of breaking that rhythm.
RELATED: 5-minute routine to stretch your body
5. Cut out some TV time.
Sure, there's some great stuff on TV nowadays, but it still makes life a spectator sport. Reabsorb a few hours a week from the TV and invest them in yourself. There are so many nagging things on your mind that you feel guilty about not getting to. Chances are, there's some valuable time you can get back. Pick the shows you absolutely love and let go of the others. This'll free up time for exercise, walks, yoga, good books or projects you've been meaning to do.
6. Pick your plants.
If you had room in a garden for five or six plants, what would they be and why? Family, relationships, work, health, social life, hobbies and travel may be up there for you. Each of these takes "water" (time, energy, and maybe money). Look at where your priorities are and decide which plants need more water right now.
Where are you in balance and where do you need to do some work? Once you've done this, you can start to identify the "weeds" that may be stealing water away from your chosen plants. Use this as a mental filter when considering new projects, trips, dinners or business decisions.
7. Stress comes from time compression.
A few long, deep breaths to your lower abdomen will go a long way to slow down the chaos and offset some stress. It doesn't take much to feel better but we need to allow ourselves the "permission" to get out of high gear for a moment.
RELATED: How to manage stress when the world is filled with worry
When you feel the walls starting to cave in, take ten breaths down to your lower belly and slow down the pace. These few seconds will put your mind at ease and help build better stress hygiene habits. Over time, you'll start to feel stress coming on far sooner and can neutralize it before any negative effects start to creep in.
It's your choice whether to thrive and be happy or to crumble under the weight of your busy life. This year, let's build a few good habits that will get us out ahead of the chaos and leave us some oxygen to breathe and make better decisions.
Dr Pedram Shojai is the New York Times Best Selling author of The Urban Monk as well as the producer of the movies "Origins" and "Vitality". He has free stress management and meditation tools available at www.theurbanmonk.com