Often because it's too stressful to think about or seemingly too expensive to implement, many people fail to put a protection plan in place to safeguard their money.
In the final installment of her four-part plan to help shape up your finances in the new year, TODAY financial editor Jean Chatzky outlined three areas that can help protect your money from being wiped out in the case of an emergency or disaster. From giving yourself an emergency cushion to the different types of insurance to estate taxes, Chatzky provided a host of helpful tips.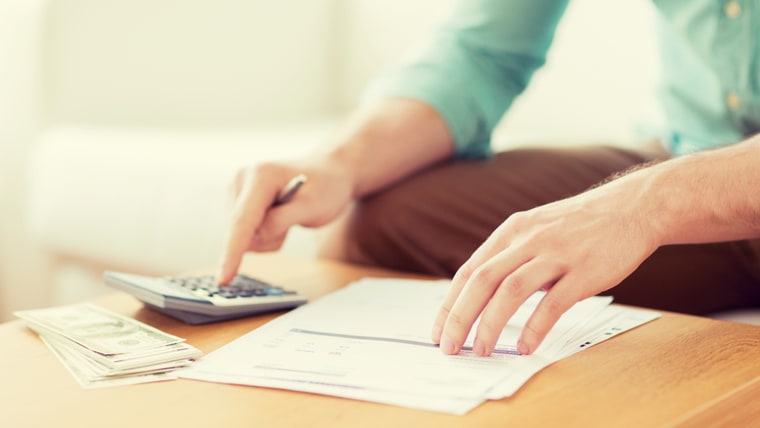 These tips are the latest installment of the #StartToday series, helping you begin 2016 with resolutions for your home, body and wallet. Here's the full list:
1. Have an emergency cushion.
It's your first layer of defense: You have to create some sort of emergency fund.
It can bail you out in a jam: Whether you need new glasses that aren't covered by a vision plan or a car repair to help get you back and forth from work, an emergency fund can save the day in crucial areas.
Use your tax refund: The average U.S. tax refund is about $3,000, so that is a good place to start an emergency fund by depositing that money in a separate savings account.
2. Get insurance.
Health insurance
Health insurance is a must have and also is required by the government (the penalty for not having health insurance in 2016 is 2.5 percent of your income, or $625 per adult and $347.50 per child, up to a max per family of $2,085).
Health problems can lead to bankruptcy: Medical issues are the biggest source of bankruptcy in the U.S. every year, so having a health plan is crucial to staying afloat financially in case of an unexpected hospitalization or other health emergency.
Open enrollment deadline is Jan. 31: If you are not covered, the open enrollment deadline at HealthCare.gov is at the end of this month, and eight out of 10 people who sign up for coverage sign up for financial aid to lower the cost of monthly premiums. With financial assistance, seven out of 10 people find plans with premiums less than $75 a month.
RELATED: How to save money: Start your financial savings plan with these 18 simple tips
Life insurance
If you have dependents: You need life insurance if you have a spouse, children or older parents who depend on your income, but many don't have it. Thirty-seven percent of parents with children under 18 have no life insurance, and another 20 percent have no more than $100,000 in coverage, mainly due to the cost.
20-year policy: You generally want a 20-year level term policy that pays if you die but doesn't have any other investment bells and whistles attached.
Use an insurance calculator: It costs about $350 a year for a 35-year-old non-smoker to buy $250,000 in life insurance. Chatzky has a free life insurance calculator on her website that can help you figure out what it will cost for your plan.
8x your income: As a rule of thumb, you should have insurance totaling eight times your current income.
RELATED: This is the busiest day for job searches — here's how to stand out
3. Consider other coverage.
If you can't replace, insure: As a general rule, if you can't afford to replace something, get some insurance for it. If you can afford to replace it, don't insure it.
Disability insurance: This belongs on your list if you couldn't afford to replace your income with savings in case your were injured or had a long-term illness.
Renters insurance: If you could not afford to replace your possessions in case of a fire or theft, you should have this type of insurance, which is not expensive.
RELATED: How to ask for a raise: 7 ways to negotiate more money in the new year
4. Have estate plans.
Have a will: More than half of all Americans don't have wills, including 51 percent of Americans ages 55 to 64, according to Rocket Lawyer. If you're a parent, a will is a must because it's the only document that allows you to name guardians for minor children, so if you don't have one, the state will decide what happens to your children if you die.
Use online resources: Resources like Willmaker, which is $55 through Nolo.com, or LegalZoom, where wills start at $69, allow you to create one online. These work as long as your financial life is not complicated or you're not looking to cut someone out of your will, which requires a lawyer. Make sure to have it properly witnessed when you sign it.
Hire help: You can hire an estate planning attorney, which usually starts at about $500. While writing your will, make sure to get three other documents to protect your family — a durable power of attorney for finances and healthcare in case someone has to make medical or financial decisions because you're incapacitated, and a living will that tells a hospital what you want for life support.
Review every three years: A good rule of thumb is to review the insurance and estate plan every three years to be sure nothing has changed.
Follow TODAY.com writer Scott Stump on Twitter.