This year, #startTODAY will follow Hoda Kotb, Jenna Bush Hager and Craig Melvin as they start their own personal health journey with the goal of living to 100. Each anchor has been paired up with a team of coaches to help them along the way.
Hoda Kotb will team up with rockstar cycling instructor Sue Molnar, mindfulness expert Angie Johnsey and nutritionist and TODAY contributor Joy Bauer to set goals for the new year and work towards achieving them all month long.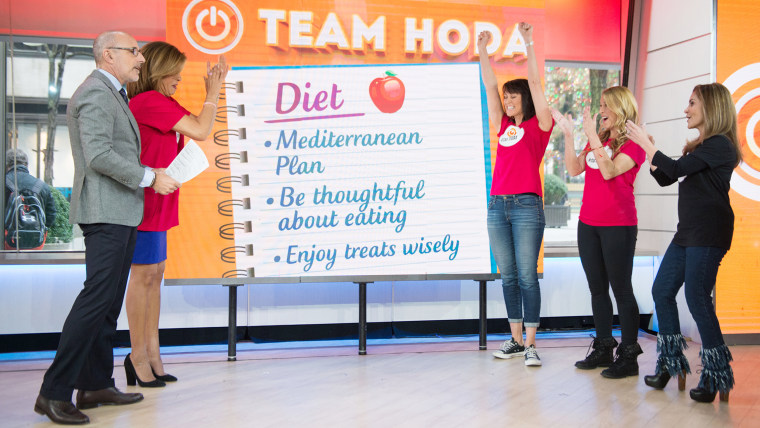 Molnar helped Hoda assess her fitness goals and came up with three objectives:
Sustain energy throughout the day
Increase strength and muscle mass
Feel comfortable in her own skin
Here's a look at Hoda's weekly fitness routine and you can follow along here for more detailed information on her plan.

Johnsey and Hoda worked together to find areas where mindfulness can play an important role day to day. Here's a snapshot of Hoda's weekly mindfulness tips and you can follow along here for her full 30-day plan.
Feel more prepared, organized and empowered
Become more patient by relaxing her expectations of others as well as herself
Care for her mind which will reduce stress and assist in setting boundaries
Bauer came up with a nutrition plan that balances healthy eating with enjoyable food:
Follow a Mediterranean-inspired meal plan
Be thoughtful about eating
Enjoy treats without destroying her diet
Check out Hoda's 7-day plan below and follow along here for more recipes and tips.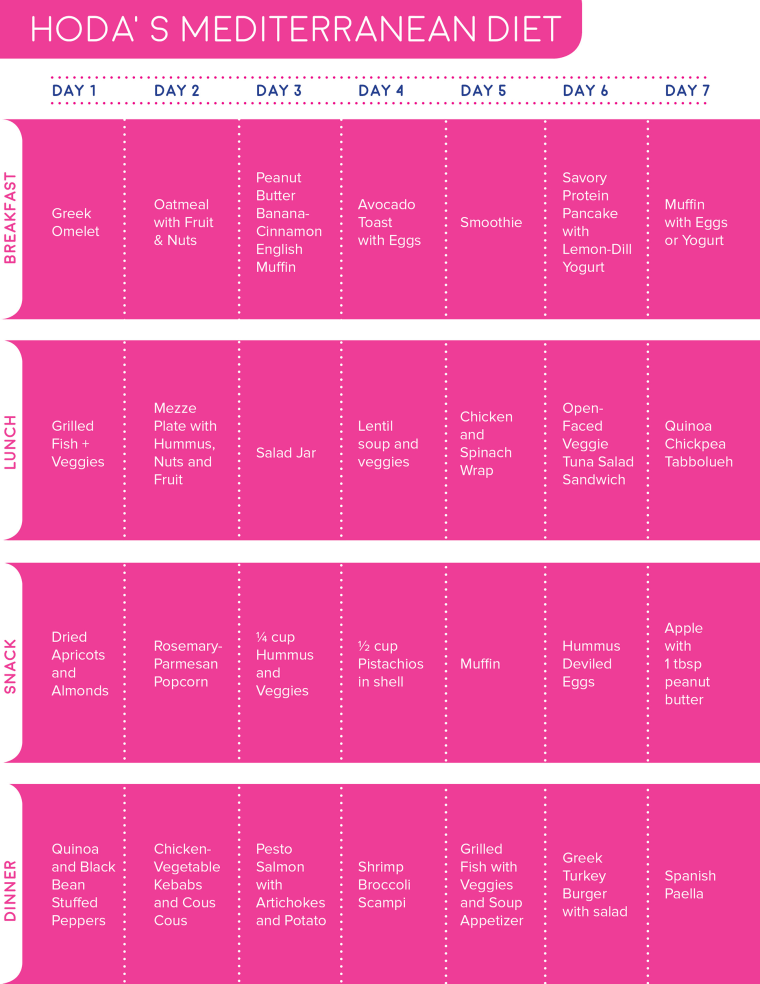 Hoda's team has come up with lots of motivating goals for the new year, but is it the right plan for you? Take our quiz below to see which anchor's plan suits you best!
Hoda's plan is full of goals that you can achieve too! For more tips and advice, sign up for our One Small Thing newsletter, where all of Hoda's coaches will be sharing their best tips all month long. Check back next week to find Hoda's full mindfulness plan and we'll continue to update you here with more of Hoda's plan along the way!