All month long, Hoda Kotb has been working with a team of experts to get fit and feel healthier for the new year. She told TODAY, "At 52, I feel like my best years are ahead, and I just want my body to keep up."
She's already revamped her diet, so the next step in her #startTODAY journey is a fitness routine to match her new healthy lifestyle. Hoda enlisted the help of a rock star cycling instructor, Sue Molnar, to develop a plan to increase strength and muscle mass while maintaining high energy levels all day long.
FOLLOW ALONG WITH ALL THE #STARTTODAY PLANS AND TIPS WITH OUR "ONE SMALL THING" NEWSLETTER
The seven day plan balances tough cardio workouts with critical strength training for a full-body approach to fitness.
Hoda's week at a glance:

To begin the week, Hoda focuses on strength training. On Tuesdays, she adds running into the routine. Wednesday is her rest day, and on Thursday, she's back to running and strength training. She ends the work week with the same workout from Monday. On the weekend, she kicks it up a notch with two high-energy cycling classes!
RELATED: #StartTODAY with Hoda: 7-day Mediterranean diet to look and feel better than ever
Below, Molnar demonstrates some of the moves Hoda will be mastering this month to strengthen her core, arms and legs.
Circuit 1:
1. Single leg step up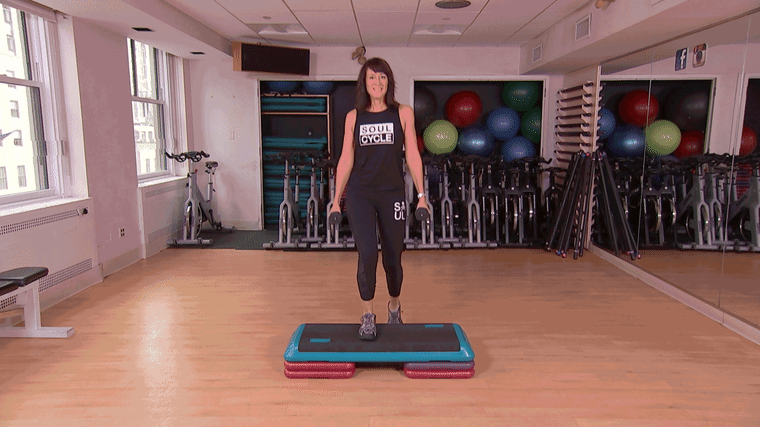 Step up on a raised platform, bringing one knee parallel to the ground. Add 8-pound weights for an added challenge. Alternate legs and repeat 10 times.
2. Plank row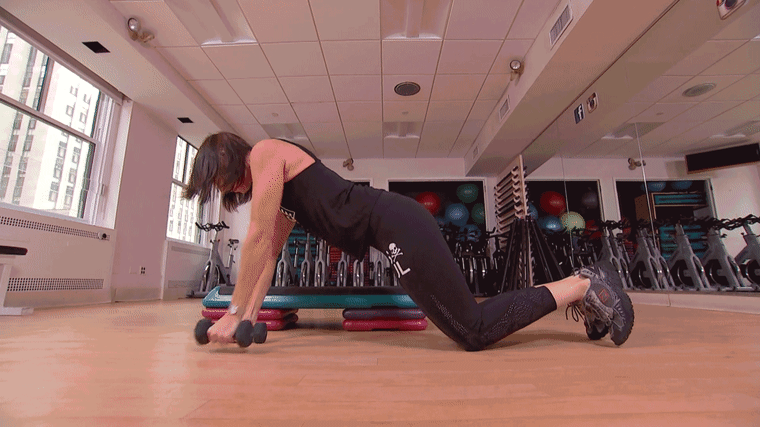 In a plank position, pull one arm back alongside the body using 5-pound weights. Alternate arms and repeat 10 times.
3. Half kneel hammer curl to shoulder press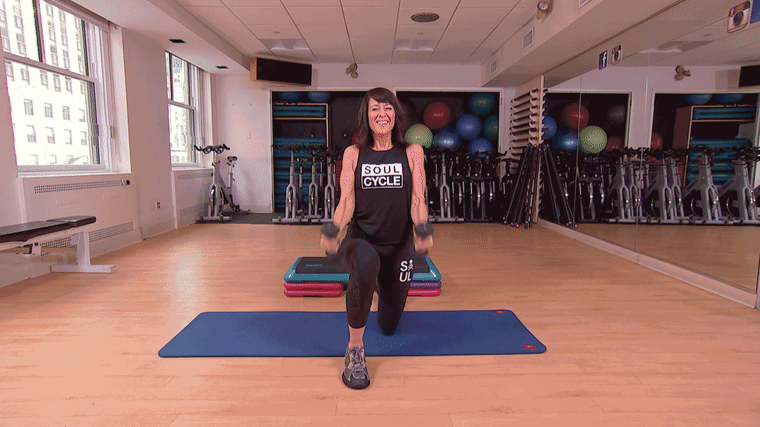 Using 5- to 10-pound weights, repeat this move 10 times.
4. Ball slams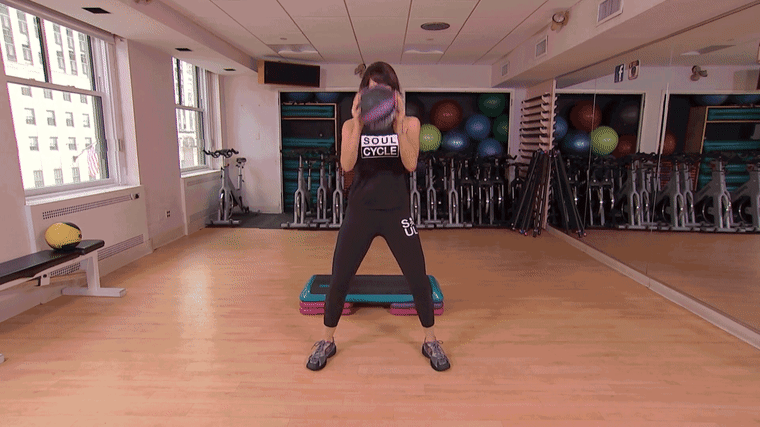 Using a light or moderately weighted ball, actively throw the ball to the ground. Repeat 10 times.
Circuit 2:
1. Reverse lunge to hip flexion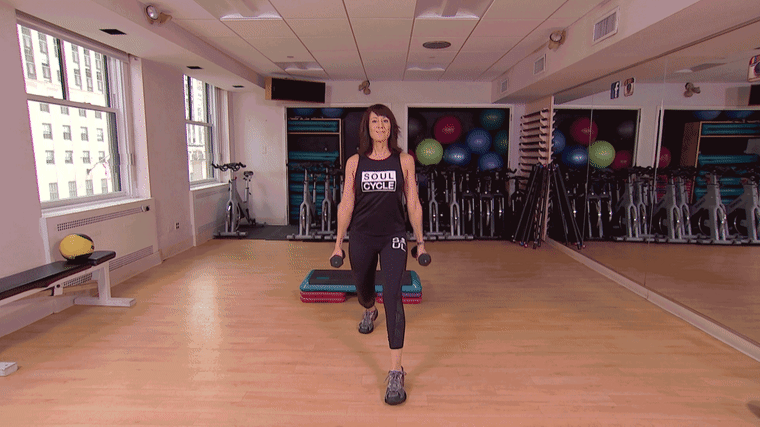 Repeat 10 times, use 5-pound weights for an additional challenge.
2. Bent over row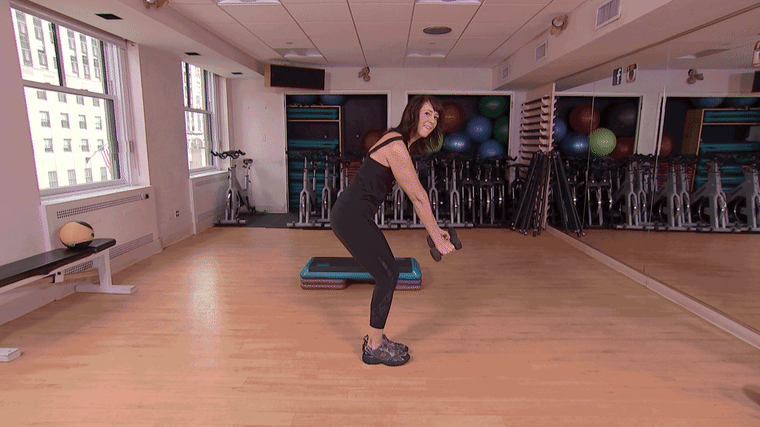 Repeat 10 times using 5- to 10-pound weights.
3. Tricep push down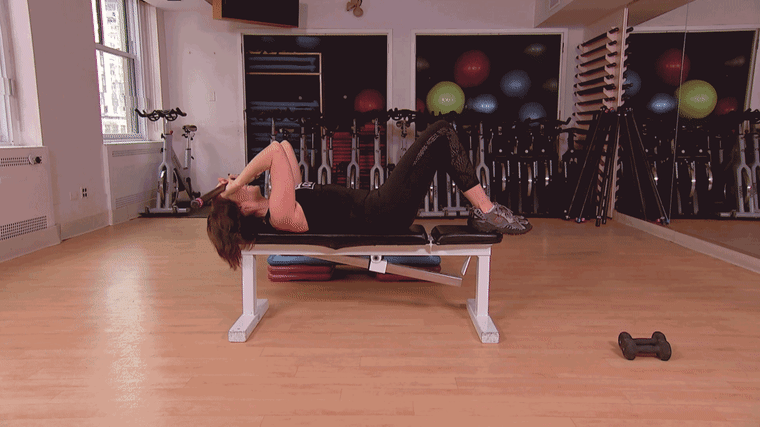 Repeat 10 times using 8- to 10-pound weights.
4. Bicep curls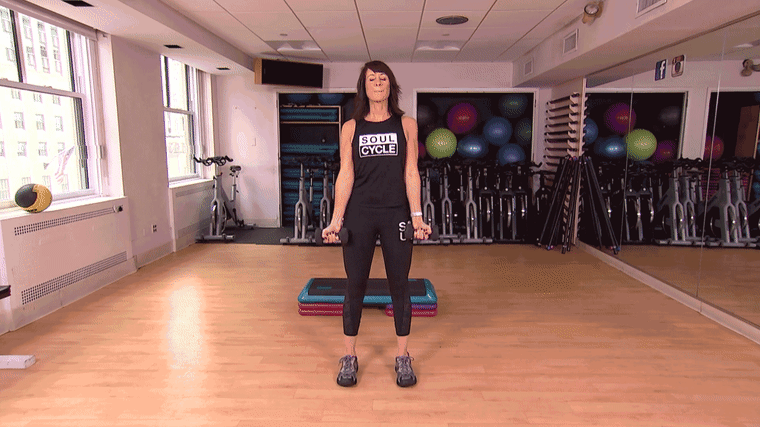 Repeat 10 times using 5- to 10-pound weights.
Circuit 3:
1. Deadlift
2. Incline push up
3. Lateral raise
4. Partner ball throws
RELATED: Which diet and fitness plan is right for you? Take our quiz and #StartTODAY!
Here are a few other exercises Hoda demonstrated in a Facebook Live workout:
Warm-up options:
Foam roll
Thoracic rotations
Walking knee to chest
High kicks-toe touch
Spider lunge with rotation
Double leg bridge (with resistance bands or blocks)
Single leg bridge
Resistance band pulls
Additional abdominal work:
High plank to tee
Side plank
Shoulder taps
Leg lowers
Cardio:
Molnar recommends cycling twice a week and running one to two times a week. She also suggests completing three to four miles at a consistent pace or interval training for 20 minutes with a five minute walk to cool down.
Looking for extra motivation? Check out Hoda's playlists below — music is a big part of her workout routine. It gets her up and moving, and she hopes these tunes will inspire you, too!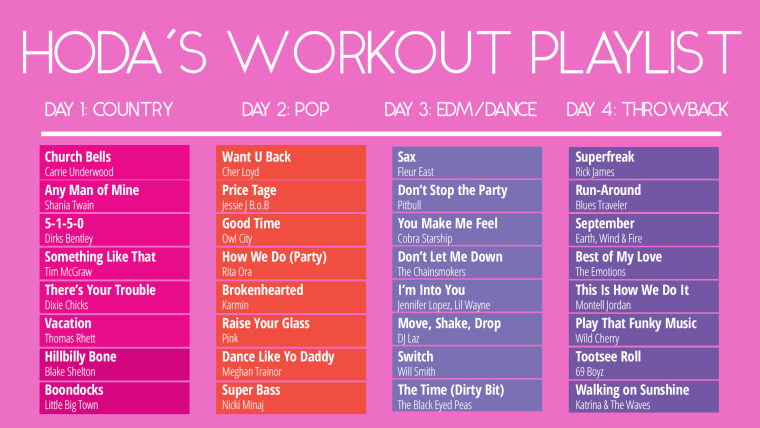 And Molnar also has some great suggestions to get you motivated! Check out her list below.
"Good to Be Alive (Hallelujah)" — Andy Grammer
"Only the Good Die Young" — Billy Joel
"It's the Same Old Song/Reach Out I'll Be There" — Boyz II Men
"Some Nights/We Are Young/Carry On" The Sing-Off Contestants
"Sister Golden Hair" — America
"Steal My Girl" — One Direction
"Rocket Man (Original Mix)" — Daphne Rubin-Vega
"Song for Another Time" — Old Dominion
"Back Home" — Andy Grammer
"A Song for You" — Leon Russell
"Don't Let the Sun Go Down On Me" — George Michael & Elton John
"Work This Body" — Walk The Moon
"Dirty Sexy Money" — The Struts
"More Than a Feeling" — Boston
"Hazy Shade of Winter" — The Bangles
"Set Adrift on Memory Bliss (Radio Edit)" — P.M. Dawn
"(I've Had) The Time of My Life" — Bill Medley & Jennifer Warnes
"Forever Country" — Artists of Then, Now & Forever
"Raise Your Glass" — P!nk
"Chicken Fried" — Zac Brown Band
"I Am Woman" — Helen Reddy
"Uptown Funk (feat. Bruno Mars)" — Mark Ronson
"Land of Hope and Dreams" — Bruce Springsteen
"End of Time" — Beyonce